Vatican II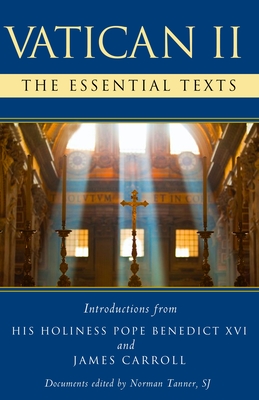 Vatican II
The Essential Texts
Image, Paperback, 9780307952806, 372pp.
Publication Date: September 4, 2012
* Individual store prices may vary.
Buy at Local Store
Enter your zip code below to purchase from an indie close to you.
or
Not Currently Available for Direct Purchase
Description
By encouraging engagement with the modern world and a refocusing of traditional teaching, the Second Vatican Council brought new life into the practice of Catholicism. The council's impact on the Church is still playing out today, and with many current church issues finding their roots in differing interpretations of Vatican II it has never lost relevance. Vatican II: The Essential Texts brings together the key documents of the council.
 
As the council is commemorated on its 50th Anniversary, readers will be returning to these source materials to understand the Church's developing positions on its relationship with the secular world and other religions, the role of lay people, human rights and the common good, the liturgy and other still highly relevant issues. In addition to the introductions from Pope Benedict and James Carroll, the documents will also be accompanied by brief historical prefaces from Professor Edward Hahnenberg.
 
About the Author
Since 1992, Shannon McSheffrey has taught in the History Department at Concordia University in Montreal. She has written Gender and Heresy: Women and Men in Lollard Communities, 1420-1530 (Philadelphia: University of Pennsylvania Press, 1995), Love and Marriage in Late Medieval London (Kalamazoo: Medieval Institute Press, 1995).



On April 19, 2005, CARDINAL JOSEPH RATZINGER was elected POPE BENEDICT XVI and became the 264th successor to Peter as the "Vicar of Jesus Christ." He may well be the most accomplished theologian to be elected Pope in modern times. Beginning in 1981 he spent over 20 years as the Prefect of the Congregation for the Doctrine of the Faith, a role often depicted as the "defender of the faith." Cardinal Ratzinger was also President of the Pontifical Biblical Commission and of the Preparatory Commission that codified the new "Catechism of the Catholic Church," published in 1994.