The Second Empress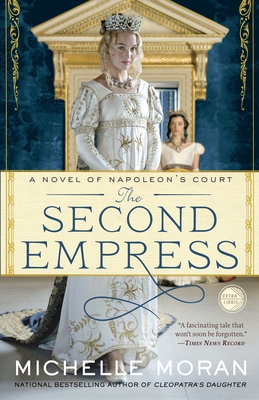 The Second Empress
Broadway Books, Paperback, 9780307953049, 326pp.
Publication Date: May 21, 2013
* Individual store prices may vary.
Shop Local
Enter your zip code below to find indies closest to you.
Description
Emperor Napoleon Bonaparte will stop at nothing to marry the Hapsburg princess he hopes will bear him a royal heir, in this compelling novel from bestselling author Michelle Moran.
 
   After the bloody French Revolution, Emperor Napoleon's power is absolute. When eighteen year old Marie-Louise is told that the Emperor has demanded her hand in marriage, her father presents her with a terrible choice: marry the cruel, capricious Napoleon or refuse and plunge her country into war. To save her father's throne, Mary-Louise is determined to be a good wife. But at the extravagant French court, she finds many rivals for her new husband's affection, including Napoleon's sister Pauline, who is fiercely jealous, utterly uncontrollable, and the only woman as ambitious as the emperor himself. When war once again sweeps the Continent and bloodshed threatens Marie-Louise's family, the second empress is forced to make choices that will determine her place in history—and change the course of her life. 

Now with Extra Libris material, including a reader's guide and bonus content
About the Author
Michelle Moran was born in Southern California. After attending Pomona College, she earned a Masters Degree from the Claremont Graduate University. During her six years as a public high school teacher, Moran used her summers to travel around the world, and it was her experiences as a volunteer on archaeological digs that inspired her to write historical fiction. She is the internationally bestselling author of the novels "Nefertiti", "The Heretic Queen", "Cleopatra's Daughter, Madame Tussaud", and "The Second Empress", which have been translated into more than twenty languages. Visit her online at MichelleMoran.com.
Praise For The Second Empress…
"Moran has once again proven her skills as a mesmerizing storyteller with The Second Empress. She gathers her readers into the heart of the story and takes them on an adventure into a world where most would never dare venture. Moran's characters are engaging and her use of historical facts, bits and pieces of correspondence and ephemera tie this story together to create a fascinating tale that won't soon be forgotten."  
—Times Record News

"Stunning in form, theme, and plot. . . Don't hesitate to purchase this beautifully written gem, which is certain to shoot to the top of the charts, if not start a craze for everything Moran."
—Library Journal

"Colorful… [a] nicely crafted work of historical fiction."
—Romantic Times

Red Hot Book of the Week, SheKnows.com: "Michelle Moran is beloved by readers of historical fiction for her lively and well-researched novels. . . Marie-Louise may be the character that readers will love, but it is Pauline they will love to hate. . . Moran describes the end of Napoleon's empire in vivid, realistic terms. She wastes no time attempting to make the reader sympathetic for the megalomaniac Napoleon, instead providing compelling -- if not always entirely likable -- characters who must make difficult choices: What is the best way to be loyal to one's family? When does self-respect and self-worth require giving up the person you love?"
—SheKnows.com

"Compelling fiction. . . Ostensibly the portrait of Marie-Louise of Austria, who became Napoleon's second wife, the novel's title could as easily apply to the emperor's sister, Pauline. . . Another enjoyable historical from Moran."
—Publishers Weekly

"This book covers the last six years of Napoleon's reign… If you like French history you will enjoy this novel."
—British Weekly

"The Second Empress is a masterful work of fiction portraying the little known history of Napoleon's desperate attempt to acquire an heir… The Second Empress is another wonderful read by a fantastic author."
—RomanceJunkies.com