The Stud Book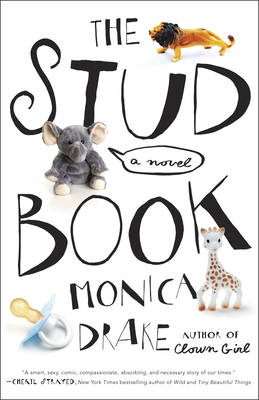 The Stud Book
Hogarth, Paperback, 9780307955548, 336pp.
Publication Date: December 31, 2013
* Individual store prices may vary.
Buy at Local Store
Enter your zip code below to purchase from an indie close to you.
or
Buy Here
Description
Sarah studies animal behavior at the Oregon Zoo. An expert onthe mating habits of captive animals, she is increasingly desperate to create sweet little offspring of her own. Georgie is busy navigating the terrors of new motherhood from misplaced postpartum painkillers to the potential sublimation of her identity while her husband finds solace in bourbon and televised violence. (Dead girl on the screen? Take a shot ). Dulcet, defiantly married and childless, makes a living stripping down in high school gyms to sell the beauty of sex-ed.Nyla is out to save theearth while possibly losing her own teen daughter to the world of drugs and the occult. As these friends navigate a space between freedom and intimacy, they realize the families they forge through shared experience are as important as those inherited through birth.
A smart, edgy, and poignantly funny exploration of the complexities of what parenthood means today, "The Stud Book" demonstrates that when it comes to babies, we can learn a lot by considering our place in the animal kingdom.
Praise For The Stud Book…
"Monica Drake has written a take-your-breath-away good, blow-your-mind wise, crack-your-heart-open beauty of a novel. The Stud Book is a smart, sexy, comic, compassionate, absorbing, and necessary story of our times." —Cheryl Strayed, author of Wild and Tiny Beautiful Things 
 
"The Stud Book is a dreamy, druggy, sexy concoction--no surprise coming from the author of Clown Girl. I was instantly consumed by its evocative exploration of motherhood in the Pacific Northwest. Monica Drake's vision of the world is like no other." —Jami Attenberg, author of The Middlesteins and The Melting Season
 
"Hilarious, heart-wrenching, and stylistically brilliant, The Stud Book is about who we are and why we matter--about our stubborn, beautiful drive to make life, love, a world inhabitable for those who come after us. If women carry whole worlds into unknown futures, Monica Drake is the mapmaker of the human condition." —Lidia Yuknavitch, author of Dora: A Headcase
 
"Monica Drake is one of the smartest, funniest writers working today and The Stud Book moves from farce to satire to tender melodrama without missing a beat."
—Chelsea Cain, author of the Archie Sheridan/Gretchen Lowell series
 
"What's to say? Laughter is the highest praise, and Monica Drake makes me laugh. The Stud Book is so funny it could make a dog laugh." —Chuck Palahniuk, author of Fight Club

"Monica Drake takes a scalpel eye and an acid wit to the hearts and flowers of motherhood. What's left when she's done is a portrait of desire and danger and need and greed. Very funny, very bright, very unsafe." —Kevin Canty, author of Everything and A Stranger in This World

"Like a mandrill's florid display, The Stud Book is Monica Drake's vivid show of talent, verve and attraction. You will fall in love with her characters as they fight against the enclosures—or are they cages?—of adulthood and parenthood, before ultimately learning to live in blessed, but now unbowed, captivity." —Karl Taro Greenfeld, author of Triburbia

"What really stands out is her depiction of [the] city. This is not the twee wonderland of Portlandia...Drake combines [her characters'] lives in a quirky, knowing way, showing the complexities of modern-day female life, species Pacific Northwest native." —Publishers Weekly

"The Stud Book is a wild ride full of dark humor...Drake reminds us that we aren't so different from our animal ancestors: Many of our desires are, and have always been, primal. What we choose to do with these desires, well, that's what makes us human." —Book Page

"Drake teases out the intersection between theories on parenthood, evolution, sex, and reproduction. The result is a relevant and original story about life and selfworth in an increasingly crowded world....Drake's sharp wit and contemporary take on ecology and adult life make this an entertaining and thought-provoking read." —Booklist