Perfidia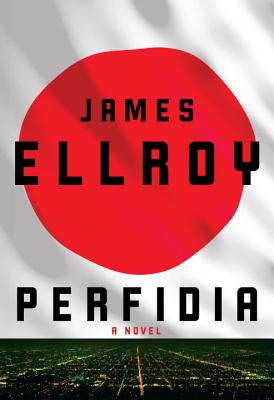 Perfidia
Knopf Publishing Group, Hardcover, 9780307956996, 701pp.
Publication Date: September 9, 2014
* Individual store prices may vary.
Buy at Local Store
Enter your zip code below to purchase from an indie close to you.
or
Buy Here
Description
From "one of the great American writers of our time" ("Los Angeles Times Book Review")-a brilliant crime/historical novel, and his largest, most accessible novel yet: a pulse-pounding, as-it-happens narrative that unfolds in Los Angeles over twenty-three days beginning on December 6, 1941.
The Japanese have bombed Pearl Harbor. The United States teeters on the edge of war. The roundup of allegedly treasonous Japanese Americans is about to begin. And in L.A., a Japanese family is found dead. Murder or ritual suicide? The investigation will draw four people into a totally Ellroy-ian tangle: a brilliant Japanese American forensic chemist; an unsatisfiably adventurous young woman; one police officer based in fact (William H. "Whiskey Bill" Parker, later to become the groundbreaking chief of the LAPD), the other the product of Ellroy's inimitable imagination (Dudley Smith, arch villain of "The Big Nowhere, L.A. Confidential, White Jazz)." As their lives intertwine, we are given a story of war and of consuming romance, a searing expose of the Japanese internment, and an astonishingly detailed homicide investigation. In "Perfidia," Ellroy delves more deeply than ever before into his characters' intellectual and emotional lives. But it has the full-strength, unbridled story-telling audacity that has marked all the acclaimed work of the "Demon Dog of American Crime Fiction.
About the Author
James Ellroy was born in Los Angeles in 1948. He is the author of the L.A. Quartet: " The Black Dahlia, The Big Nowhere, L.A. Confidential, " and "White Jazz, "and the Underworld U.S.A. Trilogy: "American Tabloid, The Cold Six Thousand, "and "Blood s A Rover." These seven novels have won numerous honors and were international best sellers.

"

Perfidia" is the first novel of the Second L.A. Quartet, Ellroy s fictional history of Los Angeles during World War II. The design of this extended work is unprecedented. Ellroy will take characters from the original quartet and trilogy, set between 1946 and 1972, and detail their lives as significantly younger people. Ellroy currently lives in Los Angeles.

www.jamesellroy.net"
Sunday, Sep 14, 2014
Ellroy's new novel, Perfidia, follows the Los Angeles police response to a brutal murder on the eve of Pearl Harbor. In a vintage steakhouse, the author discusses the book and his tech-free lifestyle. More at NPR.org
Monday, Sep 8, 2014
Perfidia is a sprawling novel that takes place in 1940s LA. There are Pearl Harbor, internment camps, schemes within schemes. Ellroy weaves an epic tale that evokes an ugly time and an awful place. More at NPR.org