God Believes in Love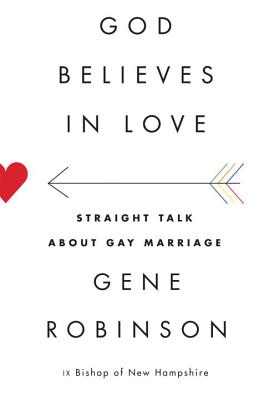 God Believes in Love
Straight Talk about Gay Marriage
Knopf Publishing Group, Hardcover, 9780307957887, 196pp.
Publication Date: September 18, 2012
* Individual store prices may vary.
Buy at Local Store
Enter your zip code below to purchase from an indie close to you.
or
Not Currently Available for Direct Purchase
Description
From the Bishop of the Diocese of New Hampshire in the Episcopal Church, the first openly gay person elected (in 2003) to the historic episcopate and the world's leading religious spokesperson for gay rights and gay marriage--a groundbreaking book that lovingly and persuasively makes the case for same-sex marriage using a commonsense, reasoned, "religious" argument, made by someone who holds the religious text of the Bible to be holy and sacred and the ensuing two millennia of church history to be relevant to the discussion, equally familiar with the secular and political debate going on in America today, and for whom same-sex marriage is a personal issue; Robinson was married to a woman for two decades and is a father of two children and has been married to a man for the last four years of a twenty-three-year relationship.
About the Author
The Rt. Rev. V. Gene Robinson was the ninth Episcopal bishop of New Hampshire, being the first openly gay, partnered priest to become a bishop in historic Christianity. He is currently a senior fellow at the Center for American Progress, Washington, DC.
Praise For God Believes in Love…
"Personal, well-written, and well-argued . . . its greatest hope for success lies in soothing the troubled hearts of young people questioning their conflicting identities."
—Louisville Courier-Journal
 
"An invitation to recognize the power and possibility of marriage for all people . . . Written with a pastoral heart and considerable academic insight, Robinson effectively argues the importance and value of strong marriages . . . a thoughtful theological approach."
—SoWhatFaith.com

"A family-friendly, easy to read book that explains the necessity of gay marriage to the masses . . . courageous . . . erudite . . . conveys complicated principles with ease."
—Edge

"Conversational and essayistic . . . methodically argued, cogently and brightly written, structured as chapter-length responses to commonly voiced questions about, and objections to, same-sex marriage . . . consistently Christian but also pervasively liberal."
—The Boston Globe

"[A] mix of reasoned logic, personal experiences, church teachings, and social science . . . The underlying tone is one of compassion and genuine hope for meaningful shift toward acceptance of same-sex unions . . . gentle with moments of humor . . . a solid entrance into the LGBT-affirming worldview."
—Publishers Weekly
 
"Reasoned . . . Robinson's strength is his willingness to see these questions from another perspective . . . Sober and well-structured."
—Kirkus

"Couldn't be more timely, nor more authoritative . . . Robinson does yeoman's work at arguing [the gay-marriage debate] concisely."
—Booklist


About Gene Robinson
 
"My friend, Bishop Gene Robinson, has long been a voice for equality—not with anger or vitriol, but with compassion and faith. He has been guided by the simple precept that we should do unto others as we would have them do unto us."
—President Barack Obama
 
"For someone in the eye of the storm buffeting our beloved Anglican Communion, Gene Robinson is so serene; he is not a wild-eyed belligerent campaigner. I was so surprised at his generosity towards those who have denigrated him and worse. Gene Robinson is a wonderful human being, and I am proud to belong to the same church as he."
—Archbishop Desmond Tutu
Nobel Peace Laureate

"Gene Robinson is no revolutionary: he upholds marriage as a sacred covenant, but knows the same covenant theology can include same-sex partnerships too. For living this truth he has been scapegoated—not for being the first gay bishop, but the first honest one. By God's grace he had stayed strong, still trying to love his enemies into friends. One day the Church will understand what it owes him."
—The Very Rev. Jeffrey John
Dean, St. Alban's Cathedral, England