Death Comes to Pemberley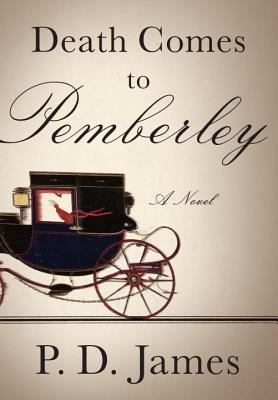 Death Comes to Pemberley
Knopf Publishing Group, Hardcover, 9780307959850, 291pp.
Publication Date: December 6, 2011
* Individual store prices may vary.
Buy at Local Store
Enter your zip code below to purchase from an indie close to you.
or
Not Currently Available for Direct Purchase
Description
A rare meeting of literary genius: P. D. James, long among the most admired mystery writers of our time, draws the characters of Jane Austen's beloved novel Pride and Prejudice into a tale of murder and emotional mayhem.
 
It is 1803, six years since Elizabeth and Darcy embarked on their life together at Pemberley, Darcy's magnificent estate. Their peaceful, orderly world seems almost unassailable. Elizabeth has found her footing as the chatelaine of the great house. They have two fine sons, Fitzwilliam and Charles. Elizabeth's sister Jane and her husband, Bingley, live nearby; her father visits often; there is optimistic talk about the prospects of marriage for Darcy's sister Georgiana. And preparations are under way for their much-anticipated annual autumn ball.
 
Then, on the eve of the ball, the patrician idyll is shattered. A coach careens up the drive carrying Lydia, Elizabeth's disgraced sister, who with her husband, the very dubious Wickham, has been banned from Pemberley. She stumbles out of the carriage, hysterical, shrieking that Wickham has been murdered. With shocking suddenness, Pemberley is plunged into a frightening mystery.
 
Inspired by a lifelong passion for Austen, P. D. James masterfully re-creates the world of Pride and Prejudice, electrifying it with the excitement and suspense of a brilliantly crafted crime story, as only she can write it.
About the Author
P. D. James, English crime writer, is the author of numerous detective novels, many of which were "New York Times "bestsellers. She spent thirty years in various departments of the British civil service, including the Police and Criminal Law Departments of the Home Office. She has served as a magistrate and as a governor of the BBC. In 2000 she celebrated her eightieth birthday and published her autobiography, "Time to Be in Earnest". The recipient of many prizes and honors, she was named Baroness James of Holland Park in 1991. She lives in London and Oxford.
Praise For Death Comes to Pemberley…
"A magnificent novel. . . . Incomparably perfect." —USA Today

"A glorious plum pudding of a whodunit." —NPR, Fresh Air

"The queen of mystery has taken on the queen of literature, [and] the combination sings. . . . [James'] elegance and sly wit are in top form." —The Plain Dealer
 
"The greatest pleasure of this novel is its unforced, effortless, effective voice… Not infrequently . . . one succumbs to the impression that it is Austen herself at the keyboard." —The New York Times Book Review

"[James] is the greatest living writer of British crime fiction, and probably that genre's most talented practitioner ever." —The New York Times
 
"A novel of manners par excellence." —The Boston Globe
 
"A major treat for any fan of Jane Austen . . . [and] a solidly entertaining period mystery." —The Washington Post
 
"A novel of dark intrigue. . . . [which] Ms. James presents with informed assurance and in fine period detail." —The Wall Street Journal
 
"If you appreciate mysteries as well as the Mighty Jane, this pleasant entertainment will do nicely. . . . It is a universe of dark meanings [and] hidden relationships." —Los Angeles Times

"James rises well above the ever-growing pack of Austen-inspired authors, not only for her intimate familiarity with Austen's work, but for her faultless replication of time, place and, most notably, Austen's trademark writing style." —Newark Star-Ledger
 
"With well-laid clues, James weaves a credible tale with a satisfying conclusion. . . . She stamps this enticing blend of two authors' minds with her formidable intelligence and the generosity of spirit that has marked all her work." —Richmond Times Dispatch
 
"Dazzling . . . Meticulously plotted . . . In my view Death Comes to Pemberley is as good as anything P.D. James has written and that is very high praise indeed… Long may she continue to delight and surprise us." —Simon Brett, Sunday Express
 
"Brimming with astute appreciation, inventiveness and narrative zest, Death Comes to Pemberley is an elegantly gauged homage to Austen and an exhilarating tribute to the inexhaustible vitality of James's imagination." —The Sunday Times (London)
 
"James takes Pride and Prejudice to places it never dreamed of, and does so with a charm that will beguile even the most demanding Janeite." —London Evening Standard
 
"The final working-out shows all James's customary ingenuity. . . . The stylistic pastiche is remarkably accomplished." —Kirkus Reviews
 
"A pleasing and agreeable sequel… Historical mystery buffs and Jane Austen fans alike will welcome this homage… Attentive readers will eagerly seek out clues to the delightfully complex mystery, which involves many hidden motives and dark secrets." —Publishers Weekly
 
"Satisfying. . . . [James is] an impeccable stylist and a psychological ins-and-outs maven." —The Huffington Post