Red Doc>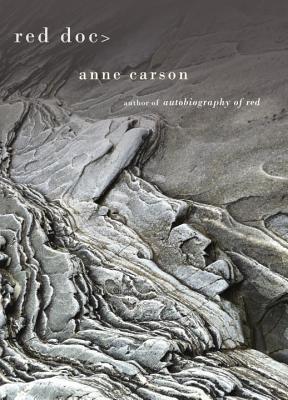 Red Doc>
Knopf Publishing Group, Hardcover, 9780307960580, 167pp.
Publication Date: March 5, 2013
* Individual store prices may vary.
Buy at Local Store
Enter your zip code below to purchase from an indie close to you.
or
Not Currently Available for Direct Purchase
Description
Some years ago I wrote a book about a boy named Geryon who was red and had wings and fell in love with Herakles. Recently I began to wonder what happened to them in later life. Red Doc> continues their adventures in a very different style and with changed names.
To live past the end of your myth is a perilous thing.

About the Author
Anne Carson was born in Canada and teaches ancient Greek for a living.
Praise For Red Doc>…
"A startling picaresque unlike one might have read or imagined . . . [Carson's] real inventiveness is the oddly engaging, oddly distancing story told in fragments that don't want to end in a moral. . . . Essential reading for poetry sophisticates." —Barbara Hoffert, Library Journal (starred review)
 
"Red Doc> is a clock that takes the measure of its readers and their world by entrancing them with anachronism and myth. . . .Carson explores questions like: can studying the past help us to understand the present or to prepare for the future? Do we need hindsight? Are the past and present continuous? Carson shows us that what stands between contemporary readers and the ancient world only appears to be substantial. Peering into the prose 'documents' that account for history from a safe distance, Carson suggests, we risk falling into [an] abyss, a volcanic past that promises to flow into the present and freeze itself over our shapes. Our mythic heroes suffer from PTSD. We're about to be covered up with ash, even though no one smokes anymore. Red Doc> manages to tell, along with Geryon's story, something of the toll the last 15 years have taken all of us, and the earth. The characters' grief for losses sustained in their anachronistic, mythic world becomes an elegy of losses in our own." —Emily Anderson, Full Stop
 
"Striking . . . Exhilarating . . . Carson has a reputation for difficulty, which is actually identical to her sense of playfulness. . . . Whimsy and obliquity dance hand in hand. . . . Red Doc> remains lucid and accessible, vernacular, friendly even, without sacrificing its iridescent, surrealist sheen. . . . Reading [it] is like being plunged under an iceberg: same world, same old friends, strange new light. . . . Carson bends time. She contracts universes . . . Red Doc> is a consummate love story, a book about friendship, companionship, motherhood, sex. It charts the failures of mutations of love, their imperfections, their infidelities and deflations: the strangeness of how they actually manifest. . . . Autobiography of Red was a story of dawning to your own peculiar monstrosity. Red Doc> is what happens when that peculiarity finds its full form, when it stretches, unfurls, lives beyond the confines of your life." —Camden Avery, The Rumpus

"Red Doc> may find Geryon all grown up and answering simply to 'G,' but Carson's red-winged anti-hero is still the crown prince of erotic, melancholy foibles, and the crew he assembles in this long-awaited sequel is as stunning and strange a cast as the one introduced in 1998's Autobiography of Red. Red Doc> maintains love triangles and terse metaphors that drove the first book . . . but also finds a way to push Geryon into new territories of dry, vaudevillian Americana. Whether she's talking war vets, flying cows, Latin etymology or Elvis, Carson once again blurs the lines of prose and poetry, and challenging both genres within a single poem." —American Poet
 
"With Red Doc>, Carson revisits her readers' favorite red-winged monster, but some things have changed. . . . One could call Red Doc> a road-trip story, but as is true with most of Carson's writing, it belies any kind of label or category. A majority of the text slices down the center of each page in a single column, looking like an unswerving road in the middle of nowhere. With this book, Carson demands more from her readers in terms of concentration and patience (in a good way) than her previous books. Unexpected leaps of time, place and perspective occur frequently; throughout, Carson interjects short sections which operate as something of  Greek chorus, or meta-commentary on the narrative itself. During other moments, the author moves in to the dreamlike point of view.  As in Autobiography, familiar preoccupations emerge in Red Doc>: the Proustian movement of time, aging, love triangles, desire, trauma. Dramatic plot points propel the adventure forward—a robbery, a riot, a death. With each unexpected turn, Carson's lyrical language effortlessly lifts pure moments of hope and despair off the page . . . Autobiography of Red and Red Doc> can be read together, or apart. The latter certainly serves as a sequel of sorts, but the strange, elliptical narrative also bends into something else altogether. It stands on its own—and takes the reader on a singular journey of longing and grief. In an interview published in the Paris Review in the fall of 2004, Carson said, 'I write to find out what I think about something.' It is her readers' very good fortune that she does." —S. Kirk Walsh, San Francisco Chronicle
 
"Breathtaking . . . Stunning . . . Personal, necessary and important. Anne Carson has a history of doing unpredictable and genre-crossing things. . . . [Her] palatable, popular, sophisticated and who-cares approach may have done the most and best work in the last two decades to stop people worrying so much about what's poetry and what's not. . . . She's among our most exciting poets . . . reliably ingenious, full of charisma and surprise. Lesser poets who behave more predictably and risk less are easier to praise—and not as important. Each new Carson project comes with new parameters. Autobiography of Red is whimsical, dark, interestingly creepy and moving. It seems to me—though many readers disagree—to be created out of willed obsession. Geryon and Herakles [of Autobiography] reunite in Red Doc>; middle-aged, Geryon is now G, still a cattle-herder if not much of an artist, though he reads Proust and Daniil Kharms, the Russian Soviet-era surrealist-absurdist. Herakles is now called Sad But Great—'Sad,' for short—a traumatized veteran of a recent war. This adds a welcome political dimension. G and Sad take a road trip, ending up in any icy northland. A handful of other characters derive from Greek mythology. Hermes, a mysterious man in a silver tuxedo. Io, the nymph turned into a cow by Zeus, is the loveliest member of G's herd, a sexy musk ox. . . . Carson has, over the years, moved closer to bizarreness for the sake of bizarreness—but she still pulls it off, mainly because the impulse behind it is mischief. 'Can I get away with this?' she seems to ask. And she does—because it's fun. She's having fun. Here's what else she gets away with: Most of the poems are delivered in narrow strips of type, a format that speed you down the page, as if creating a chute for language. It also constricts in ways that put useful pressure on the poems' wild music and wilder state of mind. Carson remains a master of idiosyncratic figures, delivering metaphor and simile casually and suddenly, while keeping her language idiomatically oddball. . . . To read Carson is continually to be disoriented and reoriented, grabbed and dropped. . . . Serious poetry readers like to be put off balance, feel their stomachs drop. Red Doc> invites confusion, and invites us to read for plot. . . . It succeeds as linguistic confrontation. Read this book. You'll find it hard to forget." —Daisy Fried, The New York Times Book Review
 
"Bittersweet . . . More than any other living writer, Carson thrusts against the confines of genre, language and poetic convention, generating something that, however dense and difficult, is spectacularly thought-provoking. Red Doc>, a sequel to Autobiography of Red, is yet another example of Carson's supreme ability to incinerate literary preconceptions and, out of their ashes, produce a masterful piece of writing. . . . [Red Doc>'s] tidy rectangular columns that shoot through the center of the page . . . give the book an uncomfortable sense of urgency, claustrophobia and personality. In Red Doc>, Carson tends to her words with the care of a poet but constructs its narrative with the imperfect hand of a novelist. The resulting product is disorienting at times, emotional at others, and almost always sublime. While Autobiography of Red—with its long lines and plain syntax—seemed like prose on the verge of verse, it is the poetry that wins out as the overly dominating force in Red Doc>.  Powerful . . . beautiful." —Max Radwin, The Michigan Daily
 
"Red Doc> continues a conversation Carson has been having throughout her long and storied tenure as a poet, translator, essayist and novelist or, most often, as an alloy of all four. Carson lays claim to the title of trans-genre laureate, a writer who blurs lines so adeptly that librarians and booksellers must spend grueling hours contemplating shelf space for her books. Red Doc> is neither a novel nor a poem nor a Greek tragedy, but rather some recombinant heterotopia, a space where ideal forms of genre exist only as fragments and echoes of the whole. It unfurls like a tapestry, colored with neoclassical heroes, albino musk ox, ice bats, homicidal cucumbers, choral interludes, oracles, madmen and quacks. Carson has returned to a subject clearly near and dear to her, the refiguring of Greek mythology, specifically the story of the red-winged monster Geyron and his lover-cum-nemesis Herakles. . . . Carson pits simple, everyday language against atypical formatting. She elides common punctuation and subverts formal expectation, squeezing most of the book's text into newspaper like columns or using elements borrowed from concrete poetry. Yet the story remains compelling at the same time. The reader is flummoxed, intrigued, pulled along and, above all, curious about what's coming next. Minimalist details, playful wit and unorthodox typography control not only the pacing of the story, but also the perspective and characterization of its players. . . . Carson asks us to think deeply as we read; to travel, to feel, to change. She generates offbeat and peculiar storylines. The language and form charm us like potions, drawing us further into this strange world. Trying to make explicit sense of the 'events' only gets in the way of appreciation. Far better to be enchanted than to understand. . . . [A] careful reader, one willing to pay attention and reread, will be rewarded. . . . Carson soars above the tedious complaints of her critics who say she's not poetic enough to be a poet and nor focused enough to be a novelist. Heretical, inventive, daring and dazzling, Carson challenges the settled principles that try to define literature, and in so doing, pushes her vision forward into uncharted worlds. And she does all this while maintaining a sharp sense of humor. . . . What Carson accomplishes in her writing is an upheaval of expectation. She pulls at meaning, at definitions, at connotations and denotations of words, at the very fabric of language, unraveling that wonderful tapestry she sets out to create. . . . Reading anything by Carson is a journey, fraught with peril, difficulty and, yes, a hint of fear. . . . By excavating ancient myths, by reconfiguring monsters and villains and gods into contemporary characters, Carson reminds us that literature may not possess answers. Mere words may not comfort us from our fears, but they can help us ask the big questions. . . . Carson's not writing poems or novels, she's dancing a tango on the page. . . . Perhaps this is the great wisdom:  there are no instructions, only a bewildering cleansing, a rain of words to obscure the tears. Carson leaves us alone to ponder the mystery. She offers no answers, only provides the glorious space for that pondering." —Richard Farrell, Numéro Cinq
 
"A monstrous amalgamation of antiquity and post-modernism, caught somewhere between poetry and prose, lies Anne Carson's stunning new book Red Doc>. Carson strikes an impressive balance between all the themes and ideas that Red Doc> is built from and manages create a devastatingly relatable tale steeped in Greek myth. . . . Plot-wise, Red Doc> is a difficult, fantastical, read, but Carson imbues her characters with remarkably human ideas. Geryon may be a monster, but struggles deeply with human relationships, memories, and loss. . . . Carson certainly sequences her words like a poet, but maintains a remarkably fast, prose-like pace through Red Doc>; it's surprisingly easy to slide down these chutes with reckless abandon and tear through sets of lines as if they were simply a spaced-out sentence. She uses this sense of speed much to her advantage . . . Just as Carson's story exists between monstruous and human, her use of form toes the line between prose and poetry and creates a new kind of novel in verse. It's entirely fresh and possesses a poignancy that beautifully mirrors the peculiarity of what actually goes on the story: repeated themes of doors, shadowy hallways and plumes of rising smoke and foam give these pages another fascinating dimension . . . Perhaps Carson's vertiginous columns are meant to lift her readers and transcend the boundaries of form and genre. Or perhaps they're simply another dark corridor, leading to some unexplored depths." —Jeff Alford, About.com Contemporary Literature
 
"A mischievous blend of genres that is difficult to classify, but a joy to read. . . . A companion piece to the now-classic Autobiography of Red, [it] continues her effort to revive the pleasures of narrative verse, and, facing the dread of mortality, to create spaces that are suspended in time. . . . In Red Doc>, which can [like Autobiography] be read as fiction or poetry, darkly whimsical moments abound, and they charm. . . . Carson delights in the kinetic energies of danger and desire that drive most novels, [and] shuffles the book's real-time narrative with memories and dreams . . . Her poetry lets us surrender to the moment, then it surprises with action . . . Since the end returns us to the beginning, in a sense, with G revisiting his mother on her deathbed, it all may as well have been a dream. Either way, it's a memorable ride." —David Varno, Cleveland Plain Dealer

"[Carson's] phrases and images . . . swoop and beguile like hidden messages. Cryptograms from other civilizations, or hoaxes perpetrated by pranksters by moonlight? Say what you will about Carson, she doesn't play it safe. [Her] imprecision tickles my mind. Carson doesn't skirt preciousness, she plows through it on an ATV, kicking up shadows and moons and 'the ancient smell of ice.' . . . . Her preciousness usually doubles back on itself. When she goes for beauty—whether it ends in a swish or an air-ball—she follows up with a prophylactic does of demotic. . . . In Red Doc>, it's G's dying mother who provides the all-too-human relief. . . . Red Doc> is about the transition to adulthood once youth is just a dream song, a downgrade from Herakles to Sad. From poetry to prose . . . She is writing the poetry that remains, once our equations start making sense. A house > being on fire." —Michael Robbins, The New York Observer
 
"It's been a decade and a half since Carson published Autobiography of Red, that ambitious novel in verse that tells the modern-day story of Geryon, the red-winged monster meant to be slayed by Hercules. This month, Geryon (now simply called 'G') stars in Carson's unexpected, dizzying follow-up, Red Doc>, sure to be the verse event of the season." —Chelsea Allison, Vogue.com

"Carson is one of the most famous poets writing in English; her many rabid fans await her new books with eager anticipation. . . . This new book is a sequel to the book that first made Carson famous, Autobiography of Red. It takes Geryon, the red demon-boy who starred in that book, ages him to adulthood, renames him 'G,' and sets him loose in a confusing, fast-paced contemporary world. A kind of novel in (mostly) prose poetry, this book follows G through familial, erotic, and political discoveries on an eventual road trip with a lover named 'Sad.' Throughout, Carson reveals a quirky wisdom, which feels as cool as it does true: 'Time passes time does not pass. Time all but passes. Time usually passes.'" —Publishers Weekly (starred review)
 
"A shape-shifting verse novel that's both playful and compelling" —Time Out New York
 
"The events in Red Doc>, not so much recounted as erupting, have an instability suggestive of Alice in Wonderland; their narration could be the tossing and turning [found in] Finnegan's Wake. Their sequence belongs to no earthly clock but to one marking comet time. Red Doc> doesn't address us. It talks to itself and permits us to eavesdrop while giving us no particular assistance in making out what we raggedly hear about our times, about art, and about being human. What seeps out from a partly closed door is a sign that it is supremely worth hearing, and we should try to listen better. Every little while a phrase emerges of such poetic force that it hooks us and pulls us in. . . . What shines in Red Doc> is Carson's lines. This is not easy reading . . . the difficulties are indeed considerable. [But] we have no sense they are gratuitous: Something very worthwhile is going on. . . . As with a roller coaster, the transitions make us look forward to the next splendid plunge. And we plunge." —Richard Eder, The Boston Globe
 
"[Carson] has never been a particularly 'easy' writer, for all her wit and incisive directness. She's too formally playful. She is more difficult than ever in Red Doc>, but is still as singular, radical, and intellectually bracing as no other poet anyone could name. . . . If you want to kick the word 'genius' in the poet, scholar and translator's direction, very few will be sufficiently exercised to argue much. If that's NOT what she is, it certainly denotes her rarity and elevation over the morass nicely. . . . . In Red Doc>, G 'doesn't merely sing to [his] herd at night. He may talk to them listen stand in the herd. Listen . . . a low purple listening but with a height to the sound.' Welcome to Anne Carson's world. Bring your own commas. . . . [She is] one the most remarkable of all living writers." —Jeff Simon, The Buffalo News
 
"Carson is usually referred to as a poet, but just about no one finds that label satisfying: her fans (for whom she does something more than poetry), her critics (for whom she does something less than poetry) or herself. She often labels her work in conspicuously nonpoetic terms. [She] gives the impression—on the page, at readings—of someone from another world, either extraterrestrial or ancient, for whom our modern earthly categories are too artificial and simplistic to contain anything like the real truth she is determined to communicate. For two decades her work has moved—phrase by phrase, line by line, project by improbable project—in directions that a human brain would never naturally move. The approach has won her awards, accolades and an electric reputation in the literary world . . . Red Doc> is arguably not poetry. Most of the text runs like a racing stripe down the center of the page . . . [the] result of an accident with the computer. Carson hit a wrong button, and it made the margins go crazy. She found this instantly liberating. Red Doc> is the sequel—sort of—to Autobiography of Red, one of the crossover classics of contemporary poetry. The book is strange and sweet and funny, and the remoteness of the ancient myth crossed with the familiarity of the modern setting creates a particularly Carsonian effect: the paradox of distant closeness. Red Doc> is more difficult; its style is fragmentary, its pace herky-jerky, its rhythms of information trickier to pick up. . . .[and was] also, for Carson, much more difficult to write. Toward the end, the story leaps into tragic territory: the death of Geryon's mother. They are some of the saddest pages I've ever read. . . .The most animated moments in my discussions with Carson came when she spoke about boredom, which she can't stand. When she writes, she has a constant drive to feel as if she's doing something new with every sentence. When she lectures, regardless of the subject, she wants to uproot people. 'I'm really trying to make people's minds move, which is not something they're naturally inclined to do,' she told me. 'We have a kind of inertia, sitting and listening. But it's really important to get somehow in the mind and make it move somewhere it has never moved before. That happens partly because the material is mysterious or unknown, but mostly because of the way you push the material around from word to word in a sentence. And it's that that I'm more interested in doing . . . How can we move in a way we've never moved before, mentally? That seems like the most exciting thing to do with your head.'" —Sam Anderson, The New York Times Magazine

"With profound wit and arresting sorrow, Red Doc> continues the story of [an] inextricable pair, Herakles and Geryon—hero and monster, vanquisher and vanquished, lover and loved. In this version, Geryon lives an isolated existence as 'G,' and libertine-turned-soldier Herakles has just served a tour of duty in the Middle-East, coming back a shell-shocked shell of his former self. . . . Red Doc> serves as neither a proper sequel to Autobiography of Red nor as a historically consistent continuation. The established characters provide immediate name recognition and backstory, but just as one need not read The Iliad to understand The Odyssey, it isn't necessary to cycle back and first read Autobiography of Red (though—purely as a lifestyle decision—reading the book would be a very good idea). . . . What binds two individuals? How does one man living a separate life across the ocean continue to exert a hold upon those left at home? Like the earlier exploits of Geryon and Herakles, Carson launches [her characters] on a twisted picaresque, indulging her exquisite eye for natural detail. What holds these two together? Names and dynamics may change, but what endures is the story of a lost, misunderstood boy, and the one with the power to destroy him. . . . Carson frames precise, photographic images and constructs sturdy columns of text [that] bolster Red Doc> as Carson swings through a variety of techniques that refract the madness of war, from the systemic absurdism of Catch-22 to the post-modern flights of Gravity's Rainbow to the dead-bang temporal concussions of The Things They Carried. . . . Carson is funny—Lorrie Moore funny, Grace Paley funny—and Red Doc> courses with a wit shot through with intelligence and humility. . . . . Brushed with the magical, the absurd and the surreal." —Nathan Huffstutter, Paste

"Carson has dedicated no small part of her career to reconfiguring ancient myth. Actually, 'reconfiguring' just grazes the surface. Let's try 'reinventing,' or 'revitalizing,' or even 'reframing our understanding of the past by envisaging millennia-old tales as they might play out in a world very much like ours.' . . . Her best known work is Autobiography of Red, in which the hero must steal a herd of red cattle from the monster Geryon, killing the beast in the process. In her telling, the author reimagines the narrative—conquering hero slays grotesque fiend—as a contemporary coming-of-age story. It was not just popular; it was populist. . . . Given this, Carson's decision to produce a sequel, Red Doc>, more than a decade later, should come as no surprise. . . . In Autobiography of Red, she updated a myth to tease out underlying qualities of ancient Greek culture—its embrace of same-sex relationships, for example—that struck a chord in modern times. In Red Doc>, she revisits these characters to ask what happens when the same old story will not suffice. The answer, as you might imagine, is complex: the more you read, the more you appreciate her gift for crafting electrifying poetry through an aggregation of bits and pieces, from the New Testament to Goethe to Proust. It is an acknowledgment that the stories we have told one another for centuries still resonate, even if their meanings have changed. . . . In Red Doc>, the stepping stones of myth no longer suffice, and that narrative breakdown could serve as a defining symbol for the twenty-first century. . . . Carson reveals that the facts don't tell the whole story: that myth, in the end, was only part of the puzzle. Not because she—or the ancient Greeks—wanted to lie, or forgot, but because they didn't know the whole truth. Myth might become reality, but history is not destiny." —Sarah Liss, The Walrus
 
"Carson is arguably the most famous Canadian poet writing today. She is also a respected classical scholar. Red Doc> is a sequel to Autobiography of Red, but the two main characters appear here with changed names: G is a kind of winged red monster and the friend and lover of Sad (full name Sad But Great), a traumatized war veteran who has a mythic association with Heracles. . . . G and Sad travel through green pastures, across ice fields, through a hallucinogenic landscape to a psychiatric clinic for a stay. They eventually get to the house where G's mother is near death. They seem to be relatively helpless in their undefined quest. The rambling quality of their adventure evokes the scenes with gods and monsters in the ninth through twelfth books of Homer's Odyssey. . . . Also like Homer is the militaristic tone to the book, although it manages to feel contemporary at the same time. . . . Despite Carson's subdued approach to expressing emotion, parts of this book are shockingly moving, especially when she describes the impending death of G's mother. The poetry around their final meeting is strangely haunting in an understated way. It presents loss and our tenuous human interconnectedness in its fragile and mysterious passing. . . . Carson's writing takes poetry outside its usual and sometimes outmoded boundaries, but it's always an inspired creation. . . . Red Doc> straddles prose and poetry, but it is always wildly inventive, blending different historical periods and imaginary beings with our own. Like a medieval-style storyteller, [Carson] creates new variations of accepted stories and mythic characters. In her widely syncretic imagination, all these things are going on at once." —Ewan Whyte, The Globe and Mail

"It is always good to be reminded that history is alive in the present. And it is always good to be reading Anne Carson. If any writer weaves together classical mythology, 21st century themes, poetry, and drama into a narrative as seamlessly as Carson, then I've yet to read it. She's best known for Autobiography of Red, which follows the winged red demon-boy Geryon, . . . back as 'G' in Carson's new verse novel Red Doc> . . . He is older now, [and] the timeless adolescent concerns of Autobiography are gone. Whereas the young Geryon was desperate to find beauty, to be metaphorically and literally at peace with his own wings, G lives in a talk-show culture where people 'could just rant . . . like angry sleepwalking.' . . . The questions of Carson's mythic characters are familiar because they're our own. The territory is modern adulthood and the tone is often melancholy. [Carson] deserves both attention and praise for Red Doc>. This is the most inventive language likely to be published all year. I filled my pages with stars, underlines, and dog-ears. . . . [T]he lines are as aesthetically satisfying as they are intellectually challenging. . . . G and his friends and cattle inhabit a dangerous world in which things have a habit of always getting worse. Maybe it's human nature. Maybe it's just growing up. And by the time all the cow-jumping is complete, we've arrived at our emotional destination: bedside with G's dying mother, [and] we're reminded of all the places we've been, the many strange and fragmented plots I can't begin to broach here. I would challenge individuals [who say] that Carson isn't really a narrative writer to read G's final exchange with his mother without having a lung, artery, or tear duct malfunction. To Carson, figuring out what lies ahead often means looking backward. Her own summation of Red Doc> will likely surpass any review of her book written this year: 'To live past the end of your myth is a perilous thing.' Real and fraught . . . quick and imaginative.'" —Patrick McGinty, Propeller Magazine  

"You don't read poetry. That's fine. Nobody does anymore. But if there is one book I've pressed on more people in the past decade, it is Carson's Autobiography of Red. And I'm here to tell you its sequel has just been published, and that it's pretty much the biggest event of the year. Autobiography of Red was a page-turner . . . a novel written in verse, a crossbreed of poetry and prose that retold the myth of Geryon and Herakles, aka Hercules. . . . In Carson's hands, it became a tale of love and growing up in contemporary society. And now Geryon returns in the sequel, Red Doc>, [which] is insightful, whimsical, erotic and sad. Carson's especially good with winter landscapes. The book's poetry-and-prose combination manages to double its capacity for documenting life. . . . If you like books to provoke you, dare you, even change the way you think, let me recommend this strange, wonderful pair of novels about a young red man. We all have volcanoes in our lives. Sometimes it takes someone else to show us how to survive them." —Rosecrans Baldwin, NPR
 
"Is this poetry? Prose? Red Doc>, the sequel Autobiography of Red, is a feast for first glances. . . . The genius of G's ongoing saga—and surely one reason for the first book's success—is the silent appeal it makes to the alienated adolescent in all of us: we, too, can be memoirists of our own monstrosity. By Red Doc>'s midpoint, some of the misfits have made fast friends, observed oxen, and traveled to a glacier. The text takes occasional scholarly sidebar to hash out the nature of polar exploration, the principles of flight, the role of oxen in military history. Near the glacier is another chilly place: a psychiatric clinic. In the last act, G arrives at his mother's deathbed, and the reader arrives at the best writing in all of Red Doc> . . . [an] eleventh hour meditation on time, a poignant page on mothers, and other, assorted epiphanies." —Jason Guriel, Poetry

"Rarely do books of poetry get sequels, but the big collection of 2013 is sure to be Anne Carson's follow-up to her now-legendary Autobiography of Red, about the coming of age and erotic awakening of a (literal) boy-demon named Geryon. He is simply called 'G' in Red Doc>, which, in prose poems and blocky verse-strophes, takes him through today's complex, technologically infused world. . . . He journeys with a lover named 'Sad,' facing death, love and maturity with Carson's trademark sharpness and her uncanny ability to make the strange seem familiar and the familiar strange. G observes the modern world as both citizen and stranger, wonderstruck, perplexed and disgusted by humanity . . . A classics scholar by training, Carson has made an extraordinary career of knitting old myths into contemporary culture. She is justly famous and beloved, and her many fans are always clamoring for more. This book, especially, will set them on fire." —Craig Morgan Teicher, NPR
 
"Anne Carson's Autobiography of Red, a book by one of the best-known poets of our century is a bildungsroman. But it is also a love story, a meditation on translation, a portrait of the artist as a young monster: very strange, very smart, intermittently funny, and ridiculously beautiful. It is the one book I would take with me to a desert island. Carson's new book, Red Doc>, a sequel of sorts of Autobiography of Red, is sadder than its predecessor, and stranger, too. Its title made me think this book originated as a file on Carson's computer, created after Autobiography of Red was finished and she found herself discovering new fragments. Whether or not that's true, fragments are, thematically and formally, the atomic unit of Carson's work. They are also emotionally paradoxical entities; like all survivors, they are both tragic and miraculous: lonesome, lucky, lighting their flares across the wreckage of time. And sometimes they burn back into fire. . . . Here is mythology, in all its weirdness, waking up in our bed . . . a chronological porousness [that] characterizes all of Carson's work. This intimacy with vanished civilizations brings with it certain perils. But for every line of Carson's that's grave and pensive, another is funny, erotic, demotic, or dirty. Like the work of A.E. Housman, another poet-classicist, her books are set on the river of time, never far from where it joins with the Styx. In Autobiography of Red, Geryon was summiting. Red Doc> is the beginning of his descent. Older and now just called G, he spends his time reading Proust, visiting his ailing mother, and—in one of Carson's sadder temporal disjunctures—tending his herd of musk oxen next to a highway overpass. . . . Holy imagination, Batman. Who else on earth could write this scene? Miyazaki? Murakami? Marvel Comics? Carson, for one, can do it again and again . . . [Scenes] read like the moments of awe life occasionally grants us long after we have lost our innocence—respite from the difficult, disillusioning, everyday ticktock of being human. Even when the setting gets surreal, Carson never breaks faith with ordinary emotion. Red Doc> is, at times, excruciating in its grief. Yet just when it threatens to become unbearable, just when you are hurling at terminal velocity toward the killing earth—just then everything that seemed broken comes together. Suddenly you are borne into the sky on words and stories, those human wings, up there with a thousand ice bats and a kind-hearted monster and a stoner cow and a solid column of volcanic smoke, seamed with brilliant flame. This is Carson's obsession, and her gift: to make meaning from the fragments we get, which are also all we get—of time, of the past, of each other. . . . Sad but great: Carson [has] found the proper name for everything—her characters, this book, this life." —Kathryn Schulz, New York Magazine
 
"Likely to be one of the biggest poetry books of the year . . . [In] this continuation of/sequel to Carson's legendary verse-novel Autobiography of Red . . . Geryon is now simply 'G,' and our little boy-demon is forced to navigate the modern world with Sad, his lover. We're willing to leave all our myths in Carson's hands." —Emily Temple, Flavorwire
 
"In Red Doc>, Carson's follow-up to her daring Autobiography of Red, the boy-to-man hero, G, journeys through a supraliterary, textually experimental landscape that only Carson could conjure. Ranging from frozen tundra to festive meadows, G's odyssey features his dying mother, his war-veteran road-buddy lover, and a female artist friend in a wild hybrid narrative pushed to mythopoetic glory." —Lisa Shea, Elle
 
 
 
 
 
 
Tuesday, Mar 12, 2013
Anne Carson's Autobiography of Red, a novel in verse, was published more than a decade ago and has a loyal following. Reviewer Rosecrans Baldwin says those fans are sure to be delighted with Carson's new follow-up novel, Red Doc>. More at NPR.org