The Beginner's Goodbye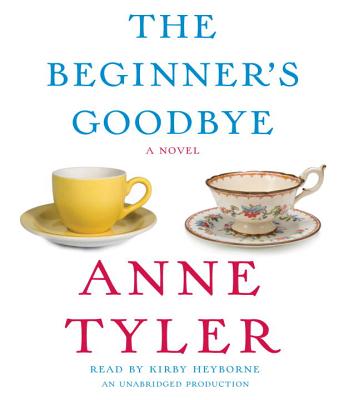 The Beginner's Goodbye
Random House Audio Publishing Group, Compact Disc, 9780307969149
Publication Date: April 3, 2012
* Individual store prices may vary.
Buy at Local Store
Enter your zip code below to purchase from an indie close to you.
or
Not Currently Available for Direct Purchase
Description
Anne Tyler gives us a wise, haunting, and deeply moving new novel in which she explores how a middle-aged man, ripped apart by the death of his wife, is gradually restored by her frequent appearances—in their house, on the roadway, in the market.
 
Crippled in his right arm and leg, Aaron spent his childhood fending off a sister who wants to manage him. So when he meets Dorothy, a plain, outspoken, self-dependent young woman, she is like a breath of fresh air. Unhesitatingly he marries her, and they have a relatively happy, unremarkable marriage. But when a tree crashes into their house and Dorothy is killed, Aaron feels as though he has been erased forever. Only Dorothy's unexpected appearances from the dead help him to live in the moment and to find some peace.
 
Gradually he discovers, as he works in the family's vanity-publishing business, turning out titles that presume to guide beginners through the trials of life, that maybe for this beginner there is a way of saying goodbye.
 
A beautiful, subtle exploration of loss and recovery, pierced throughout with Anne Tyler's humor, wisdom, and always penetrating look at human foibles.
About the Author
Nee en 1941, Anne Tyler reside actuellement a Baltimore. Cette figure majeure de la litterature americaine contemporaine a su se concilier les graces du lectorat comme celles de la critique. C est qu elle n est - pas seulement merveilleuse, elles perversement merveilleuse -, selon le mot de John Updike. Ont deja paru aux editions Stock: "Toujours partir", "Le Voyageur malgre lui", "Le Dejeuner de la nostalgie" et "Une autre femme".

Kirby Heyborne is an accomplished actor, musician, and comedian who has received a number of AudioFile Earphones Awards for his audiobook narrations. He has had starring roles in over a dozen features and many short films. Kirby is also a cofounder and director of the Los Angeles-based improv comedy group The Society.
Praise For The Beginner's Goodbye…
"An absolute charmer of a novel about grief, healing, and the transcendent power of love . . . With sparkling prose and undeniable charm, Tyler gets at the beating heart of what it means to lose someone, to say goodbye, and to realize how we are all, perhaps, always ultimate beginners in the complex business of life . . . A dazzling meditation on marriage, community, and redemption." —Boston Globe

"A pleasure to read . . . Classic Tyler . . . The wonder of Anne Tyler is how consistently clear-eyed and truthful she remains about the nature of families and especially marriage." —Los Angeles Times

"Like a modern Jane Austen, Tyler creates small worlds where she depicts in minutest detail the intimate bonds of friendship and family." —USA Today
 
"Anne Tyler is one of our national treasures, and The Beginner's Goodbye puts all of her skills on display: her warmth and wit, her generous embrace of her flawed characters, her clear-eyed observations about the inner workings of a marriage and the enduring bonds between brothers and sisters, husbands and wives." —Jennifer Weiner
 
"The Beginner's Goodbye is the purest distillation of an Anne Tyler novel imaginable." —San Francisco Chronicle

"Anne Tyler has no peer. Her books just keep getting better and better. In The Beginner's Goodbye, I was surprised, intrigued, and delighted at every turn."  —Anita Shreve

"Anne Tyler never disappoints . . . Her insights about life, love, aging, marriage, siblings, grief, and unexpected happiness grow richer and deeper with each passing year and book." —Pittsburgh Post-Gazette
 
"Over five decades of exuberant shape-shifting across the fictional landscape, Anne Tyler has cut the steady swath of a literary stalwart, writing novel after novel whose most memorable characters inhabit a cosmos all their own . . . What makes each story distinctive is the particular way its characters rebel against hereditary confines, cope with fateful crises, or forge relationships with new acquaintances who rock their world . . . Once again, Tyler exhibits her genius for the incisive, savory portrayal of marriage." —Julia Glass, New York Times Book Review 
 
"This is what Tyler does better than almost any contemporary writer. She peers at the forgotten areas of the everyday, the bits that are hard to pinpoint, yet make up the bulk of our lives and relationships. And this, ultimately, is why she is such a satisfying writer: she looks at people—at life—from the inside out. This is a book not just about grief, but about hope . . . The Beginner's Goodbye is diverting, certainly, but also deeply rewarding. There is, in short, no guilt in the pleasure of a new Tyler. We can only hope for many, many more." —Sunday Times (UK)

"Beautifully intricate. By the exquisitely romantic emotional climax, Aaron's ordinary life has bloomed into an opera." —Entertainment Weekly
 
"Its insights will keep you up nights.  . . . Ranks high in the hierarchy of Tyler's works. And what a lineup that is." —Chicago Tribune
 
"Warm, smart, deliciously written." —More magazine
 
"As always, Pulitzer Prize winner Tyler brilliantly explores a stunning range of human emotion, poignantly considering the challenges of death while creating lovable characters whose foibles capture our hearts. Essential reading." —Library Journal
 
"One of the things that makes Tyler's work so radiant is that she seems to believe that people are inherently good and that, thanks to that goodness, ordinary lives can contain moments of great beauty, dignity, and hope. The Beginner's Goodbye has all three . . . [Told] with characteristic warmth, sympathy and wisdom." —Daily Telegraph (UK)

"A scintillating gem of a novel . . . Exceptionally lithe and sparkling . . . A funny, sweet, and wise tale of lost and found love." —Booklist (starred)
 
"Elegant . . . An uplifting tale of love and forgiveness. By the end of this wonderful book, you've lived the lives and loves of these characters in the best possible way." —Publishers Weekly (starred, Pick of the Week)
 
"Anne Tyler writes about real life, and in common with the finest fiction writers, such as William Trevor and Alice Munro, she does not engage with fantasy, as she is well aware that the ordinary is sufficiently bizarre . . . She is effortless, wise yet never knowing, and establishes a sense of having thought deeply about the given facts of any story . . . She is also sympathetic without being sentimental . . . Yet again she has articulated the supreme difficulties of human communication in a calmly insightful exploration of love and truth, grief and reality." —Irish Times