The Book of Lost Things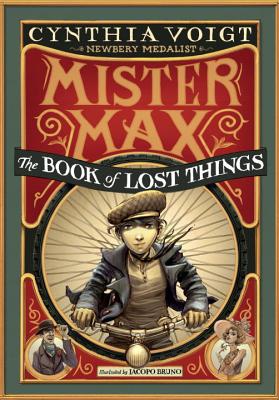 The Book of Lost Things
Alfred A. Knopf Books for Young Readers, Hardcover, 9780307976819, 367pp.
Publication Date: September 10, 2013
* Individual store prices may vary.
Buy Now
or
Shop Local
Enter your zip code below to purchase from an indie close to you.
Description
Newbery medalist Cynthia Voigt presents a rollicking mystery in three acts
Max's parents are missing. They are actors, and thus unpredictable, but sailing away, leaving Max with only a cryptic note, is unusual even for them. Did they "intend" to leave him behind? Have they been kidnapped?
Until he can figure it out, Max feels it's safer to keep a low profile. Hiding out is no problem for a child of the theater. Max has played many roles, he can be whoever he needs to be to blend in. But finding a job is tricky, no matter what costume he dons.
Ironically, it turns out Max has a talent for finding things. He finds a runaway child, a stray dog, a missing heirloom, a lost love. . . . So is he a finder? A detective? No, it's more. Max finds a way to solve people's problems he engineers better outcomes for them. He becomes Mister Max, "Solutioneer."
Now if only he could find a solution to his own problems . . .
About the Author
Cynthia Voigt won the Newbery Medal for "Dicey s Song", the Newbery Honor Award for "A Solitary Blue", and the National Book Award Honor for "Homecoming", all part of the beloved Tillerman cycle. She is also the author of many other celebrated books for middle grade and teen readers, including "Izzy, Willy-Nilly" and "Jackaroo". She was awarded the Margaret A. Edwards Award in 1995 for her work in literature, and the Katahdin Award in 2004. She lives in Maine.

Iacopo Bruno once had a very special friend who had everything he could possibly want. You see, ever sincethe two of themwere kids, Bruno's friend owned a magical pencil with two perfectly sharp ends. Whenever he wanted something, he drew it and it came to life! Once, he drew a spaceship andthe bothboarded it and went on a nice little tour around the galaxy. Another time, he drew a sparkling red plane that was very similar to the Red Baron's, only a little smaller. He pilotedthe two of theminside a giant volcano that had erupted only an hour earlier. WheneverBruno's friend was tired, he drew a big bed.They dreamed through the night until the morning light shone through the drawn shades. This great friend ofhis eventually moved to China . . . but he left his magic pencil with Bruno!
Praise For The Book of Lost Things…
New York Times Book Review, September 15, 2013:
"The charm, the quirkiness, the quiet originality of The Book of Lost Things are immensely appealing to those of us who love the classic possibilities and styles of children's literature."

Starred Review, Kirkus Reviews, April 10, 2013:"An endearing, memorable protagonist and a clever plot make this a winner."

Review, Publishers Weekly, July 8, 2013:
"Voigt's accomplished writing draws readers into every aspect of [Max's] world."

Review, School Library Journal, July 2013:
"Max displays good sense, a sensitive nature, and winning ingenuity... [a] comedic page-turner."

The Christian Science Monitor:
"A perfect read-aloud, the story will appeal to fans of fantasy, adventure, mystery, and humor."