The Noisy Paint Box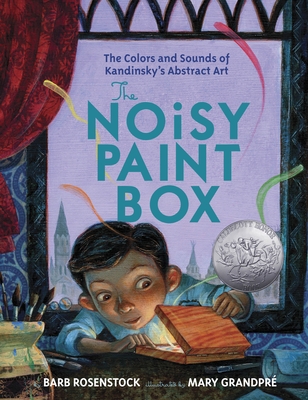 The Noisy Paint Box
The Colors and Sounds of Kandinsky's Abstract Art
Alfred A. Knopf Books for Young Readers, Hardcover, 9780307978486, 40pp.
Publication Date: February 11, 2014
* Individual store prices may vary.
Buy at Local Store
Enter your zip code below to purchase from an indie close to you.
or
Buy Here
Description
A Caldecott Honor Book
Vasya Kandinsky was a proper little boy: he studied math and history, he practiced the piano, he sat up straight and was perfectly polite. And when his family sent him to art classes, they expected him to paint pretty houses and flowers--like a proper artist.
But as Vasya opened his paint box and began mixing the reds, the yellows, the blues, he heard a strange sound--the swirling colors trilled like an orchestra tuning up for a symphony And as he grew older, he continued to "hear "brilliant colors singing and "see "vibrant sounds dancing. But was Vasya brave enough to put aside his proper still lifes and portraits and paint . . . "music?"
In this exuberant celebration of creativity, Barb Rosenstock and Mary GrandPrE tell the fascinating story of Vasily Kandinsky, one of the very first painters of abstract art. Throughout his life, Kandinsky experienced colors as sounds, and sounds as colors--and bold, groundbreaking works burst forth from his noisy paint box.
"Backmatter includes four paintings by Kandinsky, an author's note, sources, links to websites on synesthesia and abstract art.
About the Author
Barb Rosenstock loves inventing stories. Her award-winning picture books include: Fearless, The Littlest Mountain, The Camping Trip that Changed America, Thomas Jefferson Builds a Library, The Noisy Paintbox, and The Streak: How Joe DiMaggio Became America's Hero. She lives outside of Chicago with her husband, two sons, and two big poodles.

Newbery Medal winner Nancy Willard has written numerous beloved books for children and adults, including poetry, picture books, and novels. She teaches writing and literature at Vassar College.
Mary GrandPre is the acclaimed illustrator of many children's books, including Plum, by Tony Mitton; The Thread of Life, by Domenico Vittorini; and the bestselling Harry Potter series, by J.K. Rowling.

Praise For The Noisy Paint Box…
New York Times, January 29, 2014:
"GrandPré employs muted purples and blues to depict Vasya's dull childhood world. Once he starts painting, the pages come alive with bright swirls of color that fly around his head like strands of melody…Even those who aren't inspired to visit a museum will take away the lesson of Kandinsky's life: Listen to what excites you and follow its call."

Starred Review, Publishers Weekly, November 11, 2013:
"Rosenstock's prose strikes a balance between lightheartedness and lyricism. GrandPré's paintings conjure up an entire epoch...breathing life into all the characters."

Starred Review, Booklist, January 1, 2014:
"Richly colored, large acrylic paint and paper collage pictures illustrate the life of Vasily Kandinsky, one of the first painters of abstract art...The rich word choice is a delight: pistachio, cobalt, and saffron introduce readers to colors while hissing, blaring, and whispering reveal the sounds of the colors...This is a beautiful blend of colors, music, and life."

Starred Review, Kirkus, December 1, 2013:
"A rich, accomplished piece about a pioneer in the art world."

Starred Review, School Library Journal, February 2014:
"The book offers diverse potential for different types of study, whether one is reading for information or for pleasure. Outstanding."

The Huffington Post, March 20, 2014:
"The fantastic illustrations in this book will speak to the creative child and the story of breaking free from convention and finding your own path will speak to the child who dreams of things not yet seen."

The Horn Book, January/February 2014:
"Concentrating primarily on the artist as a child and young adult, Rosenstock takes known events and embellishes them with dialogue and specific sounds for the colors. GrandPré does a fine job showing color and sound as abstractions while presenting the artist and his surroundings in a more realistic manner."

Bulletin of the Center for Children's Books, February 2014:
"The story of a young kid who wants to shake things up will appeal to many junior artists, and the details of Vasya's sonic joy in color may inspire further artistic exploration...An author's note gives more details about Kandinsky's life, and a quartet of Kandinsky paintings are reproduced alongside it."