Try This at Home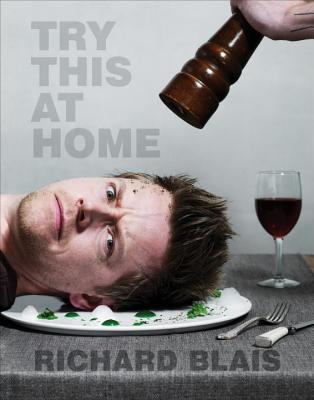 Try This at Home
Recipes from My Head to Your Plate
Clarkson Potter Publishers, Hardcover, 9780307985279, 287pp.
Publication Date: February 26, 2013
* Individual store prices may vary.
Buy at Local Store
Enter your zip code below to purchase from an indie close to you.
or
Buy Here
Description
From Bravo's "Top Chef All-Stars" winner Richard Blais comes his very cool debut cookbook for home cooks looking to up their game with more excitement in the kitchen. This is accessible and fun, and includes the signature recipes, flavor combinations, and cooking techniques that have made him such a popular chef.
A new way to make a dish is always on Richard Blais's mind. He has a wildly creative approach whether it's adding coffee to his butter, which he serves with pancakes; incorporating the flavors of pastrami into mustard; making cannelloni out of squid; microwaving apple sauce for his pork chops; or cooking lamb shanks in root beer. In his debut cookbook, with equal degrees of enthusiasm and humor, he shares 125 delicious recipes that are full of surprise and flavor. Plus there are 25 variations to add more adventure to your cooking such as making cheese foam for your burger or mashed sous vide peas to serve alongside your entree. Dive into an exploration of your kitchen for both creativity and enjoyment. Now try this at home
About the Author


TOM COLICCHIO is the chef/co-owner of New York's celebrated Gramercy Tavern, ranked New Yorkers' #1 favorite restaurant in the 2003 Zagat Survey, as well as chef/owner of Craft, the 2002 James Beard Best New Restaurant in America. Tom also received the 2000 James Beard Award for Best Chef in New York City, and a James Beard award for Best General Cookbook in 2001 for his first book, Think Like a Chef. In 2002 Colicchio opened Craftbar, a casual adjunct to Craft, CraftSteak in Las Vegas' MGM Grand Hotel, and introduced CraftKitchen, a line of olive oils and condiments imported from Calabria, Italy. In 2003, Colicchio opened 'wichcraft, next door to Craftbar in New York's Flatiron district, bringing Craft's ethic of simplicity and great ingredients to the ever-popular sandwich. He is married to a New York writer/filmmaker and is the father of 10-year-old Dante, who is a big fan of his father's veal-ricotta meatballs.
Praise For Try This at Home…
"The most innovative chef on Top Chef, Richard Blais brings us creative, thought-provoking recipes for the home cook. Let him make you look like a rock star."
—GRANT ACHATZ
 
"Luckily for the rest of us, Richard didn't heed his mom, nor does he plan to cease playing with his food any time soon.  And now, in Try This at Home, he has managed to cleanly and clearly break down his process so that you can have a good time trying out some of his methods in your own kitchen.  This is a cookbook from a serious chef who knows how to make fun of himself and lighten up the whole process.  Cooking need not be an overly complicated, overwrought process with eighteen ingredients and fourteen pans.  Though you can try using a good iSi siphon and a smoking gun (not that kind of smoking gun).  And occasionally some nitrous oxide.  Oh, and good ingredients, of course.  Plus a spirit of fun.  You have the cookbook.  Now, as your mother would say, "go play!"
—from the foreword by TOM COLICCHIO

"Of all the contestants on Top Chef, Richard Blais was easily the most fascinating to watch. His food pays solid respect to the past while looking fearlessly to the future. Try This at Home takes Richard's years of thinking, experimenting, trying and failing, and trying and succeeding, and brings it all home in thrilling and decidedly useful ways. This is the fast, accessible route to looking like a genius at your next dinner."
—ANTHONY BOURDAIN

"I've known Richard for a long time now and his cooking has always been a huge inspiration. Try This at Home totally captures his creativity, his talent, and his awesome sense of humor."
—SEAN BROCK

"I've been rooting for Richard Blais since his first season on Top Chef and always wondered, How'd he do that? Now I finally have the answers . . . and I will definitely try these recipes at home!"
—ZOOEY DESCHANEL

"Richard has created a book that I wish I had written—a book that will inspire not only professionals to look at food technique and flavor in a different way, but that any casual cook can work out of each and every day. For a guy who's not even Jewish to teach me about better brisket was a welcome miracle, and the potato chip omelet shouldn't be dismissed as gimmickry. We make it every week now in our house! Richard's genuine passion as a chef, innovator, and artist comes shining through, but his influence as a father and husband makes this book truly special. Try This at Home is a must for anyone who enjoys cooking."
—ANDREW ZIMMERN