Barefoot Running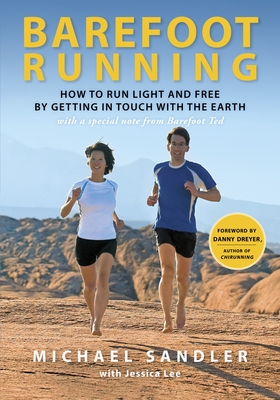 Barefoot Running
How to Run Light and Free by Getting in Touch with the Earth
Three Rivers Press (CA), Paperback, 9780307985934, 298pp.
Publication Date: September 20, 2011
* Individual store prices may vary.
Buy at Local Store
Enter your zip code below to purchase from an indie close to you.
or
Buy Here
Description
   How could something we have for free—our bare feet—be better for running than $150 shoes? The truth is that running in shoes is high-impact, unstable, and inflexible. Shoes promote a heel-centric ground strike, which weakens your feet, knees, and hips, and leads to common running injuries. In contrast, barefoot running is low-impact, forefoot-centric, stable, and beneficial to your body. It encourages proper form and strengthens your feet in miraculous ways.
   When you run in shoes, you not only risk developing poor form, but you also hinder the natural relationship with the ground that running facilitates. Barefoot running restores the delightful sensory and spiritual connections to the earth that you were meant to experience.
   Barefoot Running offers the only step-by-step direction runners need at any age to overcome injuries, run faster than ever, and rediscover the pure joy of running. Once you tear off your shoes and learn to dance with nature, you'll tread lightly and freely, hearing only the earth's symphony and feeling only the dirt beneath your feet. Hit the ground running with revolutionary techniques for starting out slowly, choosing minimalist footwear, navigating rough weather and rugged terrain, and building your feet into living shoes.
About the Author


Jessica Lee is an EPIC eBook Award winner and international bestselling author of paranormal romance. She lives in the southeastern United States with her husband and son. In Jessica's former life, she was a science geek and spent over twenty-five years in nursing. But after the birth of her son, she left her medical career behind. During that transition, she discovered her passion for writing romance and has never looked back. Jessica Lee is currently published by three houses: Entangled Publishing, Resplendence Publishing, and Ellora's Cave as well as several self-published titles. She's a member of Romance Writers of America, Carolina Romance Writers, and FF&P.

Danny Dreyer, an esteemed walking and running coach, is a nationally ranked ultramarathon runner. He conducts workshops nationwide and lectures frequently at races and events. He is the coauthor, with Katherine Dreyer, of "ChiRunning."
Praise For Barefoot Running…
"Michael Sandler has applied his passion and insights into barefoot running in a way no one else has so far. You are holding in your hands a book as exhaustive and accurate of a description of barefoot running as you could ever hope for."
—Barefoot Ted of Born to Run
 
"Barefoot Running by Michael Sandler is the best book on the market on how to begin and excel at barefoot running. I highly recommend it."
—Dr. Michael Nirenb erg, author of America's Podiatrist blog

"Enjoy the insights this book has to offer. . . . It is about form, joy, and the love of running. Run free!"
—Micah True, Caballo Blanco de la Sierra Madre of Born to Run