Blood Pressure Down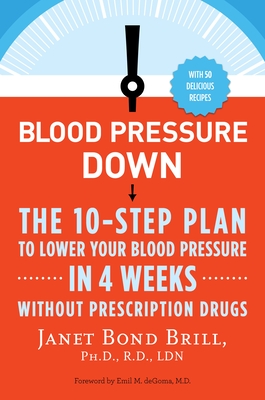 Blood Pressure Down
The 10-Step Plan to Lower Your Blood Pressure in 4 Weeks--Without Prescription Drugs
Three Rivers Press (CA), Paperback, 9780307986351, 338pp.
Publication Date: May 7, 2013
* Individual store prices may vary.
Buy at Local Store
Enter your zip code below to purchase from an indie close to you.
or
Buy Here
Description
For thenearly78 million Americans with hypertension, a safe, effective lifestyle plan incorporating the DASH diet principles and much more for lowering blood pressure naturally
If you have high blood pressure, you're not alone: nearly a third of adult Americans have been diagnosed with hypertension, and another quarter are well on their way. Yet a whopping 56 percent of diagnosed patients do not have it under control.The good news? Hypertension is easily treatable (and preventable), and you can take action today to bring your blood pressure down in just four weeks without the potential dangers and side effects of prescription medications.
" In Blood Pressure Down, " Janet Bond Brill distills what she's learned over decades of helping her patients lower their blood pressure into a ten-step lifestyle plan that's manageable for anyone. You'll:
" "harness the power of blood pressure power foods like bananas, spinach, and yogurt
" "start a simple regimen of exercise and stress reduction
" "stay on track with checklists, meal plans, and more than fifty simple recipes
Easy, effective, safe and delicious "Blood Pressure Down" is the encouraging resource that empowers you, or your loved ones, to lower your blood pressure and live a longer, heart-healthy life.
About the Author
JANET BOND BRILL, Ph.D., R.D., LDN, is a registered and licensed dietitian/nutritionist, exercise physiologist, and certified wellness coach. She has been published in the "International Journal of Obesity" and the "International Journal of Sport Nutrition," as well as in the popular press.
Praise For Blood Pressure Down…
"Brill does a good job of explaining that hypertension is a silent killer that hurts blood vessels without pain or symptoms and then causes huge problems, such as stroke, kidney failure, and heart attacks… Overall, anyone who wants to try nondrug approaches to lowering blood pressure can find much useful, potentially lifesaving information in this guide book."
—Booklist

"What sets this 10-step plan apart is the simple way [Janet Bond Brill] lays it out for the readers….The steps and the implementation are presented so that readers can easily start tomorrow."
—BlogCritics.org

"A detailed, well researched book for anyone serious about lowering his or her blood pressure."
—Examiner.com

"The brilliant Dr. Brill…has a knack for making cardiac disease simple to understand and conquer…This book is the ideal tool to supplement a doctor's visit to effectively lower a patient's blood pressure with or without medications. This book is so comprehensive - it gives guidance on how to monitor one's blood pressure at home, reminds people about stroke symptoms, what type of exercise works best and of course the foods that can lower blood pressure. The recipes at the end of the book emphasize how delicious a heart healthy diet can be."
—Annabelle S. Volgman, MD, FACC
Professor of Medicine, Rush College of Medicine
Medical Director, Rush Heart Center for Women

"A simple, holistic, and achievable 10-step plan that is highly effective in reaching the ideal blood pressure in 4 weeks. Maintaining optimal blood pressure is critical in preventing heart disease and stroke." 
—Jennifer H. Mieres, MD, FACC, FASNC, FAHA
Professor of Cardiology & Population Health, Hofstra North Shore - LIJ School of Medicine