One Simple Idea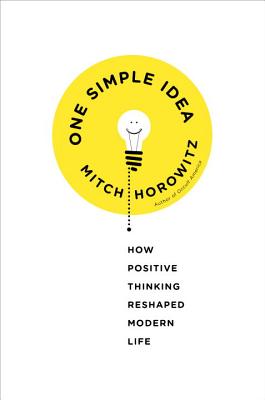 One Simple Idea
How Positive Thinking Reshaped Modern Life
Crown Publishing Group (NY), Hardcover, 9780307986498, 338pp.
Publication Date: January 7, 2014
* Individual store prices may vary.
Buy at Local Store
Enter your zip code below to purchase from an indie close to you.
or
Buy Here
Description
From the millions-strong audiences of Oprah and "The Secret" to the mass-media ministries of evangelical figures like Joel Osteen and T. D. Jakes, to the motivational bestsellers and New Age seminars to the twelve-step programs and support groups of the recovery movement and to the rise of positive psychology and stress-reduction therapies, this idea--to think positively--is metaphysics morphed into mass belief. This is the biography of that belief.
No one has yet written a serious and broad-ranging treatment and history of the positive-thinking movement. Until now. For all its influence across popular culture, religion, politics, and medicine, this psycho-spiritual movement remains a maligned and misunderstood force in modern life. Its roots are unseen and its long-range impact is unacknowledged. It is often considered a cotton-candy theology for New Agers and self-help junkies. In response, "One Simple Idea" corrects several historical misconceptions about the positive-thinking movement and introduces us to a number of colorful and dramatic personalities, including Napoleon Hill and Norman Vincent Peale, whose books and influence have touched the lives of tens of millions across the world.
About the Author
Mitch Horowitz is a PEN Award winning author who has also written for "Science of Mind", "New Dawn", " Parabola", "Fortean Times", and the Religion News Service. A sought-after speaker and well-known voice for occult and esoteric ideas, he is editor-in-chief of Tarcher/Penguin.
Praise For One Simple Idea…
"Mitch Horowitz has written a powerful, perceptive, and enlightening testament to the idea that a single thought can change the world. One Simple Idea is simply a brilliant book." —Deepak Chopra, M.D.
 
"This wonderfully inspirational book is filled with both practical and philosophical ideas that will help transform even the most fearful and distracted among us." —Ken Burns
 
"Serious skeptics, true believers, and seekers of every stripe will want to read Mitch Horowitz's vibrant, probing, and richly researched account of the impact of the positive-thinking movement on every aspect of American life today. Filled with a cast of remarkable characters and many lively tales, One Simple Idea is a readable, responsible examination of the limits and possibilities of mind-power as a source of constructive transformation." —Judith Viorst
 
"Positive thinking has been a major influence in Western culture for at least the past 50 years. Much has been said and written about the pros and cons of this idea, and now Mitch Horowitz has given us a great summary in his very engaging One Simple Idea: How Positive Thinking Reshaped Modern Life. If you want more positive experiences or to see yourself and others in more positive ways -- or if you are (like me) somewhat skeptical of the excesses of positive thinking -- this book is eye-opening, grounded, and full of practical implications." —Rick Hanson, author of Hardwiring Happiness

"I am not exaggerating – and I know about hype. This really is a superb contribution to intellectual history. It helps anyone understand the social context and origins of the American mentality. A really delightful contribution to the study of religion and to social history." —Raymond A. Moody, Jr., M.D., Ph.D., author of Life After Life

"This work powerfully reviews and recounts the meaningful effect and positive influence that a host of modern thought leaders have made in shaping contemporary life.  Their wisdom needs be followed and practiced by all to produce an effective and progressive civilization." —Edgar Mitchell, Sc.D, Apollo 14 astronaut.  

"This book is a liberation of the human spirit. The words contained in these pages are a mandate to us all to take the reins of our lives and make better choices moment to moment. Mitch explains how our thoughts do have an effect on our experience, and knowing that we can choose to break free from the confines of viewing our life as a set of circumstances that cannot be dealt with in a way that makes us feel at peace in our hearts." —Barry Zito, pitcher, San Francisco Giants, three-time All Star and Cy Young Award winner

"In One Simple Idea, Mitch Horowitz masterfully weaves together the philosophical, scientific, and spiritual histories of one of the most important self-realizations in human history, that thoughts are things.  The insights of this book will force you to not only reevaluate what you think, but how you think, and how those thoughts can change your life forever." —James Van Praagh, spiritual medium and author of Talking to Heaven

"A most remarkable history and explanation of that deeply American idea that thought is causative, that thoughts are forces, and that thinking can literally change the world. It can. Mitch Horowitz shows how -- with real heart, with real learning, and with real answers to all of the facile thinking, both pro and con, around this 'one simple idea.'  Easily the best book on the subject we have now." —Jeffrey J. Kripal, J. Newton Rayzor Professor of Religious Studies, Rice University

"Horowitz offers a spell-binding survey of the evolution and persistence of positive thinking and its shaping of modern America." —Publishers Weekly

"Even those who are critical of the positive-thinking movement…are likely to agree that this is a well-researched, thoughtful, and frequently surprising history of the subject…the point is to educate and inform, and the author does that splendidly." —Booklist

"A historically rich analysis of an idea that is older than many may think." —Kirkus

"This deftly crafted history will leave readers with a rich understanding of the subject and even some curiosity about its potential application to their own lives" —Library Journal
 
"A tour de force recap of what is a bedrock philosophy, also known as 'New Thought' or even 'New Age' in some circles…One Simple Idea is a remarkable book." —The Washington Times
 
"Horowitz is a fluid writer...And like Ronald Reagan, he's unembarrassed about the mystical side of positive thinking. Horowitz ends his book with a chapter titled 'Does It Work?' He says it does." —Businessweek
 
"Mitch Horowitz charts the long ascension of the mind-power movement…despite the mystical nature of many of its claims, the author contends, there is enough evidence that so-called New Thought philosophy is at least 'a little bit true' — and for believers, a little can go a long way." —Psychology Today