Supernormal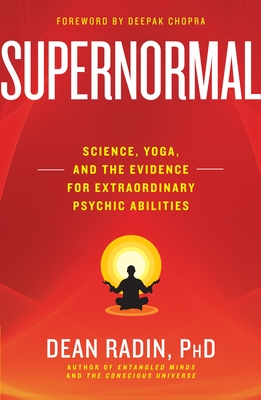 Supernormal
Science, Yoga, and the Evidence for Extraordinary Psychic Abilities
Ballantine Books, Paperback, 9780307986900, 369pp.
Publication Date: July 16, 2013
* Individual store prices may vary.
Buy at Local Store
Enter your zip code below to purchase from an indie close to you.
or
Buy Here
Description
Can yoga and meditation unleash our inherent supernormal mental powers, such as telepathy, clairvoyance, and precognition? Is it really possible to perceive another person's thoughts and intentions? Influence objects with our minds? Envision future events? And is it possible that some of the superpowers described in ancient legends, science fiction, and comic books are actually real, and patiently waiting for us behind the scenes? Are we now poised for an evolutionary trigger to pull the switch and release our full potentials?
Dean Radin, Director of Research at the Institute of Noetic Sciences (IONS) and bestselling author of "The Conscious Universe, "presents persuasive new experimental evidence for the existence of such phenomena. He takes us on a thrilling scientific journey and challenges outdated assumptions that these abilities are mere superstition. Focusing on Patanjali's mysterious "Yoga Sutras "-- 2,000 year-old meditation practices believed to release our extraordinary powers -- Radin offers powerful evidence confirming that sometimes fact is much stranger, spookier, and more wonderful than the wildest fiction.
About the Author
Docteur en psychologie, ingenieur et chercheur a l'Institut des Sciences Noetiques en Californie, Dean Radin est l'un des meilleurs specialistes mondiaux de la parapsychologie. Il a enseigne a Princeton, participe a de nombrreux think-tanks et a conduit des recherches pour le gouvernement americain.

Deepak Chopra is the author of more than fifty-five books translated into over thirty-five languages, including numerous New York Times bestsellers in both fiction and nonfiction categories.
Praise For Supernormal…
"In Supernormal, consciousness researcher Dr. Dean Radin shows compellingly that specific ancient claims about extraordinary psychic abilities are real, and how they have been confirmed by an outpouring of ingenious experiments whose statistical power is simply galactic. Supernormal is the crown jewel in Dr. Radin's landmark trilogy, which also includes The Conscious Universe and Entangled Minds.  Supernormal is a reader's delight. Beautifully written, it is spiced with that rarest ingredient in science writing:  humor. If this book does not take your breath away, it should, because it reveals how we can awaken to innate human potentials that are glorious, on which our future may depend. Thank you, Dr. Radin, for showing the way." -- Larry Dossey, MD, author of One Mind

"In the last 50 years, major discoveries in modern science increasingly support the wisdom and vision of the ancient philosophers and sages. Dean Radin's work is a major step in the same context, showing us how the statements made by the ancient sages like Patanjali are supported by the current research conducted with strictest scientific protocols. Radin's work seems to bear even greater promise of what is yet to come." --Swami Veda Bharati, D. Lit.  

"Great advances in science are made by following the evidence, wherever it may lead. Adhering to this principle, internationally-known researcher and author Dean Radin convincingly demonstrates that psi phenomena invalidate the assumptions associated with the obsolete materialist worldview. Recognizing the fundamental aspect of mind and consciousness, Dr. Radin also explains why it is now time to significantly revise and expand our concepts about who we are and the ultimate nature of reality." --Mario Beauregard, author of The Spiritual Brain and Brain Wars

"As with Dr. Radin's previous work, this book is thoroughly researched, clearly written, and immensely engaging. Once again he has pushed the boundaries of religion, science, psychology, and philosophy. Invaluable reading!" --Michael Bloch, University of San Francisco

"Dean Radin is a modern-day Galileo of psychical research.  He is an impeccable scholar and premier experimental scientist, and this is a terrific book.  Come, look through his telescope; with great clarity, he goes right to the core of the most profound issues in the contemporary science of mind.  By including a detailed review of a variety of experimental findings, this book presents in one easily accessible place a wealth of information, creating a valuable reference and teaching/learning resource for students and scholars alike.  And by connecting all this with contemplative investigations of the nature of mind carried out over the course of millennia, this book makes an invaluable contribution to expanding the modern dialogue between science and the contemplative traditions." --David E. Presti, University of California, Berkeley

"In Supernormal, Dean Radin skillfully weaves threads of Eastern praxis (yoga) and the results of Western psi experiments into a seamless and fascinating tapestry, one that portrays not merely who we are but what we might aspire to become." --Daniel Sheehan