Rod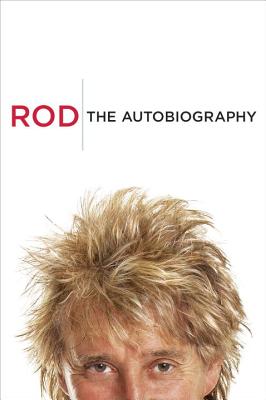 Rod
The Autobiography
Crown Archetype, Hardcover, 9780307987303, 394pp.
Publication Date: October 23, 2012
* Individual store prices may vary.
Buy at Local Store
Enter your zip code below to purchase from an indie close to you.
or
Not Currently Available for Direct Purchase
Description
The extraordinary life and career of music legend Rod Stewart, in his own words for the first time.
 
With his soulful and singular voice, narrative songwriting, and passionate live performances Rod Stewart has paved one of the most iconic and successful music careers of all time. He was the charismatic lead singer for the trailblazing rock and roll bands The Jeff Beck Group and The Faces, and as a solo artist, the author of such beloved songs as "Maggie May," "Tonight's the Night," "Hot Legs," "Da Ya Think I'm Sexy?," "Young Turks," "Forever Young," and "You Wear It Well."  Now after more than five decades in the spotlight, he is finally ready to take a candid and romping look back at his life both on and off the stage. From his humble British roots to his hell-raising years on tour with his bandmates, not forgetting his great loves (including three marriages and eight children) and decades touring the world, Rod delivers a riveting ride through one of rock's most remarkable lives.
Praise For Rod…
"Funny, self-deprecating and a whole lot less boastful than he could be, Mr. Stewart offers a string of Grade-A rock 'n' roll debauchery stories and…makes them charming." –The New York Times 

"The best news about Stewart's autobiography is that it revives the rollicking humor and self-deprecating personality of his early career. It takes the jolly perspective of a guy who knows he's one of the world's luckiest men, and the result proves infectious."  –New York Daily News
 
"In an action-packed memoir, Stewart explains how he survived the excesses of Seventies rock stardom…full of bad behavior and enough ex-wives to fill an entire soccer side." —Rolling Stone

"A he-said romp through a five-decade music career that spawned a string of enduring pop classics…[Stewart is] an entertaining storyteller who admits that at age 67 he still spends time on that bottle-blond, high-maintenance hair. We love him for that." –The Tampa Bay Times
 
"Unsurprisingly, Rod Stewart has a few stories to tell…The singer tells them in a charming, often humble and self-deprecating, and always entertaining fashion throughout Rod, his autobiography….A moving read." –The Buffalo News

"…a life that seems to be one endless romp from hit song to hot date, with a few stylish Italian sports cars and expensive pieces of Pre-Raphaelite art thrown in for good measure. Blondes (Have More Fun), indeed." –USA Today

"The most outrageous—and wittiest—rock autobiography of the decade." –The Daily Mail

 "Amiably and self-knowingly told… the tone [is] pitched right and the jokes good." –The Guardian
 
"Forget your Salman Rushdie.  Put down your JK Rowling.  Tomorrow sees the publication of one of the most entertaining, revealing, captivating books of the year-- the autobiography of Rod Stewart.  Truly." –The Independent online

"Anyone who wants to be a rock and roll superstar should read this…crazy stories." –Jimmy Fallon
 
"A likable, mostly generous and well-written look back at the days of bedding starlets and destroying hotels." –Kirkus

"Looking at the fall release schedule and seeing memoirs slated from Pete Townshend and Neil Young, who would have tipped Rod Stewart as being the rock graybeard most likely to produce the best book? But he did. Rod: The Autobiography (Crown) is a warm, roguish reminiscence. More playful than Townshend's at times ponderous Who I Am and far more insightful than Young's numbing Waging Heavy Peace, Stewart's memoir has much of the joyful, big-hearted raffishness of the singer's classic early '70s recordings. (It's more "Mandolin Wind" than "Da Ya Think I'm Sexy?" — or anything else of his from the last 35 years or so.) The book is a fun, rollicking read." —Spin.com