What We Talk about When We Talk about Anne Frank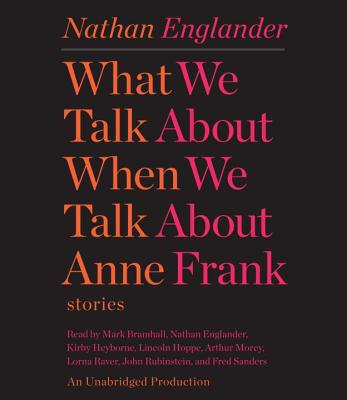 What We Talk about When We Talk about Anne Frank
Stories
Random House Audio Publishing Group, Compact Disc, 9780307989291
Publication Date: February 7, 2012
* Individual store prices may vary.
Buy at Local Store
Enter your zip code below to purchase from an indie close to you.
or
Not Currently Available for Direct Purchase
Description
These eight new stories from the celebrated novelist and short-story writer Nathan Englander display a gifted young author grappling with the great questions of modern life, with a command of language and the imagination that place Englander at the very forefront of contemporary American fiction.
 
The title story, inspired by Raymond Carver's masterpiece, is a provocative portrait of two marriages in which the Holocaust is played out as a devastating parlor game. In the outlandishly dark "Camp Sundown" vigilante justice is undertaken by a group of geriatric campers in a bucolic summer enclave. "Free Fruit for Young Widows" is a small, sharp study in evil, lovingly told by a father to a son. "Sister Hills" chronicles the history of Israel's settlements from the eve of the Yom Kippur War through the present, a political fable constructed around the tale of two mothers who strike a terrible bargain to save a child. Marking a return to two of Englander's classic themes, "Peep Show" and "How We Avenged the Blums" wrestle with sexual longing and ingenuity in the face of adversity and peril. And "Everything I Know About My Family on My Mother's Side" is suffused with an intimacy and tenderness that break new ground for a writer who seems constantly to be expanding the parameters of what he can achieve in the short form.
 
Beautiful and courageous, funny and achingly sad, Englander's work is a revelation.
About the Author
Nathan Englander was born in New York in 1970. His short fiction has appeared in "The Atlantic Monthly, The New Yorker, "and numerous anthologies including "The Best American Short Stories, The O. Henry Prize Anthology, "and "The Pushcart Prize," Englander's story collection, "For the Relief of Unbearable Urges "(Knopf, 1999), earned him a PEN/Malamud Award and the American Academy of Arts and Letters Sue Kauffman Prize. He was a Guggenheim Fellow in 2003 and a Fellow at the Dorothy and Lewis B. Cullman Center for Scholars and Writers at the New York Public Library in 2004. He lives in Manhattan.
Praise For What We Talk about When We Talk about Anne Frank…
Praise for Nathan Englander's What We Talk About When We Talk About Anne Frank
 
"Englander's new collection of stories tells the tangled truth of life in prose that, as ever, surprises the reader with its gnarled beauty . . . Certifiable masterpieces of contemporary short-story art."
—Michael Chabon
 
"A resounding testament to the power of the short story from a master of the form. Englander's latest hooks you with the same irresistible intimacy, immediacy and deliciousness of stumbling in on a heated altercation that is absolutely none of your business; it's what great fiction is all about."
—Téa Obreht
 
"It takes an exceptional combination of moral humility and moral assurance to integrate fine-grained comedy and large-scale tragedy as daringly as Nathan Englander does."
—Jonathan Franzen
 
"Courageous and provocative. Edgy and timeless. In Englander's hands, storytelling is a transformative act. Put him alongside Singer, Carver, and Munro. Englander is, quite simply, one of the very best we have."
—Colum McCann
 
"Nathan Englander writes the stories I am always hoping for, searching for. These are stories that transport you into other lives, other dreams. This is deft, engrossing, deeply satisfying work. Englander is, to me, the modern master of the form. And this collection is the very best of the best."
—Geraldine Brooks

"What We Talk About When We Talk About Anne Frank vividly displays the humor, complexity, and edge that we've come to expect from Nathan Englander's fiction--always animated by a deep, vibrant core of historical resonance."
—Jennifer Egan
 
"Englander's wisest, funniest, bravest, and most beautiful book. It overflows with revelations and gems."
—Jonathan Safran Foer
 
"Nathan Englander's elegant, inquisitive, and hilarious fictions are a working definition of what the modern short story can do."
—Jonathan Lethem
 
"The depth of Englander's feeling is the thing that separates him from just about everyone. You can hear his heart thumping feverishly on every page."
—Dave Eggers
 
"Nathan Englander is one of those rare writers who, like Faulkner, manages to make his seemingly obsessive, insular concerns all the more universal for their specificity. It's this neat trick, I think, that makes the stories in his new collection so utterly haunting."
—Richard Russo

"A marvel … At home in many idioms, Englander unerringly finds the right one for each of his stories…few literary works have better demonstrated their veracity lately than this glorious collection." – Financial Times
 
"Outstanding…In the title story, two Jewish couples spar relentlessly, and Englander shows an unerring ear for dialogue" – The Independent
 
 "Nathan Englander, a master of short fiction, writes about West Bank settlers and Orthodox families, the Holocaust and mixed marriages, but not to editorialize about them. His real subjects are memory, obsession, choices, and consequences…In Nathan Englander's eyes, human beings make choices for admirable and regrettable reasons, with good and bad outcomes. His compelling storytelling, his compassion, and his startling originality make Englander an essential writer. This collection confirms his exceptional talents yet again, and it is not to be missed." –Jewish Book Council
 
 "Few collections are ever heralded as 'big books' or are met with as much excitement as Nathan Englander's. Relieving our unbearable urge for more is What We Talk About When We Talk About Anne Frank, stories that possess the age-old wisdom of folktales populated by characters trapped in the net of history confronting the universal capacity for evil and the depths of our longing." –Vanity Fair
 
One of Newsweek's 12 for 2012
 
"While so much of today's Jewish-American fiction revolves around the inheritance of loss and the ancestral need to remember, Englander brilliantly, often hilariously, and occasionally quite jarringly tackles the very nature of memory itself, how extreme the difference can be between generations, and what exactly one owes one's forbearers when it comes to a heritage of pain and dislocation." –Interview
 
One of The Millions' Most Anticipated: The Great 2012 Book Preview
 
"In his new collection, the reader feels the musculature beneath the skin of his short fiction and keenly appreciates that this is where his supreme power lies. Englander is his own writer. One may think of, say, Bernard Malamud as a possible influence, but which masters, if any, guided him in the early stages of his career have been bid adieu as Englander sails his own personally mapped seas." –Booklist
 
 "Parables of emotional complexity and moral ambiguity, with lessons that are neither easy nor obvious, by a short-story master…The author at his best." –Kirkus (Starred Review)
 
"Although most of the stories center on Englander's clear interest in the role religion and history play on his characters' lives, they also transcend these narrow themes to address the universal with humor and subtle observation…In his wide-ranging new collection, Englander masters the art of the short story with all its craft, humor and compassion." –Shelf Awareness
 
 "What Englander is saying is that we know ourselves, or don't, on different levels, that we exist individually and as part of a heritage…Who will hide us? Who are we, really? How do ritual and culture intersect? Such questions exist at the heart of this accomplished collection, in which stories are what make us who we are." –LA Times
 
 "What's wonderful about Englander is that all of his stories seem like they would fall flat or foolish in someone—anyone—else's hands, but somehow he manages to pull it off and leave you breathless at the end." –Flavorpill (10 New Must-Reads for February)
 
"This volume showcases Mr. Englander's extraordinary gifts as a writer…a combination of psychological insight, allegorical gravity and sometimes uproarious comedy…to explore how faith and family (and the stories characters tell about faith and family) ineluctably shape an individual's identity." –Michiko Kakutani
 
"Englander has sharpened his focus. His subjects are mercy, vengeance and their moody, intractable stepchild, righteousness. He is never deaf to the past or willing to grant us that luxury…A kind of hard-won wisdom spills out on every page…Terrific collection." –New York Times Book Review
 
"In What We Talk About When We Talk About Anne Frank, Englander brilliantly weaves the sacred and secular together so deftly as to make them impossible to separate. In doing so, he reveals the ways in which what is holy can be both heartbreaking and hilarious." –BookPeople's Blog
 
"Englander's stories are at times startling, even transgressing. But they ring true and are a funny, chilling joy to read." –Cleveland Plain Dealer
 
"In a style that successfully mixes humor and seriousness, these are stories to savor. Englander writes with a special gentleness in creations that can e deeply, poignantly sad, or darkly humorous, although never cruel." –Chicago Jewish Star
 
"The title story of Englander's book, "What We Talk About When We Talk About Anne Frank," is one of the funniest and most impressive stories I've read in years…Amusing, tender and insightful." –Highbrow Magazine
 
"Masterful…sacred, profane and sometimes bitterly funny." –USA Today
 
"Englander's second book of stories deserves high praise. It's audacious and idiosyncratic, darkly clever and brightly faceted…Illustrate why Englander is the world's best young interpreter of the Jewish dilemma." –San Francisco Chronicle
 
"What We Talk About When We Talk About Anne Frank is a wonderful collection: entertaining, profound and gently powerful. It confirms Englander's stature as a serious comic voice." –Times Literary Supplement
 
"[A] humane, philosophically provocative new story collection." –Boston Globe
 
"[Englander] never writes less than gorgeously, but when, from narrow confines, he puts his finger on the universal, he's Shakespeare." –Bloomberg
 
"Englander's fictional worlds are fully realized places that celebrate the whole glorious morass of humanity, the ugly and the beautiful, the deadly and the divine, the despairing and the hilarious. In fact, there are few writers alive that are as funny as Englander…Stellar." –Tottenville Review
 
"Introspective, self-divided, and self-ironical characters recur often in Englander's stories, cutting the heaviness of the darker themes of loss and violence that permeate the narrative…A wonderful collection." –Library Journal
 
"[Englander's] finest work yet. He has a rare range; his clean writing feels fresh, but it vibrates with a charming old-world sensibility…Englander reveals his grasp of the small moment, the modest gesture, which can reveal unexpected beauty or something unspeakably dark." –The Economist
 
"Nathan Englander is fearless, big-hearted and incredibly funny…Cut in line to buy this book; chances are, you'll cry; guaranteed you'll laugh." –Oregonian
 
"Virtuosic…meticulously chiseled…These are stories that give you goose bumps. Grade: A." –Entertainment Weekly

"Particular, deeply felt, and capable of pressing any number of buttons…What we talk about when we talk about Englander's collection turns out to be survival and the difficult—sometimes awful, sometimes touching—choices people make, and Englander brings a tremendous range and capacity to surprise to his chosen topic." –Publishers Weekly  
 
"With his meticulously crafted language, Nathan Englander is always unsettling and provocative. He rarely takes, or gives the reader, the easy way out—and that may be precisely why he's such a pleasure to read." –World Literature Today
 
One of Anderson Cooper's Top 5 Summer Book Recommendations


The Ministry of Special Cases
 
"The fate of Argentina's Jews during the 1976-83 "Dirty War" is depicted with blistering emotional intensity in this start first novel. . . . A political novel anchored, unforgettably, in the realm of the personal. Englander's story collection promised a brilliant future, and that promise is here fulfilled beyond all expectations."
—Kirkus Reviews (starred review)
 
"This is a staggeringly mature work, gracefully and knowledgeably set in a milieu far from the author's native New York. . . . Four p's best describe this work: poignant, powerful, political, and yet personal."
—Booklist (starred review)
 
"[A] harrowing and brilliant first novel . . . Englander's great gifts are an absurdist sense of humor and a brisk, almost breezy narrative voice. He handles his unbearable subjects with the comic panache of a vaudeville artists, before delivering the final, devastating blow."
—Bookforum
 
"Resonates of Singer, yes, but also of Bernard Malamud and Lewis Carroll, plus the Kafka who wrote The Trial . . . You will wonder how a novel about parents looking for and failing to find their lost son, about a machinery of state determined to abolish not only the future but also the past, can be horrifying and funny at the same time. Somehow . . . this one is."
—Harper's Magazine
 
"A mesmerizing rumination on loss and memory. . . . It's a family drama layered with agonized and often comical filial connections that are stretched to the snapping point by terrible circumstance . . . builds with breathtaking, perfectly wrought pacing and calm, terrifying logic."
—Los Angeles Times
 
"Englander writes with increasing power and authority . . . Gogol, I. B. Singer and Orwell all come to mind, but Englander's book is unique in its layering of Jewish tradition and totalitarian obliteration."
—Publishers Weekly
 
"This chilling book of intrigue examines the slow obliteration of culture and families perpetuated by forces seeking absolute political power. Highly recommended."
—Library Journal
 
"Englander secures his status as a powerful storyteller with this book about the disappearance of the son of a down-and-out Jewish hustler during Argentina's Dirty War in the seventies."
—Details
 
"Englander's prose moves along with a tempered ferocity—simple yet deceptively incisive. . . . Englander's book isn't so much about the search for a lost boy. It's about fathers and sons and mothers and faith and community and war and hope and shame. Yes, that's a lot to pack into 339 pages. But not when a book reads at times with the urgency of a thriller."
—Esquire
 
"Wonderful . . . Since much of the book's power comes from its relentlessly unfolding plot, it's not fair even to tell who disappears, let alone whether that person reappears. . . . Englander maintains an undertone of quirky comedy almost to the end of his story."
—Newsweek
 
"[Englander's] journey into the black hole of paradox would have done Kafka or Orwell proud."
—People
 
"Brace yourself for heartbreak . . . most of the story is so convincingly told that it's hard to imagine that Englander hasn't weathered political persecution himself."
—Time Out New York
 
"A vibrant, exquisite, quirky and devastating historical novel—and a gift to readers. . . . This is a story propelled by secrets, and part of Englander's achievement is how well he builds nerve-wrecking tension. . . . Written in crisp, unsentimental prose, The Ministry of Special Cases is as heartbreaking a novel as Sophie's Choice."
—The Hartford Courant
 
"[S]pare, pitch-perfect passages . . . Through deft, understated prose, Englander evokes the incremental way in which fear grips a community, citizens accustom themselves to ignoring those small outrages and how those outrages gradually but inexorably give way to larger atrocities, tolerated by an ever more complicit populace."
—Miami Herald
 
"The combination of a gift for narrative, a proclivity for pathos, and a lode of arcane knowledge is put to great use in Nathan Englander's first novel."
—The Boston Phoenix
 
"Nathan Englander bravely wrangles the themes of political liberty and personal loss with the swift style and knowing humor of folklore. In the spirit of the simple ambiguity of its title, The Ministry of Special Cases is carefully contradictory, wise and off-kilter, funny and sad."
—New York Observer
 
"Engrossing . . . Englander perfectly captures the language of disorientation, the tautologies through which the country's oppressors support their own positions and thwart pleading citizens at every turn."
—Rocky Mountain News
 
"As remarkable as Englander's evocation of a country at war with itself is, his greatest achievement might be the way he manages to do it with a lightness of touch and even a few delicately comic insertions. The heaviness of the subject doesn't result in correspondingly weighty prose; rather, a risky but flawlessly executed contrast is carried out. And there's a sting in the tail. How exactly do you come up with an ending for a story about disappearance? . . . Englander finds the answers, and provides a suitably stunning finale to one of the most powerful novels in years."
—Edmonton Journal
 
"This is a rollercoaster of a novel, and while most of the dips are downward, there are memorable moments of hilarity, hope and humanity. Imagine a screwball comedy about one of recent history's darkest and most overlooked periods. . . . The Ministry of Special Cases is a remarkable work of imagination and empathy—a modern-day book of mourning."
—The Gazette (Canada)
 

For the Relief of Unbearable Urges
 
"Englander's voice is distinctly his own--daring, funny and exuberant."
—Michiko Kakutani, The New York Times
 
"Taut, edgy, sharply observed . . . A volume of polished gems."
—The New York Times Book Review
 
"Often hallucinatory, epigrammatic eloquence that is, as advertised, reminiscent of the fiction of Isaac Singer, Saul Bellow, and especially Bernard Malamud. . . . An exemplary fusion of what T.S. Eliot called 'Tradition and the Individual Talent,' and a truly remarkable debut."
—Kirkus Reviews (starred review)
 
"Remarkable art. . . . The author fills each of these pieces with vivid life, with characters that jump off the page."
—Newsday
 
"Every so often there's a new voice that entirely revitalizes the story. . . . It's happening again with Nathan Englander, whose precise, funny, heartbreaking, well-controlled but never contrived stories open a window on a fascinating landscape we might never have known was there. It's the best story collection I've read in ages."
—Ann Beattie
 
"His characters are marvelously sympathetic creations. . . . What is most striking about the collection is not the subject matter but Englander's genius for telling a tale. . . . Invite[s] comparison to some of the best storytellers--Gogol, Singer, Kafka and even John Cheever."
—Time Out New York
 
"For the Relief is that rare case of writing that follows the lead of past masters, yet mostly manages to feel fresh. . . . This is a collection worth celebrating."
—Vogue
 
"In For the Relief of Unbearable Urges, Nathan Englander has constructed a deeply affecting treatise on the caprices of fate and the inevitability of laughter."
—The Wall Street Journal
 
"Superb. . . . Englander's memorable characters and equally memorable circumstances of their struggles make all nine stories a pleasure to read an contemplate."
—Booklist (starred review)
 
"This is a knowing collection. . . . The domestic and professional ramifications read like a collaboration between Cynthia Ozick and Mel Brooks."
—Time
 
"Unforgettable...an awe-inspiring voice."
—San Francisco Examiner
 
"Pitch perfect . . . Englander's wit has glimpses of Philip Roth and Saul Bellow; its subtlety recalls James Joyce's Dubliners."
—Newsweek
 
"The stories [from For the Relief of Unbearable Urges], Talmudic in their simplicity, invite interpretation, then repel simple meaning. . . . They offer multiple meanings, each tempting in its own witty way. Englander has been compared to Isaac Bashevis Singer, and the comparison is just."
—The Boston Globe
 
"Assured, imaginative, humorous, and even fearless. . . . It isn't often, though, in our day, that we encounter a tale spinner of such breadth as Nathan Englander."
—Houston Chronicle
 
"For the Relief of Unbearable Urges isn't merely a promise of better things to come. It's an astoundingly wise and bliss-inducing collection."
—Austin American-Statesman
 
"Fresh, compassionate, urgent and often astonishingly wise."
—The Miami Herald
 
"It is not just the clarity and virtuosity of Englander's stories that makes them outstanding. It is Englander's voice, which comes to us bold, unwavering, and with a whiff of prophecy."
—The Boston Phoenix
 
"This is not just a writer to watch, he is a writer to listen to."
—Seattle Weekly
 
"His style transcends genre, though his voice is clear and even. . . . [For the Relief of Unbearable Urges] is a stunner."
—The Boston Book Review
 
"The special grace of Nathan Englander's stories is their ability to evoke, richly and authoritatively, a circumscribed milieu, while reaching out to the turbulences of flesh and spirit that are . . . comprehensively human."
—Bookforum
 
"Englander's stories are full and meaty meals, about men and women in intense situations
 
"Nathan Englander has created nine little worlds in as many tales, so complete that the images he brings and the characters he gives us will stay with many readers long after the last page is turned."
—January Magazine
 
"Englander's stories are artfully written with grace and humor and narrative power. . . . He has been compared with Philip Roth, Isaac Bashevis Singer and Bernard Malamud. While he shares their storytelling talent, his voice is distinctive."
—The Jewish Week