A Blaze of Glory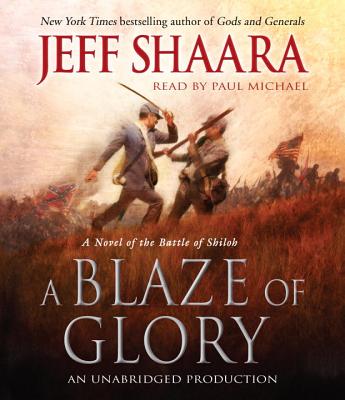 A Blaze of Glory
A Novel of the Battle of Shiloh
Random House Audio Publishing Group, Compact Disc, 9780307989468, 15pp.
Publication Date: May 29, 2012
* Individual store prices may vary.
Not Currently Available for Direct Purchase
or
Shop Local
Enter your zip code below to purchase from an indie close to you.
Description
In the first novel of a spellbinding new trilogy, New York Times bestselling author Jeff Shaara returns to the Civil War terrain he knows best. A Blaze of Glory takes us to the action-packed Western Theater for a vivid re-creation of one of the war's bloodiest and most iconic engagements—the Battle of Shiloh.
 
It's the spring of 1862. The Confederate Army in the West teeters on the brink of collapse following the catastrophic loss of Fort Donelson. Commanding general Albert Sidney Johnston is forced to pull up stakes, abandon the critical city of Nashville, and rally his troops in defense of the Memphis and Charleston Railroad. Hot on Johnston's trail are two of the Union's best generals: the relentless Ulysses Grant, fresh off his career-making victory at Fort Donelson, and Don Carlos Buell. If their combined forces can crush Johnston's army and capture the railroad, the war in the West likely will be over. There's just one problem: Johnston knows of the Union plans, and is poised to launch an audacious surprise attack on Grant's encampment—a small settlement in southwestern Tennessee anchored by a humble church named Shiloh.
 
With stunning you-are-there immediacy, Shaara takes us inside the maelstrom of Shiloh as no novelist has before. Drawing on meticulous research, he dramatizes the key actions and decisions of the commanders on both sides: Johnston, Grant, Sherman, Beauregard, and the illustrious Colonel Nathan Bedford Forrest. Here too are the thoughts and voices of the junior officers, conscripts, and enlisted men who gave their all for the cause, among them Confederate cavalry lieutenant James Seeley and Private Fritz "Dutchie" Bauer of the 16th Wisconsin Regiment—brave participants in a pitched back-and-forth battle whose casualty count would far surpass anything the American public had yet seen in this war. By the end of the first day of fighting, as Grant's bedraggled forces regroup for could be their last stand, two major events—both totally unexpected—will turn the tide of the battle and perhaps the war itself.
About the Author
The story of Gods and Generals begins with Michael Shaara, author of the Pulitzer Prize-winning classic The Killer Angels. A native of New Jersey, Michael Shaara grew to be an adventurous young man: over the years, he found work as a sailor, a paratrooper, a policeman, and an English professor at Florida State University. In 1952, his son Jeff was born in New Brunswick, New Jersey.
Michael's interest in Gettysburg was prompted by some letters written by his great-grandfather, who had been wounded at the great battle while serving with the 4th Georgia Infantry. In 1966, he took his family on a vacation to the battlefield and found himself moved.
In 1970, Michael Shaara returned to Gettysburg with his son Jeff. The pair crisscrossed the historic site, gathering detailed information for the father's novel-in-progress. In 1974, the novel was published with the title The Killer Angels. This gripping fictional account of the three bloody days at Gettysburg won Michael Shaara a Pulitzer Prize and a vast, appreciative audience. To date it has sold two million copies.
When Michael Shaara died in 1988, his son Jeff began to manage his literary estate. It was a legacy he knew well, having helped his father create it. When director Ron Maxwell filmed the movie Gettysburg, based on The Killer Angels, he asked Jeff to serve as a consultant. Maxwell encouraged Shaara to continue the story his father began; inspired, Jeff planned an ambitious trilogy, with The Killer Angels as the centerpiece, following the war from its origins to its end.
With Gods and Generals, Jeff Shaara gives fans of The Killer Angels everything they could have asked--an epic, brilliantly written saga that bringsthe nation's greatest conflict to life.

Paul Michael was born and raised in Vancouver, Canada where he performed on stage, radio, and TV including a regular role on the TV series The Beachcombers. He also received an ACTRA award nomination (the Canadian equivalent of an Emmy) for best actor in a TV movie for Gold Mountain Fever. Paul has guest starred in several American TV series including VIP and Alias and has narrated nearly fifty recorded books, both abridged and unabridged, and has been twice nominated for an Audie award. Some of his most popular recordings include "The Tristan Betrayal", "Hollywood Tough, Sons of Fortune, Second Spring", and "The Da Vinci Code". Paul now makes his home in Southern California with his wife and two daughters.
Praise For A Blaze of Glory…
PRAISE FOR JEFF SHAARA'S ACCLAIMED CIVIL WAR NOVELS
 
Gods and Generals
 
"Shaara's beautifully sensitive novel delves deeply in the empathetic realm of psycho-history, where enemies do not exist—just mortal men forced to make crucial decisions and survive on the same battlefield."—San Francisco Chronicle
 
"Powerful . . . Though the story of the Civil War has been told many times, this is the rare version that conveys what it must have felt like."—Chicago Sun-Times
 
"Compelling . . . a work of vivid drama and skill."—The Dallas Morning News
 
The Last Full Measure
 
"The Last Full Measure is more than another historical novel. It is rooted in history, but its strength is the element of humanity flowing through its characters. . . . The book is compelling, easy to read, well researched and written, and thought-provoking. . . . In short, it is everything that a reader could ask for."—Chicago Tribune
 
"[Shaara] writes with considerable sensitivity and skill, setting vivid scenes and adding drama and suspense to a familiar tale."—The Seattle Times
 
"Masterful . . . These characters come alive as complex, heroic, and flawed men."—Baltimore Sun