Snooze... or Lose!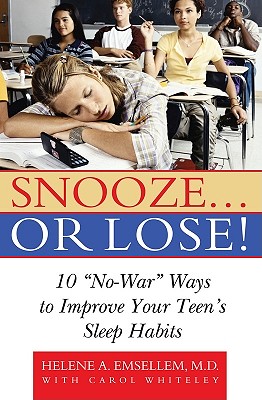 Snooze... or Lose!
10 "No-War" Ways to Improve Your Teen's Sleep Habits
National Academy Press, Hardcover, 9780309101899, 249pp.
Publication Date: August 28, 2006
* Individual store prices may vary.
Buy at Local Store
Enter your zip code below to purchase from an indie close to you.
or
Buy Here
Description
Walk into any first-period high school classroom and it's obvious: teenagers are exhausted. Sleep deprivation is an epidemic as widespread as obesitya "and just as damaging. Fortunately, science has answers and Dr. Helene Emsellem has solutions that all parents can use. Affecting the lives of more than 41 million adolescents in the United States alone, sleep deprivation is a chronic problem for kids today. We know this intuitively as we watch teenagers frantically juggle a hectic social calendar with the overwhelming demands of school, work, and chores. School performance around the country is sufferinga "but it's not just grades that are at risk. Sleep deprivation has been found to affect nearly every aspect of a teenager's life, from emotional stability and behavioral issues to physical well-being and the potential for drug and alcohol abuse. For years, we've blamed many of these adolescent characteristics on the natural maturing process or changing hormones. And while chemicals do surge through the body creating strong effects, sleepa "the right amount and the right kinda "has now been targeted for its prime importance in overall success and well-being.