One Life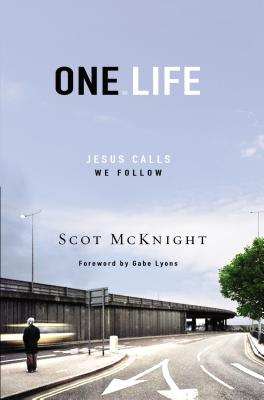 One Life
Jesus Calls, We Follow
Zondervan, Paperback, 9780310277668, 202pp.
Publication Date: December 8, 2010
* Individual store prices may vary.
Buy at Local Store
Enter your zip code below to purchase from an indie close to you.
or
Buy Here
Description
What is the Christian life all about? Studying the Bible, attending church, cultivating a prayer life, witnessing to others those are all good. But is that really what Jesus has in mind? The answer, says Scot McKnight in One.Life, lies in Jesus words, Follow me. What does it look like to follow Jesus, and how will doing so change the way we live our life our love.life, our justice.life, our peace.life, our community.life, our sex.life everything about our life. One.Life will open your eyes to the full, compelling immensity of what it means to be a Christian. Jesus offers to us a kingdom dream that transforms us to the very core of our being, says Scot McKnight. His vision is so big we are called to give our entire life to it. His vision is so big it swallows up our dreams. Discover exactly what Jesus meant when he announced the arrival of God's kingdom. Equipping you with a new understanding of that kingdom's radical nature, One.Life shares profound, challenging, and practical insights on how to demonstrate its reality in your life. In many ways, what The Cost of Discipleship by Bonhoeffer challenged Christians to do in earlier generations, One.Life will do for a new generation. One.Life will call you beyond the flatlands of religiosity toward a kingdom vision that will shape everything you do.
About the Author
Scot McKnight (PhD, Nottingham) es Profesor de Nuevo Testamento en el Northern Seminary, de Lombard, Illinois. Es erudito estadounidense en Nuevo Testamento, historiador, teologo, conferencista, autor y bloguero. Ha escrito acerca del Jesus historico, el cristianismo en sus primeros anos y los movimientos de la iglesia emergente y la iglesia misional. Nacido en el sur de Illinois, asistio al colegio universitario en Grand Rapids, Michigan y al seminario Trinity en Deerfield, Illinois. Es autor de varios libros, entre ellos el laureado The Jesus Creed, The King Jesus Gospel, One Life y The Blue Parakeet, ademas de los estudios de la epistola a los Galatas y la primera epistola de Pedro en la serie NIV Application Commentary.