Will Jesus Buy Me a Double-Wide?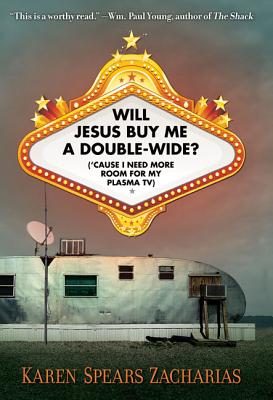 Will Jesus Buy Me a Double-Wide?
('Cause I Need More Room for My Plasma TV)
Zondervan, Hardcover, 9780310292500, 233pp.
Publication Date: February 20, 2010
* Individual store prices may vary.
Buy at Local Store
Enter your zip code below to purchase from an indie close to you.
or
Not Currently Available for Direct Purchase
Description
What does it really mean to be blessed by God? With Southern charm and razor-sharp wit in Will Jesus Buy Me a Double-Wide?, author Karen Spears Zacharias shows how the prosperity gospel has led us astray from true Christianity and helped create people and churches focused on greed. Zacharias unpacks story after story of families and individuals using the name of God as a means to living their own good life. You ll hear shocking tales of those who exploit the gospel for their own gain, and mega-evangelists who live in million-dollar mansions with children groomed from the cradle to sell the message of Christ while their parents rake in the cash. Discover churches that have modeled themselves on Wall Street and unbridled materialism, and see what is happening to them now. Is this the good life? You ll also meet some unlikely folks who live with genuine biblical integrity. People who know that God is more than some cosmic genie who gives them an easy life, a fat bank account, and a second home in an exotic location. Come discover stories about authentic Christianity and the true good life in Will Jesus Buy Me a Double-Wide?
About the Author
Karen Spears Zacharias's work has won dozens of writing awards. She has lectured at numerous Vietnam veterans' events; serves on the national advisory board of the Virtual Wall and the Orphans of War Foundation; is a contributing columnist for The Veteran, the magazine for the Vietnam Veterans of America; and is a member of Sons and Daughters in Touch, a national organization for adult children of servicemen killed in Vietnam. She lives in Oregon and Georgia.