One Thousand Gifts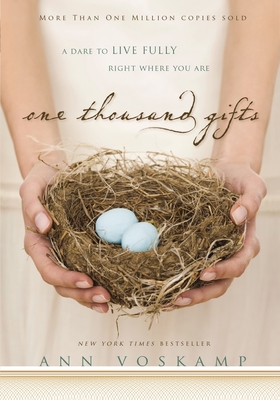 One Thousand Gifts
A Dare to Live Fully Right Where You Are
Zondervan, Hardcover, 9780310321910, 237pp.
Publication Date: January 26, 2011
* Individual store prices may vary.
Buy at Local Store
Enter your zip code below to purchase from an indie close to you.
or
Buy Here
Description
Just like you, Ann Voskamp hungers to live her one life well. Forget the bucket lists that have us escaping our everyday lives for exotic experiences. How, Ann wondered, do we find joy in the midst of deadlines, debt, drama, and daily duties? What does the Christ-life really look like when your days are gritty, long and sometimes even dark? How is God even here? In One Thousand Gifts, Ann invites you to embrace everyday blessings and embark on the transformative spiritual discipline of chronicling God's gifts. It's only in this expressing of gratitude for the life we already have, we discover the life we've always wanted a life we can take, give thanks for, and break for others. We come to feel and know the impossible right down in our bones: we are wildly loved by God. Let Ann's beautiful, heart-aching stories of the everyday give you a way of seeing that opens your eyes to ordinary amazing grace, a way of being present to God that makes you deeply happy, and a way of living that is finally fully alive. Come live the best dare of all
About the Author
Ann Voskamp is wife of one good farmer, the home-educating mama to a half-dozen exuberant kids, and author of New York Times bestsellers, The Greatest Gift and One Thousand Gifts: A Dare to Live Fully Right Where You Are.
Named by Christianity Today as one of 50 women most shaping culture and the church today, and a partner with Compassion International as a global advocate for needy children, Ann's a regular loser of library books, usually has a sink full of soaking pots, sees empty laundry baskets rarer than a blue moon, and believes that the sky and fresh mercy over the farm is large and all is grace. Her blog, one of the Top 10 Christian blogs on the web, has become a daily well for the weary and soul-thirsty: http: //www.aholyexperience.com