Rush of Heaven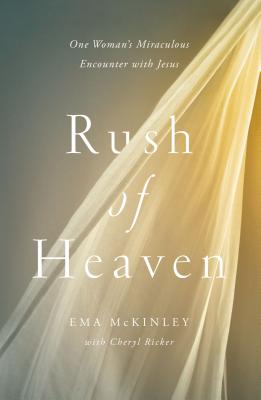 Rush of Heaven
One Woman's Miraculous Encounter with Jesus
Zondervan, Hardcover, 9780310338901, 269pp.
Publication Date: October 21, 2014
* Individual store prices may vary.
Buy Now
or
Shop Local
Enter your zip code below to purchase from an indie close to you.
Description
Ema, give me your hand. These were the words Jesus spoke to Ema on Christmas Eve--the nightHe straightened her crooked foot, hand, neck, and spine, and restored her mobility.
Easter weekend, eighteen years earlier, an ordinary workday turned into a nightmare when Ema McKinley passed out and was left hanging upside down in the storage room.
Rather than improving, Ema's body became progressively bent and disfigured. Doctors diagnosed Ema with reflex sympathetic dystrophy (RSD), an extremely painful trauma-induced disease which led to Ema's hand and foot deformities, painful sores, insomnia, gastrological distress, curvature of the neck and spine, heart and lung failure, and permanent confinement to a wheelchair.
Once an athletic, powerhouse woman with multiple jobs and volunteer positions, Ema became a modern-day Job who lost everything except her faith and desire to trust God more fully. Ema wrestled with pain, anger, and unforgiveness, but now takes the reader on a healing miracle encounter of Biblical proportions.
Rush of Heaven will ignite readers passion for Jesus and help them walk hand-in-hand with Him through life's darkness. It will open hearts to embrace the impossible.
Jesus gave me this miracle for you too Ema McKinley.
About the Author
Ema McKinley has appeared on the 700 Club, local television and radio broadcasts, and is a requested speaker across the country. In addition to public speaking, Ema enjoys writing poetry, praying with the needy, and loving people of all ages and backgrounds. Her compassion, sense of humor, and deep relationship with Jesus inspire many to trust deeper and live each day to the fullest. Today, Ema stands tall, walks without assistance, and praises the God who brought healing to her body.

Cheryl Ricker has an honors degree in creative writing from York University in Toronto, Ontario. She studied theology at Christ For the Nations Institute in Dallas, Texas, where she participated in drama outreach, street evangelism, and prison ministry. She has published news stories, poetry, articles, and devotionals, and speakes to audiences of all ages on trusting God's love, expecting the impossible, and growing in intimacy with Jesus.