The Lifeguard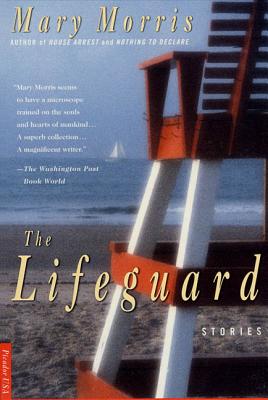 The Lifeguard
Stories
Picador USA, Paperback, 9780312186944, 192pp.
Publication Date: April 15, 1998
* Individual store prices may vary.
Buy Now
or
Shop Local
Enter your zip code below to purchase from an indie close to you.
Description
"The Lifeguard "combines Mary Morris's consummate craft as a storyteller with her gift for dramatic travel writing. In the title story, a teenage lifeguard sees his mystique among the girls on the beach dissolve in a panicked moment when he cannot save a child. In "The Glass-Bottom Boat," a mother on her first trip abroad learns about trust from a solicitous stranger.
"The Lifeguard "is a powerful collection of ten short stories that shows Morris's great sensitivity to men and women at moments of turbulence, uncertainty, and crisis.
About the Author
Mary Morris is also the author of the novels "The Night Sky," (available from Picador), "Crossroads," and "The Waiting Room"; two travel memoirs, "Nothing to Declare: Memoirs of a Woman Traveling Alone "and "Wall to Wall: From Beijing to Berlin by Rai"l; and the award-winning story collections "Vanishing Animals and Other Stories" and "The Bus of Dreams," Her new story collection is "The Lifeguard," Mary Morris teaches writing at Sarah Lawrence College and lives in Brooklyn, New York, with her husband and daughter.

Praise For The Lifeguard…
"Mary Morris seems to have a microscope trained on the souls and hearts of mankind . . . A superb collection . . . A magnificent writer."—The Washington Post Book World

"Dizzy with self-realization, Morris's characters venture out beyond the beach resorts to more compelling but often perilous territories."—The Chicago Tribune

"These knowing, sometimes dark tales are about people struggling to connect with each other in spite of their own ambivalence."—Glamour

"Mary Morris's compassion is on par with her sense of humor, a rare combination."—Betsy Willeford, The Star-Ledger (Newark, New Jersey)

"The stories are quite disarmingly complex, while keeping up a surface appearance of clarity and straightforwardness . . . It's a fine book."—Charles Baxter

"Ten subtle, impressionistic stories that linger and expand in the memory."—Mademoiselle

"As a storyteller, Morris shines. Reading her best stories is like sinking into a good photograph. She packs them with tiny details, but never allows the particulars to interfere with the vision and balance of the whole."—Julia Corbin, St. Petersburg Times

"A poised and articulate collection."—Publishers Weekly

"Exquisitely revealing moments...clearly Morris hasn't lost her touch as a story writer."—Kirkus Reviews

"Morris's ability to reincarnate her travel stories into fiction make for a well-rounded, fully formed body of work. It is also a pleasure to come upon a contemporary author who writes fiction and nonfiction equally well."—Kristin Rose, Ft. Lauderdale Sun-Sentinel

"What really unifies these stories is Morris's spartan approach to descriptive detail and her spare language. Instead of spoon-feeding her readers, Morris leaves much for them to infer."—Marie Elsie St. Leger, Time Out New York