We Love Each Other, But . . .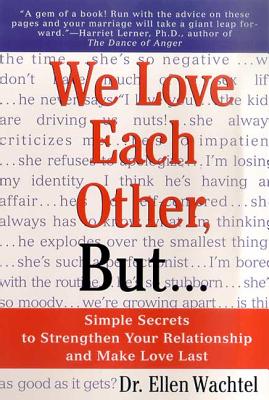 We Love Each Other, But . . .
Simple Secrets to Strengthen Your Relationship and Make Love Last
Golden Guides from St. Martin's Press, Paperback, 9780312254704, 224pp.
Publication Date: February 14, 2000
* Individual store prices may vary.
Buy at Local Store
Enter your zip code below to purchase from an indie close to you.
or
Not Currently Available for Direct Purchase
Description
"We Love Each Other, But..".offers simple, practical tips that will help you restore and strengthen a relationship that has gone off track. It lays out the nuts and bolts of building relationships so they continue to be gratifying over the long haul. Dr. Ellen Wachtel shows how, even when you feel like giving up on a relationship or marriage, you can recapture why you fell in love in the first place. Dr. Wachtel promises that there is more and suggests simple ways to keep vitality in relationships. In fact, she shows you and your partner how you can stay interested in each other" for the rest of your lives.
About the Author
< div> Ellen F. Wachtel, JD, PhD, is a graduate of Harvard Law School and New York University's doctoral program in Clinical Psychology. She has taught and supervised individual and family therapy in the doctoral programs at New York University and the City University of New York, as well as at Roosevelt Hospital and the Ackerman Institute for Family Therapy. Dr. Wachtel gives workshops both in the United States and abroad on integrative approaches to working with couples, families with young children, and adults in individual therapy settings. Coauthor (with Paul L. Wachtel) of Family Dynamics in Individual Psychotherapy, she is also in private practice in New York City.< br> < /div>
Praise For We Love Each Other, But . . .…
"What a gift from an expert in the field. We Love Each Other, But... is as warm as it is wise. In fact, it was hard to put down. Dr. Ellen Wachtel's ideas can be put into practice immediately and will help couples in all stages of marriage. You don't need to have problems to benefit--this book will make a good relationship even better. It's the kind of solid, commonsensical advice couples need in today's fast-paced world." --Sharyn Wolf, author of Guerrila Dating Tactics and How to Stay Lovers For Life

"A wonderful accessible, and practical guide for couples seeking to avoid affairs, make good sense out of those shaky moments that inevitably challenge even the healthiest relationships, and last the course happily together." --Dr. Janis Abrahms Spring, author of After the Affair

"Dr. Ellen Wachten is special in the field of family therapy, and this book shows her at her best. She is a highly skilled professional, but more than being smart, she is wise. Best of all, she meets her readers as she does her clients, with true personal openness and candor. In addition to learning important skills, readers of this enjoyable book will be able to address their problems with the help of a comforting, reassuring friend." --Donald A. Bloch, M.D., president of American Family Therapy Academy