Round Ireland with a Fridge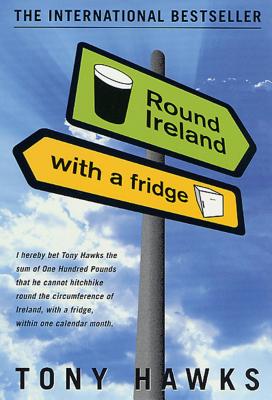 Round Ireland with a Fridge
St. Martin's Griffin, Paperback, 9780312274924, 264pp.
Publication Date: March 7, 2001
* Individual store prices may vary.
Buy Now
or
Shop Local
Enter your zip code below to purchase from an indie close to you.
Description
Have you ever made a drunken bet? Worse, still, have you eveer tried to win one? In attempting to hitchhike round Ireland wich a fridge, Tony Hawks did both, and his foolhardiness led him to one of the best experiences of his life. Joined by his trusty traveling companion-cum-domestic appliance, he made his way from Dublin to Donegal, from Sligo through Mayo, Galway, Clare, Kerry, Cork, Wexford, Wicklow--and back again to Dublin. In their month of madness, Tony and his fridge met a real prince, a bogus king, and the fridge got christened. They surfed together, entered a bachelor festival, and one of them had sex without the other knowing. And unexpectedly, the fridge itself became a momentary focus for the people of Ireland.
An international bestseller, "Round Ireland with a Fridge" is a classic travel adventure in the tradition of Bill Bryson with a dash of Dave Barry.
About the Author
Tony Hawks divides his time equally between writing comedy, performing, and playing tennis. He makes regular appearances on British radio. He is the author of the travel adventures "Round Ireland With a Fridge" and "Playing the Moldovans at Tennis". Unlike most authors, Tony has singularly failed to settle down and live in the country with a wife and four children. This, however, is his ambition.
Praise For Round Ireland with a Fridge…
"Round Ireland with a Fridge is a sort of alternative Michael Palin tome and a far better read thatn you would expect. It is part autobiography, part travelogue, and part Guinness-addled ramblings." --The Irish Times

"One ridiculous and sumbline example of the high-concept travel book is the British comedian Tony Hawk's Round Ireland with a Fridge....The whole book is driven by the sheer lunacy of the original proposition, and the sweet bottom line is that anything that brings people together and shows them this good a time isn't stupid at all." --The New York Times Book Review

"A rambling but ultimately warmhearted diary-like account that combines elements of Let's Go Ireland, Cheers, and Seinfeld...Hawks has produced a witty, silly, tribute to the hospitality and generosity that the Emerald Isle is famous for. --The Post and Courier (Charleston, S.C.)