Life Isn't All Ha Ha Hee Hee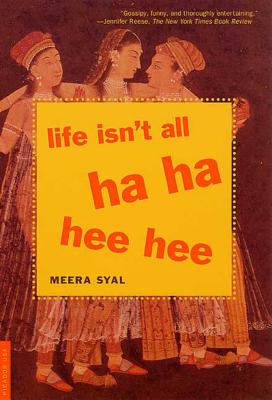 Life Isn't All Ha Ha Hee Hee
Picador, Paperback, 9780312278564, 336pp.
Publication Date: June 2001
* Individual store prices may vary.
Shop Local
Enter your zip code below to find indies closest to you.
Description
Meer Syal has created an indelible portrait of a close-knit group of Indian women living in London. Caught between two cultures, three childhood friends--Chila, Sunita, and Tania--are expected to revert to being obedient mothers and wives. But their world explodes when Tania makes a documentary, starring Chila and Sunita, about contemporary urban Indian Life. The result is an unforgettable story of friendship, marriage, betrayal, and the difficult choices woman face.
About the Author
Meera Syal, a British-born Indian, is a writer and actress. Her first novel, Anita and Me, won a Betty Trask award and was short-listed for the Guardian Fiction Prize. She lives in London.
Praise For Life Isn't All Ha Ha Hee Hee…
"Alternately hilarious and scathing, occasionally poignant, Syal's tale sheds much light on growing up in British Indian society . . . [Syal] manages to hold her reader's interest through her energetic prose and biting commentary about people and places."—Bharti Kirchner, The Seattle Times

"A compassionate, resonate tale of culture clash, Indian identity, and friendship . . . Spot-on cinematic sensibility and laugh-out-loud dialogue."—Publishers Weekly

"The great strength of her second novel is a rich, glorious prose that never ceased to delight me."—Patrick Anderson, The Washington Post

"Syal deftly captures the growing pains of second-generation Indian woman . . . As they struggle to liberate themselves without disowning their culture—or each other—the women, by turns maddening and endearing, become vibrantly alive."—Paula Chin, People

"Gossipy, funny, and thoroughly entertaining."—Jennifer Reese, The New York Times Book Review