The American Axis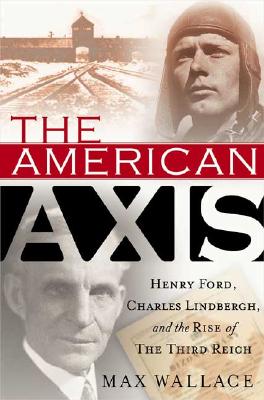 The American Axis
Henry Ford, Charles Lindbergh, and the Rise of the Third Reich
St. Martin's Press, Hardcover, 9780312290221, 496pp.
Publication Date: August 1, 2003
* Individual store prices may vary.
Buy at Local Store
Enter your zip code below to purchase from an indie close to you.
or
Not Currently Available for Direct Purchase
Description
Henry Ford and Charles Lindbergh have long been exalted as two of the greatest American icons of the twentieth century. From award-winning journalist Max Wallace comes groundbreaking and astonishing revelations about the poisonous effect these two so-called American heroes had on Western democracy. In his wide ranging investigation, Wallace goes further than any other historian to expose how Ford and Lindbergh-acting in league with the Nazis-almost brought democratic Europe to the verge of extinction.

With unprecedented access to declassified FBI and military intelligence files, Wallace reveals how the close friendship and ideological bond between automotive pioneer Ford and aviator Lindbergh culminated in an abuse of power that helped strengthen Hitler's regime and undermined the Allied war effort. Wallace traces Henry Ford's ties to Nazi Germany back as far as the 1920s, presenting compelling evidence of a financial paper trail proving that Ford subsidized the rise to power of Adolph Hitler, who described Ford as "my inspiration." For the first time, the genesis of Ford's notorious Anti-Semitism is uncovered: The American Axis proves that Ford's private secretary and life-long confidante was a German spy, who channeled his employer's Jew-baiting crusades to further the cause of the Third Reich.

Lindbergh's own anti-Semitism and white-Supremacist views captured the attention of the Nazis, who soon manipulated him in their clandestine Fifth Column efforts. As the first unauthorized biographer to gain access to the Lindbergh archives, Wallace paints a substantially more chilling portrait of Lindbergh's pre-war activities than any previous historian and produces new evidence that the Nazis secretly plotted to install Lindbergh as the leader of the movement to keep America out of World War Two.

The most controversial corporate investigation since IBM and the Holocaust, the book reveals that the Ford Motor Company's military and political complicity in the Third Reich war effort was considerably stronger than the company has acknowledged and that a US Army post-war investigation concluded that the company had become "an arsenal of Nazism." Wallace disputes a recent internal investigation into the use of slave labor at Ford's German plant during World War II - which company officials claimed as a vindication of its wartime activities - and reveals that corporate President Edsel Ford was about to be indicted by the US government for "Trading With the Enemy" at the time of his 1943 death.

The American Axis is not only a mesmerizing, cautionary tale, but a compelling historical exposé.
About the Author
Max Wallace is a veteran investigative journalist and holocaust researcher. For three years, he worked as an interviewer and researcher for Steven Spielberg's "Shoah Project," documenting the testimonies of Holocaust survivors. He is also a former executive Director of the Anne & Max Bailey Center for Holocaust Studies. Winner of the "Rolling Stone" Magazine Award for Investigative Journalism, he is also an award-winning documentary filmmaker. Wallace has been a guest columnist for the "Sunday New York Times" and contributed to the BBC. His previous books include the international bestseller "Who Killed Kurt Cobain?" and "Muhammad Ali's Greatest Fight: Cassius Clay vs. the United States of America" about Ali's controversial stand against the Vietnam War. A native of New York City, Max Wallace lives in Montreal, Canada.
Praise For The American Axis…
"What a drama! Two of the most popular figures in 20th century America—Henry Ford and Charles Lindbergh—pitted against a third—Franklin Delano Roosevelt—over what to do about Adolf Hitler. Max Wallace reminds us that the destiny of the republic hung in the balance in the Great Debate of 1940-41."
—Arthur Schlesinger, Jr., author of The Age of Roosevelt and Thirteen Days by Robert F. Kennedy and Arthur Schlesinger, Jr.

"Eye-opening....A finely wrought, careful, and utterly damning case that ought to prompt a widespread reevaluation of both Ford and Lindbergh."
—Kirkus Reviews




"A finely wrought, careful, and utterly damning case that ought to prompt a widespread reevaluation of both Ford and Lindbergh."



"What a drama! ...reminds us that the destiny of the republic hung in the balance in the Great Debate."