Magical Thinking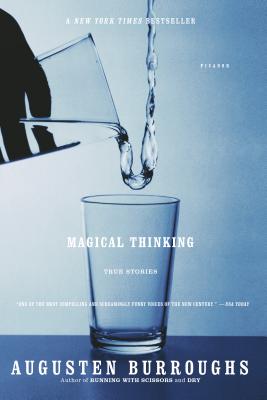 Magical Thinking
True Stories
Picador USA, Paperback, 9780312315955, 281pp.
Publication Date: October 1, 2005
* Individual store prices may vary.
Buy at Local Store
Enter your zip code below to purchase from an indie close to you.
or
Buy Here
Description
From the #1 bestselling author of "Running with Scissors "and "Dry"--a contagiously funny, heartwarming, shocking, twisted, and absolutely magical collection. True stories that give voice to the thoughts we all have but dare not mention. It begins with a Tang Instant Breakfast Drink television commercial when Augusten was seven. Then there is the contest of wills with the deranged cleaning lady. The execution of a rodent carried out with military precision and utter horror. Telemarketing revenge. Dating an undertaker and much more. A collection of true stories that are universal in their appeal yet unabashedly intimate and very funny.
About the Author
Augusten Burroughs is the author of "Running with Scissors", "Dry", "Magical Thinking: True Stories", "Possible Side Effects", "A Wolf at the Table" and "You Better Not Cry". He is also the author of the novel "Sellevision", which is currently in development for film. The film version of "Running with Scissors", directed by Ryan Murphy and produced by Brad Pitt, was released in October 2006 and starred Joseph Cross, Brian Cox, Annette Bening (nominated for a Golden Globe for her role), Alec Baldwin and Evan Rachel Wood. Augusten's writing has appeared in numerous magazines and newspapers around the world including "The New York Times" and "New York Magazine". In 2005 "Entertainment Weekly" named him one of "The 25 Funniest People in America." He resides in New York City and Western Massachusetts.
Praise For Magical Thinking…
"One of the most compelling and screamingly funny voices of the new century belongs to Augusten Burroughs. . . . Burroughs is blessed with an offbeat perspective and a viciously uncensored wit, a delight to read."--USA Today

"Augusten Burroughs shows why he is the memoirist-of-the-moment with his harrowing and laugh-out-loud new essay collection, Magical Thinking."--Vanity Fair
"Ruthlessly funny . . . deliciously perverse . . . he extracts something funny from every shred of his own warped experience. Magical Thinking indeed."--People(four stars)

"Sports nuts have Dave Barry, Midwesterners have Garrison Keillor, and the rest of us--gay guys, misfits, those with horrific childhoods--have Burroughs.…He hooks you into a story better than anybody."--Entertainment Weekly(A-)

"Every so often a 'writer's writer' pops up and deliciously ambushes readers--writers like David Sedaris, Larry Brown, and Frank McCourt. . . . Augusten Burroughs deserves membership to this inner circle. . . . Magical Thinking is finely-honed and addicting . . . Miraculous."--Rocky Mountain News (Denver)

"Deeply satisfying, full of both gleeful one-liners and shocking instances of profound wisdom . . . There are few writers as outrageously magical or as surprisingly thoughtful as Augusten Burroughs."--The Atlanta Journal-Constitution

"A literary favorite--right up there with humorists David Sedaris and Laurie Notaro . . . Fascinating."--Boston Herald

"Superlatively disturbed . . . A brand-new collection of deliciously lurid true tales…offer[s] an irresistible display of sanity hanging by a thread."--Booklist(starred review)

"Still wild, sad, funny, tender, and frightening . . . It's all about the journey. Do go along. Just be sure to pack some tissues for the laughing and the crying."--The Seattle Times