A Man of My Words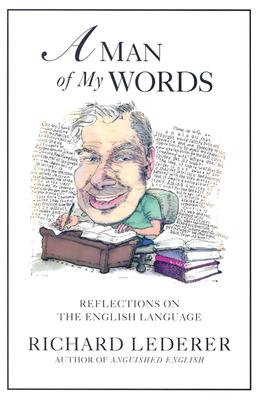 A Man of My Words
Reflections on the English Language
St. Martin's Press, Hardcover, 9780312317850, 304pp.
Publication Date: December 1, 2003
* Individual store prices may vary.
Not Currently Available for Direct Purchase
or
Shop Local
Enter your zip code below to purchase from an indie close to you.
Description
Popular author and speaker Richard Lederer is one of the foremost and funniest commentators on the pleasures and quirks of the English language. In this far-ranging and career-capping collection of essays, Lederer offers readers more of the irrepressible wordplay and linguistic high jinx his fans can't get enough of, along with observations on a life in letters. From an inner-city classroom to a wordy weekend retreat, from centuries-old etymological legacies to the latest in slang, dialects, and fadspeak, these essays transport, inform, and entertain as only wordstruck Richard Lederer can.

Iluminating everything from secrets of the writing life to the last word on the pronunciation of nuclear and offering his thoughts on "Sex and the Singular Pronoun" and an open letter to Ann Landers (signed "English Lover in San Diego"), along with games, quizzes, and a Declaration of Linguistic Independence, this collection has something for everyone who delights in our language.

Keen-eared and good-humored, A Man of My Words is sure to take its place next to Anguished English and The Miracle of Language as one of Richard Lederer's most popular and enduring works.
About the Author
Richard Lederer is the author of more than thirty books on the English language, including Anguished English, which is one of the best-selling language humor books in print. His syndicated column, "Looking at Language," appears in newspapers and magazines nationwide, and he co-hosts a weekly show on San Diego and Wisconsin public radio. He lives with his wife Simone in San Diego.
Praise For A Man of My Words…
Praise for A Man of My Words

"In A Man of My Words, the remarkable Richard Lederer consummates his lifelong mission as a wonderfully gifted teacher and the world's most ardent promoter of the English language. The essays collected here could just as well be called The Best of Richard Lederer, for they display the dazzling breadth and perspicacity of the author's supple mind. This book is vintage Lederer--abounding with wisdom, humanity, and, as always, sidesplitting humor--and sure to please both longtime fans and new readers of his work."
--Charles Harrington Elster, author of Verbal Advantage and The Big Book of Beastly Mispronunciations

"Richard Lederer opens the treasure chest of English and delights in each shiny coin he finds. Both punderful romp and passionate reverie, A Man of My Words shimmers with wit and wisdom. This is Lederer's most personal and powerful book yet, the golden culmination of a life in letters."
-- Rob Kyff, a.k.a. "The Word Guy," nationally syndicated language columnist and author of Once Upon a Word

"Richard Lederer's A Man of My Words is a rollicking memoir of one man's lifelong love affair with language. Whether he's pun-tificating about the easy way to distinguish between lie and lay, railing against the mispronunciation of "nuclear," or pondering why we drive on a parkway and park in a driveway, this is Lederer at his verbivorous, language-besotted best."
--Martha Barnette, author of Dog Days and Dandelions and Ladyfingers and Nun's Tummies

"Rollicking and frolicking through the verbal bounty of these pages, readers will find A Man of My Words to be a book for all seasons. Its marvel-filled topics, discoveries, and themes capture the ever-elusive, ever-enchanting romancing of English at which Richard Lederer has become our Cupid."
--Patricia K. Davis, author of A Midnight Carol

Praise for Richard Lederer
"Columnist and punster Richard Lederer may be William Safire's only living peer at writing about grammar, word usage, and derivations."
--Washington Post Book World

"Richard Lederer's delight in English is itself delightful - and contagious!"
--Edwin Newman, author of Strictly Speaking and A Civil Tongue

"Lederer beguiles and bedazzles."
-- Los Angeles Times

"Richard Lederer ought to be declared a national treasure."
-- Richmond Times Dispatch