Lie Down with the Devil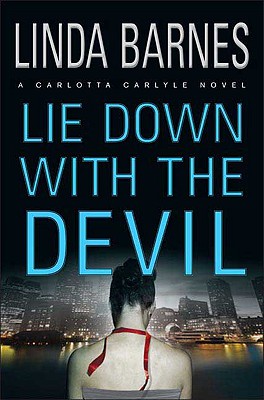 Lie Down with the Devil
Minotaur Books, Hardcover, 9780312332891, 304pp.
Publication Date: August 5, 2008
* Individual store prices may vary.
Buy at Local Store
Enter your zip code below to purchase from an indie close to you.
or
Not Currently Available for Direct Purchase
Description
Bestseller and multiple award-winning author Linda Barnes returns with the most personal case to date for her popular Boston PI, Carlotta Carlyle. Carlotta, in unfamiliar territory working on her own behalf, finds herself in the middle of a complicated case that has as much to do with the people she loves as the backstreets of Boston, and beyond.
For starters, Carlotta wants to know what her on-again, off-again boyfriend Sam Gianelli did to earn himself a secret indictment for murder that's keeping him out of the country. A man with plenty of secrets, he won't tell her anything, much less let her help, and she isn't having any more luck with her old friends at the Boston PD. Sam's exile could be connected to the mob--he is in the family--but she's not buying it. It couldn't be that simple. Nothing involving Sam ever is.
Faced with nothing but dead ends, Carlotta goes back to basics and takes a case for a nervous bride-to-be who wants to make sure her fiance is being faithful. Simple enough, but when her client turns up dead, Carlotta catches the kind of break she wished she hadn't.
While nothing is as it seems in "Lie Down with the Devil," one thing is clear: Readers know that when they're reading Linda Barnes, they're in the hands of a maestro.
About the Author
LINDA BARNES is the author of fifteen previous novels, eleven of which are Carlotta Carlyle mysteries. Her work has won the Anthony and American Mystery awards, and received numerous nominations for the Shamus and Edgar awards. Born in Detroit, she lives in the Boston area with her husband and son.
Praise For Lie Down with the Devil…
Praise for Linda Barnes

"This mystery has both timeless and contemporary appeal. . . . A winner."
--Boston Herald on Heart of the World
"With every novel, Linda Barnes reminds us of two key facts: She was one of the first and she remains one of the best. Heart of the World has everything that Carlotta Carlyle fans have come to expect from this seminal series. Barnes has never been better, and that's saying a lot."
--Laura Lippman, author of Another Thing to Fall
"Carlyle is a feisty, sexy, red-haired, hot-tempered ex-cop. . . . Heart of the World is an entertaining read."
--The Washington Post
"Linda Barnes has long been one of the most skilled and artful writers of the crime novel. With Heart of the World, she proves it and takes it up to a new level. This is her best."
--Michael Connelly, author of The Overlook
"A shrewd piece of writing, well researched, and smartly told."
--Marilyn Stasio, The New York Times Book Review, on The Big Dig
"The most refreshing, creative female character to hit mystery fiction since Sue Grafton's Kinsey Millhone."
--People magazine
"In Barnes's utterly compelling 12th mystery to feature Boston PI Carlotta Carlyle (after 2006's
Heart of the World
), Carlyle is still engaged to her mob-associated fiancé, Sam Gianelli, though she's waiting for Sam to explain why he's disappeared in the wake of rumors linking him to a dead girl. Then a woman calling herself Jessica Franklin visits Carlyle armed with a photograph of Sam and a doubt about his fidelity. After Franklin becomes the victim of a hit-and-run, Carlyle is the most likely suspect. When the police discover that "Jessica Franklin" is an alias, Carlyle, in more trouble than ever, turns to her old friend and former boss at the Boston PD, Joseph Mooney. Together, they delve into a small community on Cape Cod, where a local Native American tribe is lobbying for land—perhaps to use for a casino. The story moves unhesitatingly from point to point, and each character encountered holds his or her space on the page with confidence and distinctiveness. The reader can just sit back and enjoy the ride."--
Publishers Weekly