My Big Fat Supernatural Wedding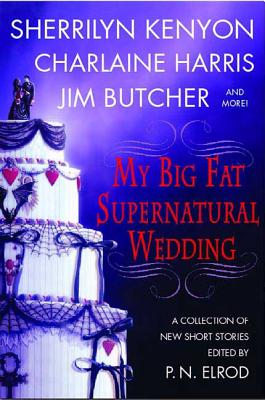 My Big Fat Supernatural Wedding
St. Martin's Griffin, Paperback, 9780312343606, 320pp.
Publication Date: October 3, 2006
* Individual store prices may vary.
Buy Now
or
Shop Local
Enter your zip code below to purchase from an indie close to you.
Description
Werewolves, vampires, witches, voodoo, Elvis---and weddings
An "ordinary" wedding can get crazy enough, so can you imagine what happens when otherworldly creatures are involved? Nine of the hottest authors of paranormal fiction answer that question in this delightful collection of supernatural wedding stories. What's the seating plan when rival clans of werewolves and vampires meet under the same roof? How can a couple in the throes of love overcome traps set by feuding relatives---who are experts at voodoo? Will you have a good marriage if your high-seas wedding is held on a cursed ship? How do you deal with a wedding singer who's just a little "too" good at impersonating Elvis?
. L. A. Banks
. Jim Butcher
. Rachel Caine
. P. N. Elrod
. Esther M. Friesner
. Lori Handeland
. Charlaine Harris
. Sherrilyn Kenyon
. Susan Krinard
Shape-shifters, wizards, and magic, oh my
About the Author


"New York Times" bestselling author Sherrilyn Kenyon is a regular in the #1 spot. This extraordinary bestseller continues to top every genre in which she writes. With more than 40 million copies of her books in print in more than one hundred countries, her current series include The Dark-Hunters, The League, and Chronicles of Nick. Her Chronicles of Nick and Dark-Hunter series are soon to be major motion pictures.

Charlaine Harris is the New York Times bestselling author of the Southern Vampire series, the Aurora Teagarden series, and the Lily Bard novels, along with several stand-alone titles.
Praise For My Big Fat Supernatural Wedding…
"Fans of paranormal romance will welcome the rare chance to see Sherilynn Kenyon, Susan Krinard, Rachel Caine, Lori Handeland and other favorite authors working in short form."--Publishers Weekly "Combining top talent from all across the paranormal genre provides plenty of magical thrills, spills and giggles. Taking a trip down the aisle with these nine authors is a blast."--Romantic Times