The Last Great Fight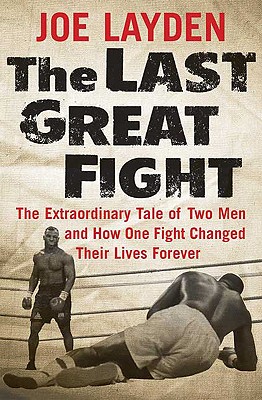 The Last Great Fight
The Extraordinary Tale of Two Men and How One Fight Changed Their Lives Forever
St. Martin's Press, Hardcover, 9780312353308, 320pp.
Publication Date: October 2, 2007
* Individual store prices may vary.
Buy at Local Store
Enter your zip code below to purchase from an indie close to you.
or
Not Currently Available for Direct Purchase
Description
Meticulously researched, wonderfully written; the untold story of a legendary fight and the two warriors who would never be the same again

It is considered by many to be the biggest upset in the history of boxing: James "Buster" Douglas knocked out then-undefeated Heavyweight Champion Mike Tyson in the 10th round in 1990 when the dominating and intimidating Tyson was considered invincible.
THE LAST GREAT FIGHT takes readers not only behind the scenes of this epic battle, but inside the lives of two men, their ambitions, their dreams, the downfall of one and the rise of another.
Using his exclusive interviews with both Tyson and Douglas, family members, the referee, the cutmen, trainers and managers to the commentators and HBO staff covering the fight in Tokyo, Layden has crafted a human drama played out on a large stage. This is a compelling tale of shattered dreams and, ultimately, redemption.
About the Author
JOE LAYDEN is a best-selling author and award-winning journalist who regularly covered professional boxing during the height of Mike Tyson's championship reign. He lives in upstate New York.
Praise For The Last Great Fight…
"Layden has researched and written the most compelling and moving book on the sweet science we've seen in years." --Booklist (starred review) "With rich detail and robust prose, Joe Layden's account of Tyson-Douglas doesn't merely re-create the most unthinkable upset in boxing annals. It takes you into the corners, the locker rooms, the minds of the two protagonists, producing revelations that arrive in combinations and a story that packs a heavyweight punch."
-- Wayne Coffey, author of the New York Times bestseller THE BOYS OF WINTER "The Mike Tyson-Buster Douglas fight resulted in the most spectacular upset in boxing history, yet it was an epic that has almost been forgotten. In The Last Great Fight, Joe Layden restores the fight to its rightful place in sports legend and fills in the spaces that other historians have missed. This is the best boxing book in the last 25 years." --Allen Barra, sports columnist, Wall Street Journal, and author of The Last Coach: A Life of Paul "Bear" Bryant. "Tell the truth. You missed the moment when Buster Douglas knocked out Mike Tyson for the heavyweight championship of the world. The fight was in Tokyo and Iron Mike was going to destroy this unknown fatso, whack him out, blah-blah...what did you know? So now you have a second chance. The all-time upset of boxing upsets is replayed here through the deft, sweet prose of Joe Layden; a ringside seat that shows not only the punches that were thrown but what was behind them. Don't miss it this time. The book is better than the fight and the fight was a wonder."
-- Leigh Montville, New York Times bestselling author of THE BIG BAM: THE LIFE AND TIMES OF BABE RUTH and TED WILLIAMS: THE BIOGRAPHY OF AN AMERICAN HERO