SkyMaul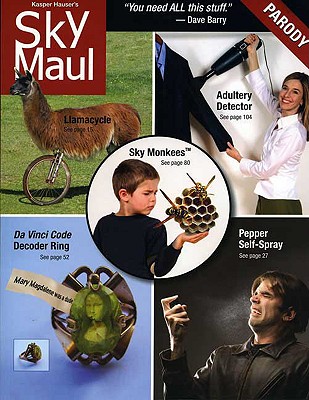 SkyMaul
Happy Crap You Can Buy from a Plane
St. Martin's Griffin, Paperback, 9780312357474, 128pp.
Publication Date: October 31, 2006
* Individual store prices may vary.
Shop Local
Enter your zip code below to find indies closest to you.
Description
The funniest catalog in America. Guaranteed.

Let award-winning comedy troupe Kasper Hauser transport you into the sublime universe that is SkyMaul, where Banana-ganizers and Reality-Canceling Headphones coexist with Crack Pipe Chess Sets and Llamacycles. More than just a catalog parody, SkyMaul explodes with razor-sharp wit, boundless creativity, and a keen eye for the absurd. This smart, edgy satire will earn your laughter again and again.
About the Author
Praise For SkyMaul…
"Reading this blurb is a form of inefficiency, because to know that this book is madly funny, full of wild invention, and definitively satirizes one of the most banal and loathsome of all American institutions, all you have to do is skip this blurb and open the book to any page.  But if you've made it this far, it's too late. Sorry for wasting your time. OPEN THE BOOK."—George Saunders, author of CivilWarLand in Bad Decline and Pastoralia
 
"You will laugh yourself sad at this fake catalog, lovingly crafted from the finest comedy by a couple of brilliant, funny douchebags."—Patton Oswalt
 
"The D.U.I. Mask really works!"—David Foster Wallace
 "Not since the days of Not the New York Times and The Journal of Irreproducible Results has the sly, surprising parody of otherwise ignored cultural detritus seemed so sharp and overdue; not since the days of the actual feral child named Kasper Hauser has humor writing been so nimble, hungry, wiry, and covered with a fine, catlike fur."—John Hodgman, author of Areas of My Expertise and contributor to The Daily Show with Jon Stewart
 
"SkyMaul provides great reading on a plane, particularly on those long flights, because I usually forget to bring a book. I was disappointed that some of the items were on back order and, I'm informed, may not be available at all. But the fact that the catalog is available means that THE TERRORISTS HAVE NOT WON!"—Fred Willard      
 
"This is the funniest catalog I've ever read. And they didn't even go with the old lady holding the giant 'massager.' Funny and classy."—Joel Stein, LA Times
 
"This is the catalog that SHOULD be on every plane! A perfect absurdist comment on just how odd sky shopping truly is! I wish I'd had it on my last flight. Instead, I had to watch The Ice Princess."—Nicole Parker, MADtv