Home of the Brave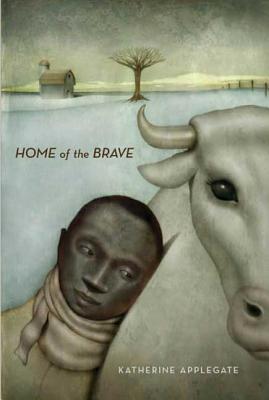 Home of the Brave
Feiwel & Friends, Hardcover, 9780312367657, 249pp.
Publication Date: August 21, 2007
* Individual store prices may vary.
Not Currently Available for Direct Purchase
or
Shop Local
Enter your zip code below to purchase from an indie close to you.
Description
Kek comes from Africa. In America he sees snow for the first time, and feels its sting. He's never walked on ice, and he falls. He wonders if the people in this new place will be like the winter cold and unkind.
In Africa, Kek lived with his mother, father, and brother. But only he and his mother have survived, and now she's missing. Kek is on his own. Slowly, he makes friends: a girl who is in foster care; an old woman who owns a rundown farm, and a cow whose name means "family" in Kek's native language. As Kek awaits word of his mother's fate, he weathers the tough Minnesota winter by finding warmth in his new friendships, strength in his memories, and belief in his new country.
Bestselling author Katherine Applegate presents a beautifully wrought novel about an immigrant's journey from hardship to hope.
"Home of the Brave" is a 2008 Bank Street - Best Children's Book of the Year.
About the Author
Katherine Applegate's many books include the Roscoe Riley Rules chapter book series, the picture book The Buffalo Storm, and the award-winning novel Home of the Brave. With her husband, Michael Grant, she wrote the hugely popular series Animorphs, which has sold more than 35 million copies worldwide.
Katherine was inspired to write The One and Only Ivan after reading about the true story of a captive gorilla known as Ivan, the Shopping Mall Gorilla. The real Ivan lived alone in a tiny cage for twenty-seven years at a shopping mall before being moved to Zoo Atlanta after a public outcry. He was a beloved celebrity at the zoo, which houses the nation's largest collection of western lowland gorillas. Ivan was well known for his paintings, which he "signed" with a thumbprint.
Katherine lives in California with her husband and two children.
Praise For Home of the Brave…
"American culture, the Minnesota climate, and personal identity are examined in this moving first-person novel written in free verse . . . Kek is both a representative of all immigrants and a character in his own right . . . Kek will be instantly recognizable to immigrants, but he is also well worth meeting by readers living in homogeneous communities."—School Library Journal, starred review
"In her first stand-alone book, Applegate (the Animorphs series) effectively uses free verse to capture a Sudanese refugee's impressions of America and his slow adjustment . . . Prefaced by an African proverb, each section of the book marks a stage in the narrator's assimilation, eloquently conveying how his initial confusion fades as survival skills improve and friendships take root . . . Precise, highly accessible language evokes a wide range of emotions and simultaneously tells an initiation story. A memorable inside view of an outsider."—Publishers Weekly
"This beautiful story of hope and resilience . . . is an almost lyrical story . . . Kek's voice is particularly strong as he models the difficulties experienced by a new immigrant . . . The book highlights the importance of attitude to success, a life lesson worth repeating as well."—VOYA
"The boy's first-person narrative is immediately accessible. Like Hanna Jansen's Over a Thousand Hills I Walk with You, the focus on one child gets behind those news images of streaming refugees far away."—Booklist
". . . [Kek] relates the process of adjusting to his new life in poignant and lyrical free verse, a stylistic choice that helps set the tone of a character who of necessity thinks in images when he can't find the words to carry him from his old language to his new language . . . Kek's observations about the weirdness of American culture and customs will be familiar to immigrants and will cause non-immigrants to see everyday patterns and material possessions in a new light; the evocative spareness of the verse narrative will appeal to poetry lovers as well as reluctant readers and ESL students."—Bulletin of the Center for Children's Books (BCCB)
". . . beautifully written in free verse . . . a thought-provoking book about a topic sure to evoke the empathy of readers."—KLIATT
"In an immediate, first-person voice, we get a detailed, emotional glimpse into Kek's adjustment to America and its ways. With exact and accessible language—as well as many evocative metaphors, as Kek tries to acclimate to his new life . . . —Applegate gives young readers a compelling account of life as an outsider in America."—Seven Impossible Things Before Breakfast (blog)
"Kek's experience is not simply that of an immigrant boy looking to be brave in a new situation. He teaches much, of course, of the things challenging a person recently introduced to a place and culture. He also teaches about preserving the valuable parts of one's own history and culture. But most important, his universal longing to be part of a family, to display bravery and courage, to be accepted, make him just like any young person. His poignant story communicates the shared longings of all young people."—Children's Literature Network