There Goes the Bride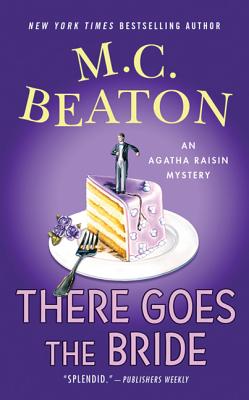 There Goes the Bride
Minotaur Books, Mass Market Paperbound, 9780312373221, 294pp.
Publication Date: August 31, 2010
* Individual store prices may vary.
Buy Now
or
Shop Local
Enter your zip code below to purchase from an indie close to you.
Description
Much as it goes against the grain, Agatha Raisin is trying to be a good sport. Even though her ex-husband James Lacey's upcoming marriage to the beautiful Felicity Bross-Tilkington fills her heart with dread, she takes a break from her successful detective agency to attend the wedding. It seems like a good idea at the time especially since Agatha's had her sights on the "tres "handsome Frenchman Sylvan. But as soon as she lays eyes on James, she realizes she's still desperately in love. Then, just moments before saying "I do," Felicity is shot. And now Agatha highly competitive, hopelessly romantic, and no stranger to scandal is named the prime suspect for murder .
"There Goes the Bride "shows bestselling mystery author M.C. Beaton at the top of her game.
About the Author
M. C. Beaton, who was the British guest of honor at Bouchercon 2006, has been hailed as the "Queen of Crime" ("The Globe and Mail"). In addition to her "New York Times "and "USA Today "bestselling Agatha Raisin novels, Beaton is the author of the Hamish Macbeth series and four Edwardian mysteries. Born in Scotland, she currently divides her time between the English Cotswolds and Paris. "The Blood of an Englishman" is her 25th Agatha Raisin Mystery.
Praise For There Goes the Bride…
"Tourists are advised to watch their backs in the bucolic villages where M. C.  Beaton sets her sly British mysteries...Outsiders always spell trouble for the societies Beaton observes with such cynical humor."—The New York Times Book Review
"[Beaton's] imperfect heroine is an absolute gem!"—Publishers Weekly
"Beaton's Agatha Raisin series just about defines the British cozy."—Booklist
"Anyone interested in...intelligent, amusing reading will want to make the acquaintance of Mrs.  Agatha Raisin."—Atlanta Journal Constitution
"Beaton has a winner in the irrepressible, romance-hungry Agatha."—Chicago Sun-Times
"Few things in life are more satisfying than to discover a brand-new Agatha Raisin mystery."
—Tampa Tribune Times
The Raisin series brings the cozy tradition back to life. God bless the Queen!"—Tulsa World
"The Miss Marple–like Raisin is a refreshingly sensible, wonderfully eccentric, thoroughly likable heroine...a must for cozy fans."—Booklist
A SPOONFUL OF POISON
"Agatha is like Miss Marple with a drinking problem, pack-a-day habit, and major man lust…Beaton's latest installment, in which Aggie gets mixed up in a deadly jam-tasting contest, is pretty terrific—a must-read."—Entertainment Weekly
"Take two fine old English traditions—the village fete and death by poison—and you have a clever tale…featuring irascible, lovable Agatha Raisin. A Spoonful of Poison will go down just fine."—Richmond Times-Dispatch
"Beaton's sly humor enhances the cozy-style plotting, while updates on Agatha's…romantic travails are as delightful as ever. The open-ended resolution points to more madcap mayhem to come."—Publishers Weekly
THE WALKERS OF DEMBLEY
"British cozy fans will no doubt find this book an engaging teatime companion."—Booklist
"Trenchant and droll."—St. Petersburg Times
"Among writers of cozy village mystery series, count M.C. Beaton as one who creates a nice tea party."—Associated Press
THE POTTED GARDENER
"From the author's sure-fire plot comes this fail-safe moral: It takes an outsider to open people's eyes to the beauty—and the evil—within."—The New York Times Book Review
 "Compare this one to lemon meringue pie: light. . .with a delicious hint of tartness at its heart."
—The Washington Times
KISSING CHRISTMAS GOODBYE
"Agatha Raisin is still at the top of her game…in her most challenging case yet."
—Publishers Weekly
"Beaton, the reigning queen of the cozies, adds an English manor house and a Christmas theme to her usual Costwold village setting, upping the comfiness factor even higher."—Booklist
LOVE, LIES AND LIQUOR
"Another highly satisfying Beaton cozy, this one is long on the kind of social comedy that uses character, plot, and atmosphere to produce the laughter."—Booklist
"Driven by Agatha's strong personality, [Love, Lies and Liquor] will please devoted fans."—Publishers Weekly
THE PERFECT PARAGON
"Though Agatha is still a bit of a piece of work, she is mellowing with age, and in this book even forgets to 'gussy' herself up once when she goes out.  There's a cliffhanger at the end...that is going to be interesting in the next book."—Deadly Pleasures
"This is the latest perfectly precious prose problem from Beaton, Britain's successor to Dame Agatha Christie. If you've never read an Agatha Raisin novel, it's time to start, and you'll have fifteen more of these confections awaiting you. Polish those off, and you still have a batch of Hamish Macbeth tales. All of them are cunningly plotted, beautifully written and more fun you can imagine. The Perfect Paragon is as perfect as all the others, and you won't figure out whodunit until the final pages."—The Globe & Mail
"Entertaining…welcome back to Carsely, the charming Cotswolds village that's home to the sixteenth Agatha Raisin mystery."—Publishers Weekly
"Fabulous…M.C. Beaton is at her best with this fine tale filled with twists." —Midwest Book Review
THE DEADLY DANCE
"It's been 40 years since Dame Agatha Christie's death, and in that time, reviewers have often bestowed her mantle on new authors. M. C. Beaton is one of those so honored, and she deserves it. When it comes to artfully constructed puzzle plots and charming settings, Beaton serves it up…This is a classic British cozy plot, and a setting done with panache. Maybe M. C. Beaton really is the new 'Queen of Crime.'"—The Globe & Mail
"It is always fun to read an Agatha Raisin mystery, but the latest installment freshens up a delightful series by converting the heroine from amateur sleuth to professional without changing her caustic wit. Agatha remains crude and rude even to clients, but also retains that vulnerability that endears her to readers."—Midwest Book Review
"A very satisfying change for the smart woman of mystery with a new cast of colorfully realized characters blending with a few old favorites."—Mystery Lovers Bookshop News
"The story was first-rate and moved along with many twists and turns that kept me always guessing…I read this book in one sitting, which I think speaks for itself."—I Love a Mystery
"Fans of Agatha Raisin will be absolutely delighted at this latest addition to the series. Ms. Beaton has surpassed herself in The Deadly Dance."—Reviewing the Evidence