Cut, Paste, Kill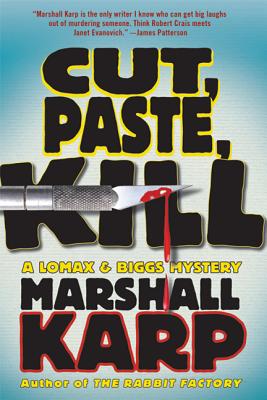 Cut, Paste, Kill
Minotaur Books, Paperback, 9780312378240, 296pp.
Publication Date: August 2, 2011
* Individual store prices may vary.
Buy at Local Store
Enter your zip code below to purchase from an indie close to you.
or
Not Currently Available for Direct Purchase
Description
When Eleanor Bellingham-Crump---a socialite responsible for the death of a ten-year-old boy---turns up murdered on the floor of a Hollywood hotel bathroom, Lomax and Biggs are confronted with a crime of artistic brutality. Along with the scissors sticking out of Eleanor's lifeless body, the two detectives find a meticulous scrapbook documenting a motive for vengeance in lurid detail.
As more bodies are discovered, each one connected by the intricate scrapbooks left at the murder scenes, Mike and Terry are on the hunt for a vigilante stalking unpunished criminals. They must race to decode the meaning behind the scrapbooks before the crafty avenger has time to cut and paste the story for another kill.
With laugh-out-loud humor and crackling dialogue, the chapters hurtle toward a killer finale in the most thrilling Lomax & Biggs adventure yet.
About the Author
An award-winning former advertising executive, Marshall Karp is a playwright and a screenwriter, and has written and produced numerous TV shows. Having paid his dues in Hollywood, he began killing the people he used to work with. He is currently coauthoring a thriller with James Patterson.
Praise For Cut, Paste, Kill…
"Marshall Karp is the only writer I know who can get big laughs out of murdering someone.  Think Robert Crais meets Janet Evanovich." --James Patterson 
"Marshall Karp is one of the most original, offbeat, witty and satisfying
mystery novelists working today. This Lomax and Biggs adventure is his most
fun yet." --Joe Donahue, "Roundtable" Host, Northeast Public Radio Network/WAMC
"In Karp's excellent fourth mystery featuring LAPD detectives Mike Lomax and Terry Biggs, the pair look into the stabbing death of British citizen Eleanor Bellingham-Crump, who escaped prosecution for killing a 10-year-old boy while driving drunk by virtue of her husband's diplomatic immunity. Karp offers multiple twists that will keep most readers guessing until the end, and balances the grim plot with Biggs's inexhaustible supply of genuinely humorous one-liners. Kinky Friedman and Carl Hiaasen fans should latch onto this series." --Publishers Weekly, starred review
"As usual in this uproarious series, the emphasis is as much on comedy as it is on crime, and this time there's plenty to work with: Biggs, the king of the one-liner, has his sights set on a screenwriting career, working in tandem with Lomax's equally wacky father, and Lomax and steady girlfriend Diana are babysitting a precocious Asian girl, who may be able to match Biggs quip for quip. The plot gets a little screwy in the end, but that seems right for a novel that is half mystery and half screwball comedy. Somehow Karp keeps the two in perfect balance."  --Booklist
"The opening scene of Cut, Paste, Kill will hook you: A woman scatters numbered ping pong balls and waits to see which one her cats will catch first, thus identifying her next murder victim. This cavalier attitude towards life and death sets the stage for the fourth installment in an entertaining series featuring Hollywood homicide detectives Mike Lomax and Terry Biggs."  --Mystery Scene
"Funny is hard to do in a mystery, but Karp does it hilariously.  Set in Los Angeles, where a homicidal scrapbooker is on a rampage with scissors, Detectives Lomax and Biggs take on the absurdities of life in LA."  --Carole E. Barrowman, The Journal Sentinel