The Lost Island of Tamarind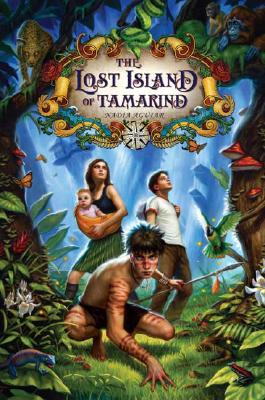 The Lost Island of Tamarind
Feiwel & Friends, Hardcover, 9780312380298, 448pp.
Publication Date: September 30, 2008
* Individual store prices may vary.
Buy at Local Store
Enter your zip code below to purchase from an indie close to you.
or
Not Currently Available for Direct Purchase
Description
Maya Nelson isn't your typical thirteen-year-old. She's spent her whole life living on the sea with her marine biologist parents, her younger brother, Simon, and baby sister, Penny. Maya used to love living on a sailboat, but lately, everything feels terribly claustrophobic. Maya longs to go to school on land. To make friends. To lead a normal life. But when a violent storm hits and Maya's parents are washed overboard, life becomes anything but normal. The children manage to steer the boat toward a mysterious island, to a place that doesn't exist on a map.
Welcome to Tamarind, where fish can fly, pirates patrol the waters, jaguars lurk, the islanders are at war, and an evil, child-stealing enchantress rules the jungle.
Maya never imagined she'd have to face so many dangers. But then, who could have imagined a place like Tamarind. . . .?
In her stunning first novel, Nadia Aguiar presents a heart-pounding adventure tale about a haunting, fantastical island cut off from the outside world.
About the Author
NADIA AGUIAR received a BA from McMaster University in Canada and an MFA in Creative Writing from Columbia. She currently lives in Bermuda, where she was born and raised.
Praise For The Lost Island of Tamarind…
Praise for The Lost Island of Tamarind:
"The book's magic…lies in Aguiar's precise, often lyrical descriptions. A native and resident of Bermuda, she writes with authority about daily life in the tropics....Aguiar uses her knack for realistic details equally well in the magical parts…. The Lost Island of Tamarind has a gentle spirit, tempering its dangers with warmth." —The New York Times Book Review
"Aguiar's exciting debut novel is a cross between Peter Pan and Lost...Developed with seeming ease, each new character advances the plot logically and fluidly. The storytelling, intricate as it is, builds to a whole that is greater than the sum of its parts. All signs point to a sequel—one that readers won't want to miss." —Publishers Weekly, starred review
 
"Each detail of this fantasy is crafted with care; readers will be drawn into this dangerous, magical world where anything is possible and nothing can be fully explained...Young people will be transported to a world so different from the one they currently inhabit, following along as Maya and Simon escape their adversaries and struggle to survive in this hostile land." —School Library Journal
"Stranded on a lost island, a teen faces nail-biting adventures searching for her missing parents in this fantasy cliffhanger…. As she bounces from one adventure to the next, Maya forgets all about having a normal life and longs just to have her family reunited. Spunky kids, perilous pursuits and marine mystery make for a smashing good read." —Kirkus Reviews
"Treasure Island meets The Lost World in this fantasy that pits three siblings—thirteen-year-old Maya, nine-year-old Simon, and eight-month-old Penny—against storms at sea, shipwreck, carnivorous plants, pirates, slavery, jungles, giants, and war. They engage in their struggles while searching for their lost parents on an island that does not exist in the known world. Maya, dissatisfied with life at sea while roaming the world with her marine biologists parents, longs for life on solid ground, but not the solid ground she encounters when a storm washes her parents overboard. Their boat, the Pamela Dean, crosses the Blue Line, taking the children out of this world and into that of the Lost Island of Tamarind. Joining them in their adventures is Helix, a teenage boy with a mysterious past who saves them from carnivorous vines and puts them on the trail to Port Town, where Maya is convinced that they will find their parents. One adventure leads to another, in true Perils of Pauline fashion, from their capture by the Child Stealer; escape in a plane piloted by another captive, an anthropologist who managed to cross the Blue Line in her plane; and their subsequent pursuit through the streets of Port Town to an encounter with pirates that places them in the middle of a war that has devastated the island. The children are finally reunited with their parents, but enough plot threads are left dangling for further adventures of Maya and company. Fans of adventure fantasy will enjoy the nonstop action and breakneck pace." —Bonnie Kunzel, VOYA