Secrets of Tamarind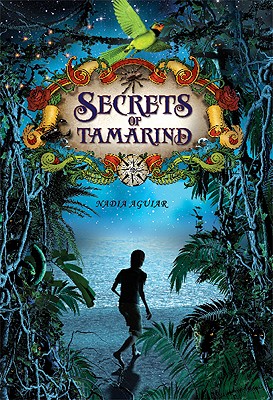 Secrets of Tamarind
Feiwel & Friends, Hardcover, 9780312380304, 384pp.
Publication Date: July 5, 2011
* Individual store prices may vary.
Not Currently Available for Direct Purchase
or
Shop Local
Enter your zip code below to purchase from an indie close to you.
Description
It's been four years since Maya, Simon, and Penny Nelson left the lost island of Tamarind. For Maya, the island is a nearly forgotten part of her childhood; for Penny, it's a secret place she can't remember, but longs to see; and for Simon, it's an adventure waiting to happen. An evil group called the Red Coral Project is lurking around the Nelson's home in Bermuda, and the children discover that the project has moved into Tamarind, and are desiccating it to ruin. Only the Nelson's can save the island.
In Tamarind, there is the mystery of the magical mineral ophalla that Red Coral is greedily mining, their old pirate ship, the Pamela Jane, and the secret of their friend Helix's parentage. This time, it is up to Simon to put the clues together, and save his sisters from the island and the nefarious Red Coral Project and defeat Red Coral before the magnificent island is put to ruin.
Nadia Aguiar's sequel to The Lost Island of Tamarind, crafts a vivid story reminiscent of such classics as Peter Pan, full of adventure, magic, and haunting beauty.
About the Author
NADIA AGUIAR received a BA from McMaster University in Canada and an MFA in Creative Writing from Columbia. She is the author of "The Lost Island of Tamarind "and "Secrets of Tamarind"." "She currently lives in Bermuda, where she was born and raised.
Praise For Secrets of Tamarind…
"This is a great adventure that sets the stage for a third book in the series." --School Library Journal Praise for  Nadia Aguiar and The Lost Island of Tamarind: "The book's magic…lies in Aguiar's precise, often lyrical descriptions.  A native and resident of Bermuda, she writes with authority about daily life in the tropics....Aguiar uses her knack for realistic details equally well in the magical parts…. 'The Lost Island of Tamarind' has a gentle spirit, tempering its dangers with warmth."--The New York Times Book Review "Aguiar's exciting debut novel is a cross between Peter Pan and Lost...Developed with seeming ease, each new character advances the plot logically and fluidly. The storytelling, intricate as it is, builds to a whole that is greater than the sum of its parts. All signs point to a sequel—one that readers won't want to miss."--Publishers Weekly, starred review "Each detail of this fantasy is crafted with care; readers will be drawn into this dangerous, magical world where anything is possible and nothing can be fully explained...Young people will be transported to a world so different from the one they currently inhabit, following along as Maya and Simon escape their adversaries and struggle to survive in this hostile land."--School Library Journal "Stranded on a lost island, a teen faces nail-biting adventures searching for her missing parents in this fantasy cliffhanger…. As she bounces from one adventure to the next, Maya forgets all about having a normal life and longs just to have her family reunited. Spunky kids, perilous pursuits and marine mystery make for a smashing good read."--Kirkus Reviews