Empire of Shadows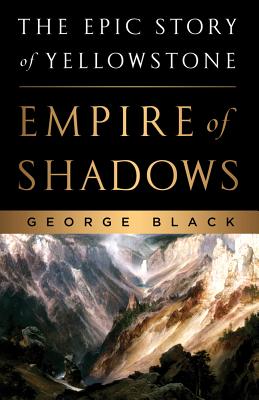 Empire of Shadows
The Epic Story of Yellowstone
St. Martin's Press, Hardcover, 9780312383190, 560pp.
Publication Date: March 27, 2012
* Individual store prices may vary.
Not Currently Available for Direct Purchase
or
Shop Local
Enter your zip code below to purchase from an indie close to you.
Description
"George Black rediscovers the history and lore of one of the planet's most magnificent landscapes. Read "Empire of Shadows," and you'll never think of our first in many ways our greatest national
park in the same way again."
Hampton Sides, author of "Blood and Thunder"
"Empire of Shadows" is the epic story of the conquest of Yellowstone, a landscape uninhabited, inaccessible and shrouded in myth in the aftermath of the Civil War. In a radical reinterpretation of the nineteenth century West, George Black casts Yellowstone's creation as the culmination of three interwoven strands of history - the passion for exploration, the violence of the Indian Wars and the "civilizing" of the frontier - and charts its course through the lives of those who sought to lay bare its mysteries: Lt. Gustavus Cheyney Doane, a gifted but tormented cavalryman known as "the man who invented Wonderland"; the ambitious former vigilante leader Nathaniel Langford; scientist Ferdinand Hayden, who brought photographer William Henry Jackson and painter Thomas Moran to Yellowstone; and Gen. Phil Sheridan, Civil War hero and architect of the Indian Wars, who finally succeeded in having the new National Park placed under the protection of the US Cavalry. George Black's Empire of Shadows is a groundbreaking historical account of the origins of America's majestic national landmark.
About the Author
David Stowell and George Black are longtime chefs who operated their Veganopolis Cafeteria in Portland, Oregon, from 2003 to 2008, and re-opened it in their native Chicago in 2010.
Praise For Empire of Shadows…
"George Black has written a masterful and riveting history of the exploration of Yellowstone. Empire of Shadows will forever change our understanding and conception of this sacred American place."--David Grann, author of The Lost City of Z
"In this work of meticulous scholarship harnessed to fine story-telling, George Black rediscovers the history and lore of one of the planet's most magnificent landscapes. Here is Yellowstone in all its untouristed grandeur—we can almost smell the musk of buffalo herds and the glurp of the hot springs. Read Empire of the Shadows, and you'll never think of our first—in many ways our greatest—national park in the same way again."--Hampton Sides, author of Blood and Thunder
"A well-researched and dynamically written study of the hidden history of greed and idealism, beauty and violence, which led to the creation of Yellowstone National Park."--Richard Slotkin, author of Gunfighter Nation: The Myth of the Frontier in 20th Century America and Professor Emeritus of American Studies, Wesleyan University
"An engrossing chronicle of the vast sweep of western American history that, after six decades, finally closed in on our first national park."--Robert M. Utley, Former Chief Historian of the National Park Service and author of sixteen books on western American history