The Unseen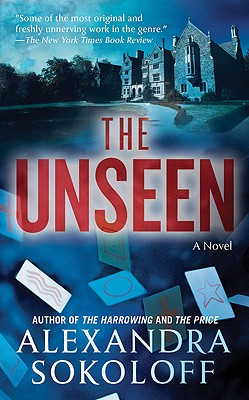 The Unseen
St. Martin's Paperbacks, Mass Market Paperback, 9780312389529, 416pp.
Publication Date: May 25, 2010
* Individual store prices may vary.
Buy at Local Store
Enter your zip code below to purchase from an indie close to you.
or
Not Currently Available for Direct Purchase
Description
After experiencing a precognitive dream that shatters her engagement and changes her life forever, a young psychology professor from California decides to get a fresh start by taking a job at Duke University in North Carolina. She soon becomes obsessed with the files from the world-famous Rhine parapsychology lab experiments, which attempted to prove ESP really exists.
Along with a seductively handsome professor, she uncovers disturbing cases, including one about a house supposedly haunted by a poltergeist, investigated by another research team in 1965. The two professors and a team of exceptionally gifted Duke students move into the abandoned mansion to replicate the investigation—unaware that the entire original team ended up insane… or dead.
About the Author
ALEXANDRA SOKOLOFF is the author of "The Price "and "The Harrowing," which was nominated for the Bram Stoker Award for Best First Novel and the Anthony Award for Best First Novel. She also works as a screenwriter, and splits her time between Los Angeles, California, and Raleigh, North Carolina. She welcomes questions and comments at her website: www.alexandrasokoloff.com.
Praise For The Unseen…
Praise for the novels of Alexandra Sokoloff
THE PRICE
"Some of the most original and freshly unnerving work in the genre."—The New York Times Book Review
"The Harrowing was immensely creepy and satisfying, a first novel and a wonderful book. The Price is another notch in this author's golden belt—a psychological roller coaster that keeps the reader on edge with bone-chilling thrills throughout. I couldn't put it down. Sokoloff is an author not to be missed." —Heather Graham, bestselling author of The Séance
"A stunning, riveting journey into terror and suspense."—Michael Palmer, New York Times bestselling author of The Second Opinion
 
"A heartbreakingly eerie page turner…"—Library Journal
"It's been a long, long time since a book scared, exhilarated, uplifted, frenzied, and made me green with jealousy. This is the book of 2008. It is beyond stunning. It is harrowing in the true sense of real art." —Ken Bruen, award-winning author of Once Were Cops
 "Sokoloff is simply amazing."—Bookreporter.com
"A sublime second novel…Rest assured that Sokoloff will suffer none of the signs or symptoms of a sophomore slump with this confident follow-up to her Stoker-nominated debut…Her gooseflesh-inducing imagery jumps right off the pages, and her rich, graceful prose calls to mind names like King, Saul, and Levin."—Dark Scribe Magazine
"Sokoloff's straightforward writing style perfectly enhances her chilling and mysterious novel, in which she blurs the lines between what is real and what is merely a hallucination." —Romantic Times
THE HARROWING
"A real page-turner, a first novel of unusual promise."—Ira Levin, author of Rosemary's Baby
"Poltergeist meets The Breakfast Club."—Kirkus Reviews
"A pyrotechnic climax...a cinematic finale."—Publishers Weekly
"Good, engrossing fun." —Booklist
"Absolutely gripping…It is easy to imagine this as a film…Once started, you won't want to stop reading." —The London Times
"Pulsates with a fear factor that starts early and doesn't stop until the last page." —South Florida Sun-Sentinel
"Takes a familiar premise...and adds a decidedly ancient mystic twist that ups the scare factor several-fold." —Baltimore Sun
"Fast, original, and genuinely creepy."—F.  Paul Wilson, author of Midnight Mass
"Alexandra Sokoloff conjures up a demon older than time and humanity and yet rooted in modern psychology.  She brings all her skills as a screenwriter to a tale of supernatural terror as swift as a film."—Ramsey Campbell, author of The Overnight
 
"Sokoloff's debut novel is a furiously paced, deftly plotted joy, bursting at the seams with disquieting imagery and carrying a disturbingly dark undercurrent.  It gave me a nightmare…and that's rare."—Tim Lebbon, author of Dusk
 
"More than an impressive debut novel;  it is an impressive work, period.…Highly recommended." —BookReporter.com

"A top-notch gripping ghost story from the first page." —New Mystery Reader
"Sokoloff's screenplay training pays off with this economical and very scary tale of five alienated teens who get caught up in forces far, far beyond their control, but she scores extra points for the biblical twist that really ratchets up the tension." —Sarah Weinman

"You won't be able to put this gripping page-turner down." —Bookloons

"A wild and frightening journey that explores an evil that most of us might not know about."
—Full Effect Magazine

"An eerie ghost story that captivates readers from page one.  The author creates an element of suspense that builds until the chillingly believable conclusion.  Four stars." —Romantic Times Bookreviews

"Scary without being gory, this book has just the right blend of psychological drama, mystery, romance, and creepiness." —VOYA

"The Breakfast Club meets The Shining in this engrossing, hard-to-put-down novel."
—Armchairinterviews.com
"Creepy, compelling, and original."—The Sun (U.K.)