Strong Motion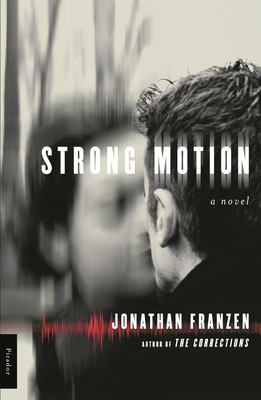 Strong Motion
Picador USA, Paperback, 9780312420512, 528pp.
Publication Date: September 8, 2001
* Individual store prices may vary.
Buy at Local Store
Enter your zip code below to purchase from an indie close to you.
or
Buy Here
Description
Louis Holland arrives in Boston in a spring of ecological upheaval (a rash of earthquakes on the North Shore) and odd luck: the first one kills his grandmother. Louis tries to maintain his independence, but falls in love with a Harvard seismologist whose discoveries about the earthquakes' cause complicate everything.
About the Author
JONATHAN FRANZEN is the author of four novels, The Twenty-Seventh City, Strong Motion, The Corrections (winner of the 2001 National Book Award for Fiction) and the #1 international bestseller Freedom; two collections of essays, How to Be Alone and Farther Away; and a personal history, The Discomfort Zone. In 2010, TIME magazine named him the Great American Novelist. Franzen lives in New York City, New York, and Santa Cruz, California.
Praise For Strong Motion…
"Bold, layered . . . Mr. Franzen lavishes vigorous, expansive prose not only on the big moments of sexual and emotional upheaval, but also on various sideshows and subthemes . . . An affirmation of Franzen's fierce imagination and distinctive seriocomic voice . . . his will be a career to watch."—Josh Rubins, The New York Times Book Review

"Ingenious . . . Strong Motion is more than a novel with a compelling plot and a genuine romance (complete with hghly charged love scenes); Franzen also writes a fluid prose that registers the observations of his wickedly sharp eye."—Douglas Seibold, The Chicago Tribune

"Complicated and absorbing with a fair mix of intrigue, social commentary and humor laced with a tinge of malice."—Anne Gowen, The Washington Times

"Strong Motion is a roller coaster thriller . . . Franzen captures with unnerving exactness what it feels like to be young, disaffected and outside mainstream America. There is an uncannily perceptive emotional truth to this book, and it strikes with the flinty anger of an early-sixties protest song."—Will Dana, Mirabella

"Franzen is one of the most extraordinary writers around . . . Strong Motion shows all the brilliance of The Twenty-Seventh City."—Laura Shapiro, Newsweek

"Lyrical, dramatic and, above all, fearless . . . Reading Strong Motion, one is not in the hands of a writer as a fine jeweler or a simple storyteller. Rather, we're in the presence of a great American moralist in the tradition of Dreiser, Twain or Sinclair Lewis."—Ephraim Paul, Philadelphia Inquirer

"With this work, Franzen confidently assumes a position as one of the brightest lights of American letters . . . Part thriller, part comedy of manners, Strong Motion is full of suspense."—Alicia Metcalf Miller, Cleveland Plain Dealer

"Wry, meticulously realistic, and good."—Entertainment Weekly

"Franzen's dark vision of an ailing society has the same power as Don DeLillo's, but less of the numbing pessimism."—Details

"Base and startling as a right to the jaw . . . [Franzen] is a writer of almost frightening talent and promise."—Margaria Fichtner, Miami Herald