Accidents in the Home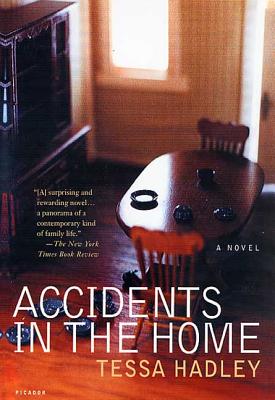 Accidents in the Home
St. Martins Press-3pl, Paperback, 9780312421021, 264pp.
Publication Date: May 1, 2003
* Individual store prices may vary.
Buy Now
or
Shop Local
Enter your zip code below to purchase from an indie close to you.
Description
A powerful literary debut chronicling a year in the life of one thoroughly modern family
Clare Verey, a twenty-nine-year-old mother of three, bakes her own bread and grinds her own spices. She has a comfortable home in the suburbs and a devoted husband. Why is it, then, that when her best friend's lover appears in her life he has the power to invert her world? Why is the desire for more never satisfied?
So begins "Accidents in the Home," a novel that exposes the emotional underbelly of a modern-day family. Clare's narrative is deftly intertwined with the stories of her extended family: her mother, Marian, the clever daughter of a Dostoevsky scholar whose husband leaves her for a beautiful young art student; Clare's half brother, Toby, a dreamy boy who prefers to view life through the lens of a camera; her troubled younger half sister, Tamsin, who develops an apparatus of taboos and rituals to restore order to her chaotic past.
In the world Tessa Hadley has created, family is no longer a steady foundation but a complex web of marriages, divorces, half siblings, and stepchildren that expands with every new connection and betrayal."Accidents in the Home" offers a startling, intimate portrait of family life in our time.
About the Author
Tessa Hadley is the author of five highly praised novels: Accidents in the Home, which was longlisted for The Guardian First Book Award; Everything Will Be All Right; The Master Bedroom; The London Train, which was a New York Times Notable Book; and Clever Girl. She is also the author of two short story collections, Sunstroke and Married Love, which were New York Times Notable Books as well. Her stories appear regularly in The New Yorker. She lives in London.
Praise For Accidents in the Home…
"[A] surprising and rewarding novel...a panorama of a contemporary kind of family life." —The New York Times Book Review

"Accidents in the Home is a stylish, skillful first novel. Hadley is an acute observer of the insinuations of the strange and sinister into even the most outwardly placid life." —The Washington Post Book World

"A domestic soap opera of the very best kind...[and] what's best about Hadley's novel is her unflinching clarity about the complexities and ambivalences of family life." —The Baltimore Sun

"[A] captivating first novel, but the thrill of this tale lies in her distinctive characters—their fleeting elation and cleverly plotted contradictions, and the repercussions of their actions." —The Herald Journal (Logan, Utah)