The Time of Our Singing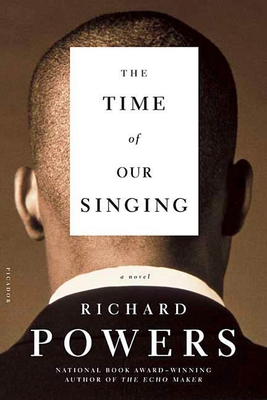 The Time of Our Singing
Picador USA, Paperback, 9780312422189, 640pp.
Publication Date: January 2004
* Individual store prices may vary.
Shop Local
Enter your zip code below to find indies closest to you.
Description
On Easter day, 1939, at Marian Anderson's epochal concert on the Washington Mall, David Strom, a German Jewish EmigrE scientist, meets Delia Daley, a young Philadelphia Negro studying to be a singer. Their mutual love of music draws them together, and--against all odds and better judgment--they marry. They vow to raise their children beyond time, beyond identity, steeped only in song. Jonah, Joseph, and Ruth grow up, however, during the Civil Rights era, coming of age in the violent 1960s, and living out adulthood in the racially retrenched late century. Jonah, the eldest, "whose voice could make heads of state repent," follows a life in his parents' beloved classical music. Ruth, the youngest, devotes herself to community activism and repudiates the white culture her brother represents. Joseph, the middle child and the narrator of this generation-bridging tale, struggles to find himself and remain connected to them both.

About the Author
Richard Powers is a MacArthur Fellow. He lives in Urbana, Illinois.

A popular television star with dark, warm-yet-sultry looks and an internationally known wildlife activist, Stefanie Powers is probably best remembered as Jennifer Hart, the writer and distaff half of the sleuthing team, in "Hart to Hart" (ABC, 1979-84), a role she reprised in several successful TV-movies first on NBC and then on The Family Channel.
Praise For The Time of Our Singing…
"A great hurtle of a book, telling several powerful stories at once...An astonishing performance. . . a prodigious, illuminating and exhilarating run." --The New York Times

"Ingenious...A heady, panoramic novel, scored, like so much of Powers's work, for full orchestra. . .One of our most lavishly gifted writers." --The New Yorker

"One of the best novels ever written about race in America...one of the best written about the joys of music. . .A major novel, harrowing and haunting in blending such intense beauty and such great sorrow into one great, unforgettable American symphony." --Newsday

"A bold and vibrant set of variations on the themes of music, race and time. . . It is hard to think of another novel since Thomas Mann's Doctor Faustus that uses music so effectively and with such authority." --Chicago Tribune

"The Time of Our Singing is an astonishment but not a surprise...Richard Powers has been astounding us almost every other year since 1985...We can no longer be surprised about whatever he dares to think in ink about." --Harper's Magazine

"With his characteristic mastery of structure and language, Powers has orchestrated a story that. . .plays with bravura to the end." --People

"This is a novel God might relish and call enriching. Powers' heart-cry should win big prizes." --The Philadelphia Inquirer

"Richard Powers is a wonder. . .[The Time of Our Singing] is beautifully, meticulously crafted." --The New York Observer