Positively Fifth Street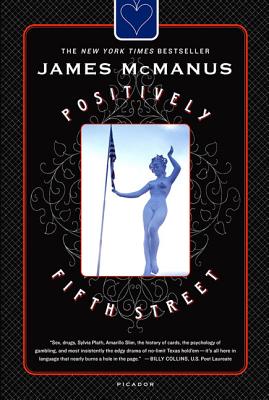 Positively Fifth Street
Murderers, Cheetahs, and Binion's World Series of Poker
Picador USA, Paperback, 9780312422523, 448pp.
Publication Date: March 1, 2004
* Individual store prices may vary.
Buy Now
or
Shop Local
Enter your zip code below to purchase from an indie close to you.
Description
In the spring of 2000, " Harper's Magazine" sent James McManus to Las Vegas to cover the World Series of Poker, in particular the progress of women in the $23 million event, and the murder of Ted Binion, the tournament's prodigal host, purportedly done in by a stripper and her boyfriend. But when McManus arrives, the lure of the tables compels him to risk his entire Harper's advance in a long-shot attempt to play in the tournament himself. This is his deliciously suspenseful account of the tournament--the players, the hand-to-hand combat, his own unlikely progress in it--and the delightfully seedy carnival atmosphere that surrounds it." Positively Fifth Street" is a high-stakes adventure and a terrifying but often hilarious account of one man's effort to understand what Edward O. Wilson has called "Pleistocene exigencies"--the eros and logistics of our competitive instincts.
About the Author
James McManus is a novelist and poet, most recently winner of the Peter Lisagor Award for sports journalism. He teaches writing and comparative literature at the School of the Art Institute of Chicago, including a course on the literature and science of poker. He is the author of "Positively Fifth Street".

John C. McManus formerly was assistant director of the University of Tennessee's Center for the Study of War and Society. He now lives in St. Louis where he teaches history at a local college.
Praise For Positively Fifth Street…
"James McManus bet big and won. His Positively Fifth Street, an exhilarating chronicle of the 2000 World Series of Poker in Las Vegas, will go on the shelf with the classic that inspired it, The Biggest Game in Town, A. Alvarez's account of the 1981 event...As tension packed as any thriller...A great story." --The New York Times Book Review (cover)

"Artfully woven...McManus captures the adrenaline-juiced tension of the game, and he also captures the anomalous mix of skill, bravado, gamesmanship, and sheer good fortune that a player needs to succeed; the bantering rivalry and comraderie that engulf the survivors; and the knowledge, as Conrad once put it, that 'it is the mark of an inexperienced man not to believe in luck.'" --Michiko Kakutani, The New York Times

"Astounding...wildly entertaining."--Men's Journal

"Irresistible. . .McManus gives the reader a riveting over-the-shoulder view of the hand-by-hand action....His prose is flashy, funny, and unexpectedly erudite, but McManus hardly even needs it--with material this rich, he's holding the writer's equivalent of a royal flush."--Time

"In writing about poker Jim McManus has managed to write about everything, and it's glorious." --David Sedaris, author of Me Talk Pretty One Day

"James McManus is the only literary poker-player ever to have made it to the final table in 'the Big One,' and he did so by playing brilliantly. I admire his achievement, envy his skill and discipline, and was completely absorbed by his subtle, detailed, lively account of the longest four days of his life." --A. Alvarez, author of The Biggest Game in Town