Dry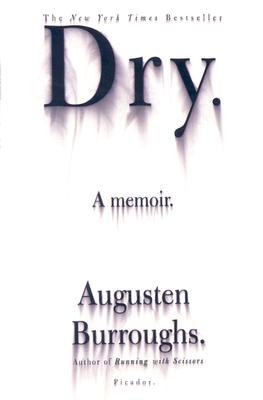 Dry
Picador USA, Paperback, 9780312423797, 309pp.
Publication Date: April 1, 2004
* Individual store prices may vary.
Buy at Local Store
Enter your zip code below to purchase from an indie close to you.
or
Not Currently Available for Direct Purchase
Description
From the bestselling author of" Running with Scissors" comes "Dry" the hilarious, moving, and no less bizarre account of what happened next.
You may not know it, but you've met Augusten Burroughs. You've seen him on the street, in bars, on the subway, at restaurants: a twenty-something guy, nice suit, works in advertising. Regular. Ordinary. But when the ordinary person had to drinks, Augusten was circling the drain by having twelve; when the ordinary person went home at midnight, Augusten never went home at all. Loud, distracting ties, automated wake-up calls, and cologne on the tongue could only hide so much for so long. At the request (well, it wasn't really a request) of his employers, Augusten landed in rehab, where his dreams of group therapy with Robert Downey, Jr., are immediately dashed by the grim reality of fluorescent lighting and paper hospital slippers. But when Augusten is forced to examine himself, something actually starts to click, and that's when he finds himself in the worst trouble of all. Because when his thirty days are up, he has to return to his same drunken Manhattan life and live it sober. What follows is a memoir that's as moving as it is funny, as heartbreaking as it is real. "Dry" is the story of love, loss, and Starbucks as a higher power.
About the Author
Augusten Burroughs is the author of "Running with Scissors", "Dry", "Magical Thinking: True Stories", "Possible Side Effects", "A Wolf at the Table" and "You Better Not Cry". He is also the author of the novel "Sellevision", which is currently in development for film. The film version of "Running with Scissors", directed by Ryan Murphy and produced by Brad Pitt, was released in October 2006 and starred Joseph Cross, Brian Cox, Annette Bening (nominated for a Golden Globe for her role), Alec Baldwin and Evan Rachel Wood. Augusten's writing has appeared in numerous magazines and newspapers around the world including "The New York Times" and "New York Magazine". In 2005 "Entertainment Weekly" named him one of "The 25 Funniest People in America." He resides in New York City and Western Massachusetts.
Praise For Dry…
"Laughter on the road to sobriety. Mr. Burroughs remains adept at mixing comedy and calamity."--Janet Maslin, The New York Times

"More than a heartbreaking tale; it's a heroic one. As with its predecessor, we finish the book amazed not only that Burroughs can write so brilliantly, but that he's even alive."--People

"[A] wrenching, edifying journey...with the added benefit of being really entertaining."--The New York Times Book Review

"A deeper book than Scissors, revealing Burroughs to be a more accomplished writer, creating scenes of real power."--Deirdre Donahue, USA Today

"Beneath the quick-flowing, funny-sad surface of Burroughs' prose lurks considerable complexity: wherever he goes, whatever he's doing, you can feel how badly he wants to drink--as well as the sadness from which that desire comes and the courage it takes to make the sadness so funny, all at the same time. If anything, Dry is even more compelling than Burroughs' first outing."--Lev Grossman, Time

"A frank, shockingly hilarious memoir of booze, family, loss, and victory. All along the way, this writer's warmth, honesty and irreverence win our allegiance. It's a mark of the depth and wholeness of the person who emerges here that we not only laugh with him but wind up caring deeply as well. Dry will make readers glad to have Augusten Burroughs in the world, and eager for more."--O Magazine

"Augusten Burroughs is a wickedly good writer. Dry is the second part of Burroughs' chronicle of his--shall we say--unusual life...a brutally honest view of the twisted culture that can thrive in an ad agency...All in all, Dry is a great read. Grade: A."--Chicago Sun-Times

"Burroughs is a brilliant writer--wickedly funny, painfully honest, and uber-cool. Without cheapening the hard work and commitment recovery requires, he allows the wry hilarity of his experience to shine brighter than the pain and darkness. I haven't read anything this sharp, hip,
or honest in my life. Count me as a lifelong fan of this courageous writer."--Elle Magazine