Housekeeping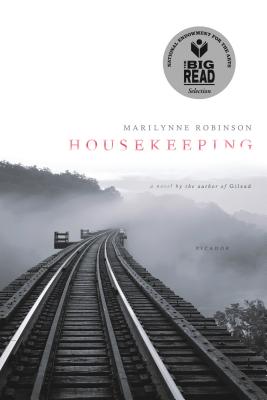 Housekeeping
Picador USA, Paperback, 9780312424091, 224pp.
Publication Date: November 1, 2004
* Individual store prices may vary.
Buy Now
or
Shop Local
Enter your zip code below to purchase from an indie close to you.
Description
A modern classic, "Housekeeping" is the story of Ruth and her younger sister, Lucille, who grow up haphazardly, first under the care of their competent grandmother, then of two comically bumbling great-aunts, and finally of Sylvie, their eccentric and remote aunt. The family house is in the small Far West town of Fingerbone set on a glacial lake, the same lake where their grandfather died in a spectacular train wreck, and their mother drove off a cliff to her death. It is a town "chastened by an outsized landscape and extravagant weather, and chastened again by an awareness that the whole of human history had occurred elsewhere." Ruth and Lucille's struggle toward adulthood beautifully illuminates the price of loss and survival, and the dangerous and deep undertow of transience.
About the Author
MARILYNNE ROBINSON is the author of the novels Home, Gileadwinner of the Pulitzer PrizeHousekeeping and Lila, and four books of non-fiction, Mother Country, The Death of Adam, Absence of Mind and When I Was a Child I Read Books. She teaches at the University of Iowa Writers Workshop.
Praise For Housekeeping…
"So precise, so distilled, so beautiful that one doesn't want to miss any pleasure it might yield."
--Le Anne Schreiber, The New York Times Book Review
"Here's a first novel that sounds as if the author has been treasuring it up all her life . . . You can feel in the book a gathering voluptuous release of confidence, a delighted surprise at the unexpected capacities of language, a close, careful fondness for people that we thought only saints felt."
--Anatole Broyard, The New York Times
"I found myself reading slowly, than more slowly—this is not a novel to be hurried through, for every sentence is a delight."
--Doris Lessing