Gilead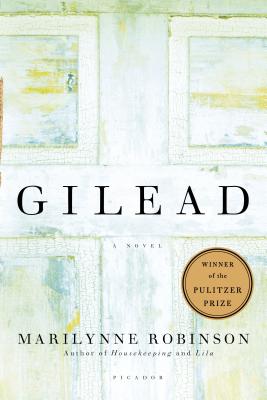 Gilead
Picador USA, Paperback, 9780312424404, 247pp.
Publication Date: January 10, 2006
* Individual store prices may vary.
Shop Local
Enter your zip code below to find indies closest to you.
Description
Twenty-four years after her first novel, "Housekeeping," Marilynne Robinson returns with an intimate tale of three generations from the Civil War to the twentieth century: a story about fathers and sons and the spiritual battles that still rage at America's heart. Writing in the tradition of Emily Dickinson and Walt Whitman, Marilynne Robinson's beautiful, spare, and spiritual prose allows "even the faithless reader to feel the possibility of transcendent order" ("Slate"). In the luminous and unforgettable voice of Congregationalist minister John Ames, Gilead reveals the human condition and the often unbearable beauty of an ordinary life.
"Gilead "is the winner of the 2005 Pulitzer Prize for Fiction.
About the Author
MARILYNNE ROBINSON is the author of the novels "Home, Gilead" winner of the Pulitzer Prize "Housekeeping" and "Lila", and four books of non-fiction, "Mother Country, The Death of Adam, Absence of Mind" and "When I Was a Child I Read Books". She teaches at the University of Iowa Writers Workshop.
Praise For Gilead…
"At a moment in cultural history dominated by the shallow, the superficial, the quick fix, Marilynne Robinson is a miraculous anomaly: a writer who thoughtfully, carefully, and tenaciously explores some of the deepest questions confronting the human species. . . . Poignant, absorbing, lyrical...Robinson manages to convey the miracle of existence itself."--Merle Rubin, Los Angeles Times Book Review

"Incandescent . . . magnificent . . . [a] literary miracle."--Lisa Schwarzbaum, Entertainment Weekly (A)
"Rapturous . . . astonishing . . . Gilead is an inspired work from a writer whose sensibility seems steeped in holy fire."--Lisa Shea, Elle "Lyrical and meditative . . . potently contemplative."--Michele Orecklin, Time

"Perfect."--Jeremy Jackson, People(four stars) "Major."--Philip Connors, Newsday
"You must read this book. . . . Altogether unlike any other work of fiction, it has sprung forth more than twenty years after Housekeeping with what I can only call amazing grace."--Anne Hulbert, Slate
"So serenely beautiful and written in a prose so gravely measured and thoughtful, that one feels touched with grace just to read it."--Michael Dirda, The Washington Post
"There are passages here of such profound, hard-won wisdom and spiritual insight that they make your own life seem richer. . . . Gilead [is] a quiet, deep celebration of life that you must not miss."--Ron Charles, The Christian Science Monitor
"Gilead is a refuge for readers longing for that increasingly rare work of fiction, one that explores big ideas while telling a good story. As John Ames might point out, it's a remarkable thing to consider."--Olivia Boler, San Francisco Chronicle

Monday, Mar 8, 2010
Everyone has his or her own secrets, but what happens when your most intimate ones are shared with loved ones? Family secrets can be the hardest to hide — and the most provocative. Martha Toll suggest three books for when no one knows you better than your family — and that's the problem. More at NPR.org