I Am Alive and You Are Dead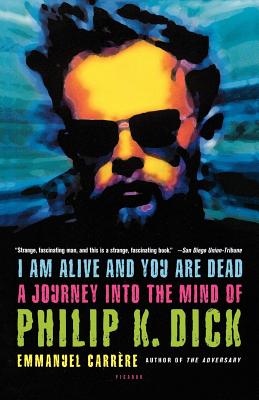 I Am Alive and You Are Dead
A Journey Into the Mind of Philip K. Dick
Picador USA, Paperback, 9780312424510, 336pp.
Publication Date: June 1, 2005
* Individual store prices may vary.
Buy at Local Store
Enter your zip code below to purchase from an indie close to you.
or
Buy Here
Description
For his many devoted readers, Philip K. Dick is not only one of the "one of the most valiant psychological explorers of the 20th century" ("The New York Times") but a source of divine revelation. In the riveting style that won accolades for "The Adversary," Emmanuel Carrere follows Dick's strange odyssey from his traumatic beginnings in 1928, when his twin sister died in infancy, to his lonely end in 1982, beset by mystical visions of swirling pink light, three-eyed invaders, and messages from the Roman Empire. Drawing on interviews as well as unpublished sources, he vividly conjures the spirit of this restless observer of American postwar malaise who subverted the materials of science fiction--parallel universes, intricate time loops, collective delusions--to create classic works of contemporary anxiety.
About the Author
Emmanuel Carrere, novelist, filmmaker, journalist, and biographer, is the award-winning internationally renowned author of "The Adversary" (a "New York Times" Notable Book), "Lives Other Than My Own", "My Life As A Russian Novel", "Class Trip", and "The Mustache". Carrere lives in Paris.




Praise For I Am Alive and You Are Dead…
"Strange, fascinating man, and this a strange, fascinating book." —The San Diego Union Tribune

"Emmanuel Carrère's I Am Alive and You Are Dead: A Journey into the Mind of Philip K. Dick is remarkable—a depth charge, a CAT scan, and an exorcism. Carrère, whose own eerie novels include The Adversary, proves that it's still possible for the French to write like Voltaire rather than Derrida. Informed, affectionate, sardonic, he is also crystal clear." —John Leonard, Harper's

"Consistently fascinating and brilliantly written . . . Carrère combines fact and fiction to form a new sort of genre, blending literary criticism and cultural history with a novelist's earnest speculation." —Los Angeles Times Book Review

"The story of a remarkable life marked by great burst of creativity and equally frequent bouts of mental turmoil . . . Carrère wisely eschews the 'and then he wrote' approach to literary biography . . . He neither overstates Dick's gifts nor belittles his more outlandish hypotheses about the underlying meaning of reality . . . Captures . . . [Dick's] sense of humor , his intellectual curiosity, his very human vulnerability . . . Compelling." —Michael Berry, San Francisco Chronicle

"Startling . . . Carrère gets so far inside the head of the deeply troubled author . . . the resulting text is remarkably vivid, intimate, often haunting." —The Philadelphia Inquirer

"What Dick thinks and feels as a man and writer is richly developed in this riveting biography. Mr. Carrère's book is mesmerizing. Seldom have I read a biographer who drew me so deeply into his subject's world." —Carl Rollyson, The New York Sun

"Every whorl of Dick's mind, every delusion, every leap through the looking glass, is chronicled. The effect is powerful." —James Parker, The Boston Globe

"[A] painful and unconventional biography [that] portrays Dick as a Cold War Don Quixote, flailing at the totalitarianism he suspected was taking over 1950s-60s America. Aimed at hardcore Dick fans, it's a powerful treatment of a difficult subject." —Publishers Weekly