Can't Stop Won't Stop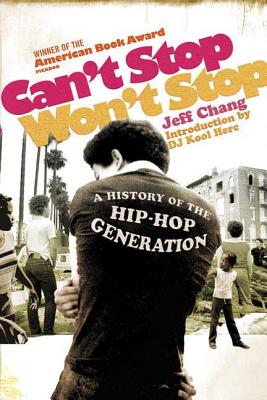 Can't Stop Won't Stop
A History of the Hip-Hop Generation
Picador USA, Paperback, 9780312425791, 546pp.
Publication Date: December 27, 2005
* Individual store prices may vary.
Buy at Local Store
Enter your zip code below to purchase from an indie close to you.
or
Buy Here
Description
Forged in the fires of the Bronx and Kingston, Jamaica, hip-hop has been a generation-defining global movement. In a post civil rights era rapidly transformed by deindustrialization and globalization, hip-hop gave voiceless youths a chance to address these seismic changes, and became a job-making engine and the Esperanto of youth rebellion. Hip-hop crystallized a multiracial generation's worldview, and forever transformed politics and culture. But the epic story of how that happened has never been fully told . . . until now.
About the Author
Jeff Chang has been a hip-hop journalist for more than a decade and has written for "The San Francisco Chronicle, The Village Voice, Vibe, The Nation, URB, Rap Pages, Spin, "and "Mother Jones." He was a founding editor of "Colorlines Magazine, " senior editor at Russell Simmons s 360hiphop.com, and cofounder of the influential hip-hip label SoleSides, now Quannum Projects. He lives in California.

D.J. Kool Herc contributed to Can't Stop Won't Stop from Picador.
Praise For Can't Stop Won't Stop…
"His scope is operatic, sprawling, and concerns itself with the people, places, and politics that drove hip-hop from its infancy. . . . It is essentially a people's history . . . perhaps Jeff Chang is hip-hop America's Howard Zinn."--Salon.com "The birth of hip-hop out of the ruin of the South Bronx is a story that has been told many times, but never with the cinematic scope and the analytic force that Jeff Chang brings to it. . . . This is one of the most urgent and passionate histories of popular music ever written."--The New Yorker "When Hip-Hop 101 becomes a requirement, Jeff Chang's history of the turmoil that begat this beloved culture will be the go-to textbook."--Vibe magazine "The most important new genre of the last quarter century finally has a sweeping historical overview as powerful as the music with Can't Stop Won't Stop . . . the best-argued, most thoroughly researched case for hip-hop as a complete and truly American culture."--Chicago Sun-Times "Chang tells these stories beautifully . . . provocative."--The New York Times Book Review "Jeff Chang's new and necessary book . . . delivers a vivid account of the last third of the American twentieth century. . . . The book is as much a cultural history as a music history."--The Atlanta Journal-Constitution
"This is a book that should be on the shelves of every high school and college library, an engaging and entertaining full-blown excursion into American inner-city culture's rapid proliferation into every nook and cranny of culture at large."--Los Angeles Weekly